Bad news, Fugees fans. The legendary trio just announced that they're not just postponing, but canceling their much-talked-about reunion tour. Ms. Lauryn Hill, Wyclef Jean and Pras were set to hit the road in celebration of the 25th anniversary of their landmark album, The Score.
"We anticipate and understand disappointment but our anniversary tour will not be able to happen," the statement began. "The continued COVID pandemic has made touring conditions difficult, and we want to make sure we keep our fans and ourselves healthy and safe. An idea sparked to honor and celebrate this 25th anniversary of The Score but we see now it may not currently be our time for revisiting this past work. We're grateful for the special night we did get to share with some of you in New York, with that rare live moment. If opportunity, public safety, and scheduling allow, we hope to be able to revisit this again sometime soon. Thank you for all of your love and support throughout the years."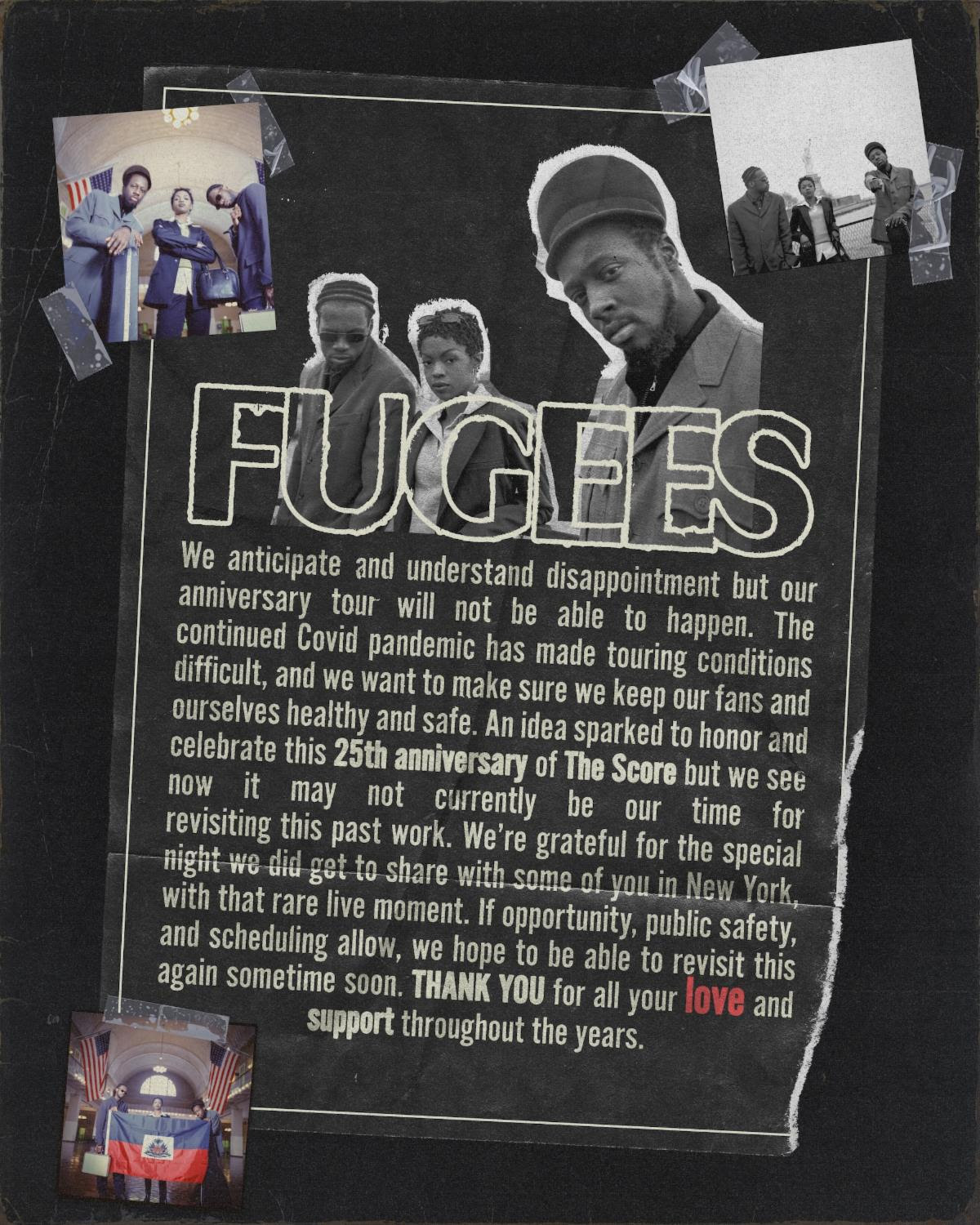 In September, the members announced that they were reuniting for the first time in 15 years. The last time that the trio performed together was in 2005 for Dave Chappelle's Block Party film/documentary. After month of rumbling, the Fugees ended up performing a short set (which, of course, started a few hours later than anticipated) for Global Citizen Festival on September 22 at Pier 17 of New York's South Street Seaport.
The tour was supposed to hit arenas across the country, including in their home state of New Jersey, Los Angeles, Oakland, Washington D.C. and a few more in the U.S. The Fugees were slated to perform in London, Paris, Nigeria and Ghana in December.
As it turns out, that intimate show was the only performance of the '90s legends' tour. However, the show was one of the major highlights of 2021, which landed it a spot on our list of the best concerts of 2021. Unsurprisingly, the album was one of the greatest albums of the '90s as well.