Welcome to 2022 and with another year of 15 Minute Live Performances by our favorite artists. This week, Foy Vance. Over the past few years, the mustached singer-songwriter has dazzled audiences in his home of Northern Ireland and beyond. His brand of accessible folk has made him a staple on indie, college and satellite radio, and he has won over fans on the alternative and coffeehouse circuit too.
Last September, Vance released his latest studio album, Signs of Life, which is another remarkable step forward for the 48-year-old.
He tackles his demons through his songs. Written during the pandemic, Vance honestly addresses his past issues of addiction, in particular alcohol and painkillers. For the first time in 20 years, the songwriter was stuck at home, not able to tour as the lockdown took hold.
Thus, what better way to get his creative angst out than by performing in this stripped-down set, which includes a cover of Lionel Richie's "Easy Like Sunday Morning." Because life never is.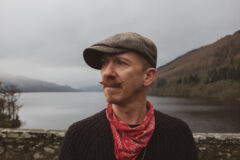 Here's the setlist.
1. Signs Of Life
2. If Christopher Calls
3. Easy Like Sunday Morning
Vance joins a growing number of musicians who have performed in our burgeoning live series. Robert Finley, UPSAHL, John R. Miller, Cedric Burnside and the Grammy-nominated ensemble Cha Wa have all featured. You can watch all of previous episodes here.
Check out Vance's performance below and he'll be hitting the road in the U.S. this spring, which you see the dates here.