There is a small upper crust of acts who have been playing huge venues for decades and are still able to fill arenas and stadiums. The shortlist would include the Rolling Stones, Eagles, Billy Joel, The Who, Springsteen and Elton John; each artist has been consistently selling out gigs since the 1970s. But right below that collection of rock royalty sit the larger swath of artists who have likewise been touring for years but are probably unable to fill venues in the same way. By cleverly joining forces, artists like Jackson Browne and James Taylor, both world-class touring veterans, are able to ensure robust ticket sales, especially among their fanbase hesitant about COVID. And then there is a group of newer artists that has been steadily building a fanbase, and will likely be touring for years in even larger venues. Let's take a look at an example from each of those two categories.
First, we'll look at the Browne / Taylor pairing and then look at the expanding success of Khruangbin.
In the case of the Browne / Taylor double bill, they offered fans an opportunity to revisit two of the great American songbooks. Recently at the 16,000 seat Pechanga Arena in San Diego, Browne opened the show and delivered a sterling set from his remarkable songbook. His voice remains strong at age 73, even if he is finally looking his age. Browne was one the finest to come out of the 1970s singer-songwriter era, and he still delivers an immensely satisfying concert. His band was in excellent form and he acknowledged the evening's lineup, promising the audience they were in for a treat when Taylor would later take the stage. Indeed, they performed a delightful duet on Browne's "The Pretender," its upbeat melody belying the sobering and introspective lyrics. The crowd understandably ate it up.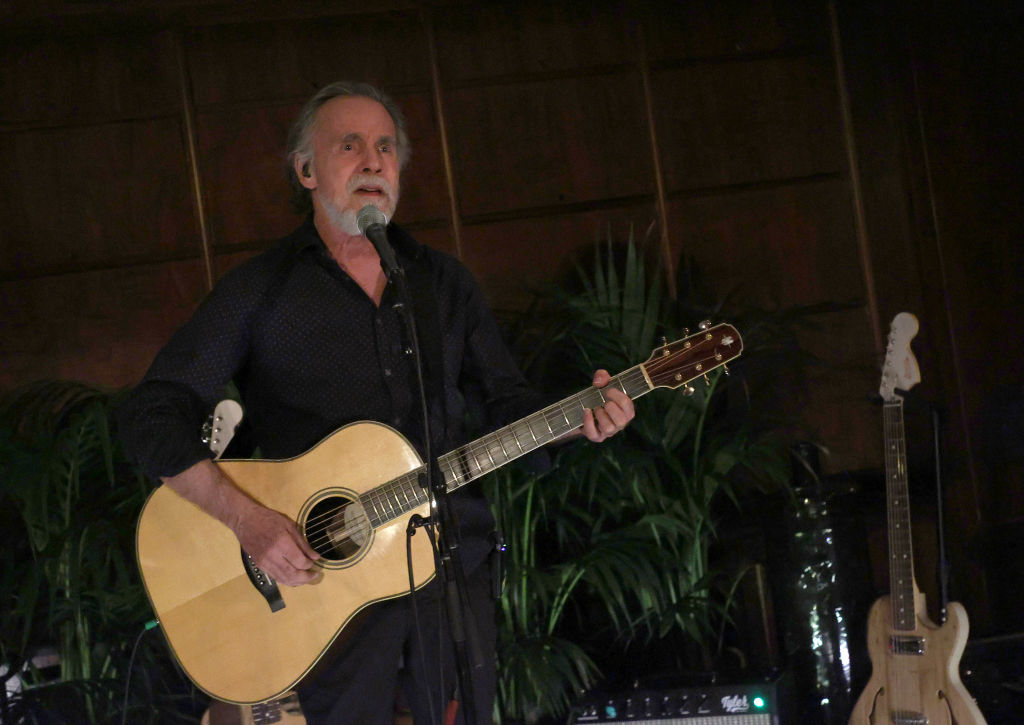 Although James Taylor was understandably the headliner (he has shifted more units during his career), his songbook has nowhere the depth of Browne's. Taylor ably brought his balladry to a welcoming audience, his soothing voice having comforted many in the audience over many decades. Many of us in the crowd were thicker of waist and thinner of hair compared to when Taylor's records first soothed our youthful angst. Taylor and Browne brought it home with an encore performing "Take It Easy," which Browne co-wrote with the late Eagles founder Glenn Frey.
It is fascinating to juxtapose the foregoing with the rise of Khruangbin. The Houston trio has been steadily touring, building an audience and collecting heaps of critical praise (including a spot on our Best Albums of 2020 list). Wrapping up their California visit in San Diego (where many bands like U2 and Rolling Stones have started massive tours), Khruangbin thrilled the capacity crowd after three sold-out nights at the Greek Theatre in L.A.
Their stage looked like George Clinton's Mothership had time-warped from the '70s and made a landing, delivering a funk offspring. It has been a while since a trio has laid out such a thick sonic carpet, and especially without any discernible vocals. Khruangbin defies categorization, and some have settled on Thai Funk as the amorphous genre in which the band should be slotted.
The bass-heavy mix almost swallowed the guitar stylings of Mark Speer, who was clearly influenced by the sparkling fretwork of African masters like King Sunny Ade and Tuareg.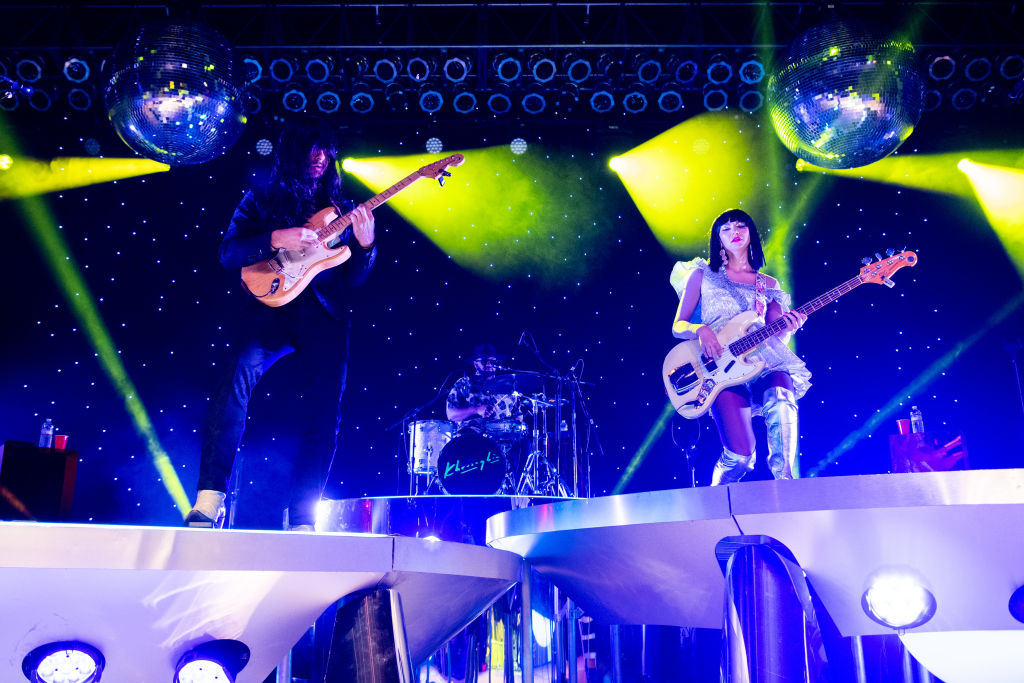 But more than those influences, Speer's riffs from seemingly disparate sources flew by in concert. What was that reggae riddim? And that other lick, just out of reach, when did I hear that last? Was it Tom Tom Club? Whoa, that "Wipe Out" riff almost slid right past me.
"Misirlou"? Dick Dale? Sure, that works too!
Whispered lyrics from bassist Laura Lee supplemented the sonic flow.
Wireless technology served the band well. Bassist Lee and guitarist Speer were able to descend from their circular pods, sidle past each other and drift to the far edges of the stage. Drummer Donald Ray "DJ" Johnson Jr. held down the other half of the rhythm section with aplomb.
For all the seeming loose fluidity of the trio, they hit each tempo change perfectly. Songs escalated and then collapsed perfectly on the downbeat. Occasionally detuning his guitar, Speer was able to bend the sonic shape of the jam without losing the thread.
Kudos to the folks manning the soundboard, admirably mixing the thick slabs of sound in an appealing fashion. Many was the time the last chord was looped as the band shifted gears into the next song.
It must be a glorious framework for Speer. His rhythm partners are so solid he can essentially solo for two hours.
This band has followed the tried and true strategy of satisfying crowds at small venues and climbing the ladder to larger and larger venues. It is a safe bet that the trio can continue its steady upward trajectory as a surefire concert headliner. Khruangbin have apparently landed on Obama's playlist, and they won't soon leave mine.
Neither Taylor nor Browne offered significant new material; they delivered the hits their fans expected. Khruangbin is still forming its fanbase and has far more luxury to take sonic explorations, a trip the trio took confidently.