Every so often — a few nights a week when things are going smoothly — Chris Gronowski and his staff clear out the entire center of Programme Skate & Sound's main room. T-shirt stands are moved to the back. Skateboarding accessories are pushed to the side. Cases of vinyl LPs, CDs and cassette tapes are tucked away into corners.
In a matter of minutes, the space fills with crowds swirling like the eye of a hurricane, nearly 100 twisted bodies of both fans and artists flying through the air. Hardcore dancing and mosh pits ensue, all with the understanding that no damage is to be done to the venue or its merchandise — a mutually beneficial policy strictly enforced by the very teenagers and young adults who pack into Programme on a regular basis.
After the Fullerton skate shop and record store closes the doors on its retail operation each evening, Gronowski and business partner Efrem Schulz become the owners of what is arguably the most important venue left in the long-dwindling Southern California DIY scene. The space is so intimate that fans don't just get sweaty with their favorite bands, but often on their favorite bands. The crowd, artists, and occasional members of the music industry gather in the parking lot at the end of an exceptionally bland-looking strip mall in Orange County, and they'll likely remain there long after the tabletop gaming store next door closes for the night, utilizing the suburban walkway and blacktop as a post-concert respite from the chaos and intensity a dozen feet away.
For a room smothered in music tees and skateboards — one that feels relatively full with a few dozen people in it — Programme serves as both a launching pad for young touring bands and an ideal platform for local acts looking to establish themselves within the scene.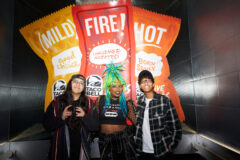 For over a decade now, Gronowski and Schulz have been hosting shows at their shop for bands large and small, becoming a fixture in the very OC punk scene they grew up in. But more than anything else, the co-owners just want to allow the current generation of punk kids a place to perform music and escape from daily stresses — all without the added pressure of the music "industry" weighing on anyone.
"Growing up, myself and [Schulz] were in bands, and we've probably been to a million shows between the two of us," Gronowski tells SPIN via Zoom, his salt-and-pepper beard and black baseball cap giving off punk rock patriarch vibes. "It's really special to us to be able to help these shows happen. I mean, we're just here selling vinyl and skateboards during the day, and then there's punk rock or hip-hop or hardcore or indie rock shows happening under our roof at night. That's sort of a dream come true. If you talked to 19-year-old me, I'd be like, 'Are you kidding me? Sign me up for that right now!'"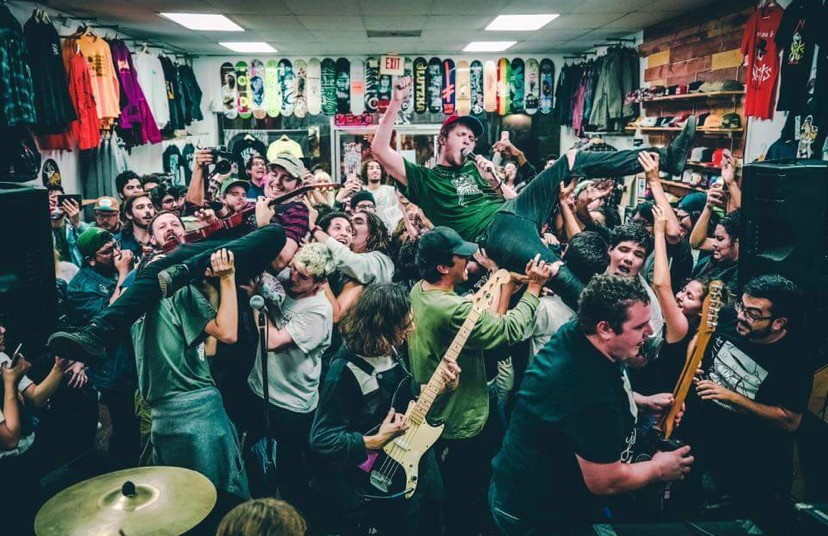 "We just want kids to feel like they have somewhere to play," Schulz adds, his dark hair flowing over the tops of his 46-year-old shoulders. "We get local bands who want to play here, and sometimes we'll run the show for them, but a lot of times we'll teach them how to do it. It's like 'Get one of your friends to run the door. Choose how much you want to charge. Split up the money with the bands — and be fair!' A lot of these kids are shocked when they get $500 to split with their band. They're like 'Why is there so much money here?' and I tell them 'It's because your band is popular, and you're doing great!' Other venues are charging these kids like $400 to play, and I just want them to never have to pay to play ever again. I love being able to teach bands the lesson that you don't need to pay anyone to share your art."
Of course, hosting DIY shows of any genre after a day of selling records and skateboards isn't exactly the fastest way to get rich — or even turn a profit sometimes — but Programme's unique structure and status within the historic Orange County punk scene (the one that birthed everyone from Social Distortion and The Adolescents to Thrice and Something Corporate) not only helps separate it from other venues, but also aided in their pandemic survival. Between their website and Instagram, Programme's retail side remained in full swing throughout much of 2020 and all of 2021, offering both global shipping and local curbside pickup for anyone who wanted to swing by. While that obviously helped the shop's bottom line, it also gave a lot of local artists the opportunity to continue to distribute their music at a time when many independent record stores were struggling to adapt.
While the bulk of Programme's sales may come from relatively well-known bands and Record Store Day releases, they'll always make space for the smaller indie acts who have to fight just to not get ignored.
"Being in a band or having an independent label back in like the '90s, you were always just trying to get your stuff in the stores and hoping that the people there wouldn't just bury it or stick it in a corner somewhere," Gronowski says. "I know they don't sell very well, but if it's going to help a local band out, we will. That's the least we can do. We also try to use our social media to help break the bands. We post pretty much every time we have someone here, and we have like 27,000 followers on Instagram, which is a lot more than the 50 or 75 kids who saw that band's performance last night."
But that's not to say that the pandemic was necessarily easy on the Programme owners. Schulz's day job as the frontman for both Death by Stereo and Voodoo Glow Skulls — as well as a smattering of other gigs on the event production and management side of the music world — immediately went out the window when touring shut down. And there was plenty of uncertainty as to when the 100ish person venue would ever be able to host shows again (if ever).
That said, it's not like the pandemic was the first time that Gronowski and Schulz have questioned their future — particularly when it comes to hosting shows. As often as they may sell a few extra records or a couple of skateboarding or clothing items to concert attendees who wouldn't otherwise set foot in Programme, hosting packed punk, hardcore, and other shows in a small room with no barricades or anything comes with its own risk. Add to the usual concerns that the shop's actual merchandise is generally still scattered throughout the venue, with thousands of dollars' worth of skateboard decks and apparel hanging on the very walls that contain hundreds of mosh pits each year, and it requires a whole lot of self-control and support on the part of the community to ensure that Programme can continue its legacy of hosting shows for everyone from the Casualties to high school bands, Bane to world-renowned DJs.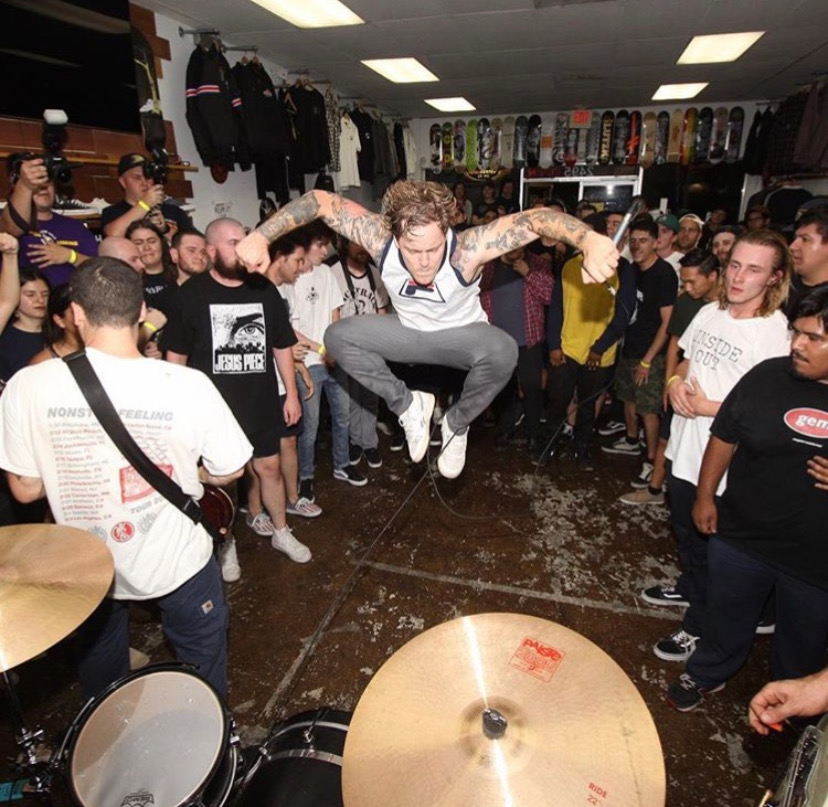 "Whether it's the hip-hop scene, the hardcore scene, or the punk scene, there's always a certain amount of respect," Gronowski says. "It's a give and take, and the kids that come to the show kind of pass it along. I see fans that are there sort of nod to somebody else like, 'Hey, be cool. You can't get that wild. You can't put a hole in that wall or step on the case that's holding like 50 vinyl records.'"
"I don't know if we're a venue or a shop — I guess we're both — but the community always comes together to support us, and we're so grateful," Schulz adds. "The kids make the place happen. There would be nothing without the kids because they keep the scene going. They take care of us and are so respectful to the shop. We've had some crazy fucking bands in here, and we can't believe we haven't had half the store stolen at some of these insane shows."
The various music communities of Southern California have rallied around and supported Programme. There's a certain level of authenticity about the environment that Gronowski and Schulz have created that's impossible to replicate. Unlike a dive bar owner who's trying to sell extra drinks or a promoter charging bands to perform at a venue, the hybrid skate shop/record shop/venue is entirely devoted to the cross section of music and skateboarding. For the owners, those two things have always gone hand-in-hand, and while they're fully aware that they could likely make an easier living in another line of work, no other career is going to give them the opportunity to pass down that freedom and connection like the one they have.
It's that shared passion and authenticity that draws in artists on the cusp of exploding — and often returning for one-offs, special events, or filming music videos even after their mainstream success. Artists ranging from Turnstile to Scarypoolparty have proclaimed their love for Programme in recent years, and the venue boasts an impressive roster of graduates in virtually every genre.
"It's really cool," Turnstile singer Brendan Yates says of Programme. "It's a place that highlights music and that gives a lot of opportunity for bands to play — younger bands, local bands, anyone coming through. They highlight them in a cool way. It's a great place, [particularly] when venues are hard to come by and good spaces are hard to put together. I feel like that one is super special. All places like that — where they're good opportunities to let any band play and come in no matter who they are — are something that should be cherished."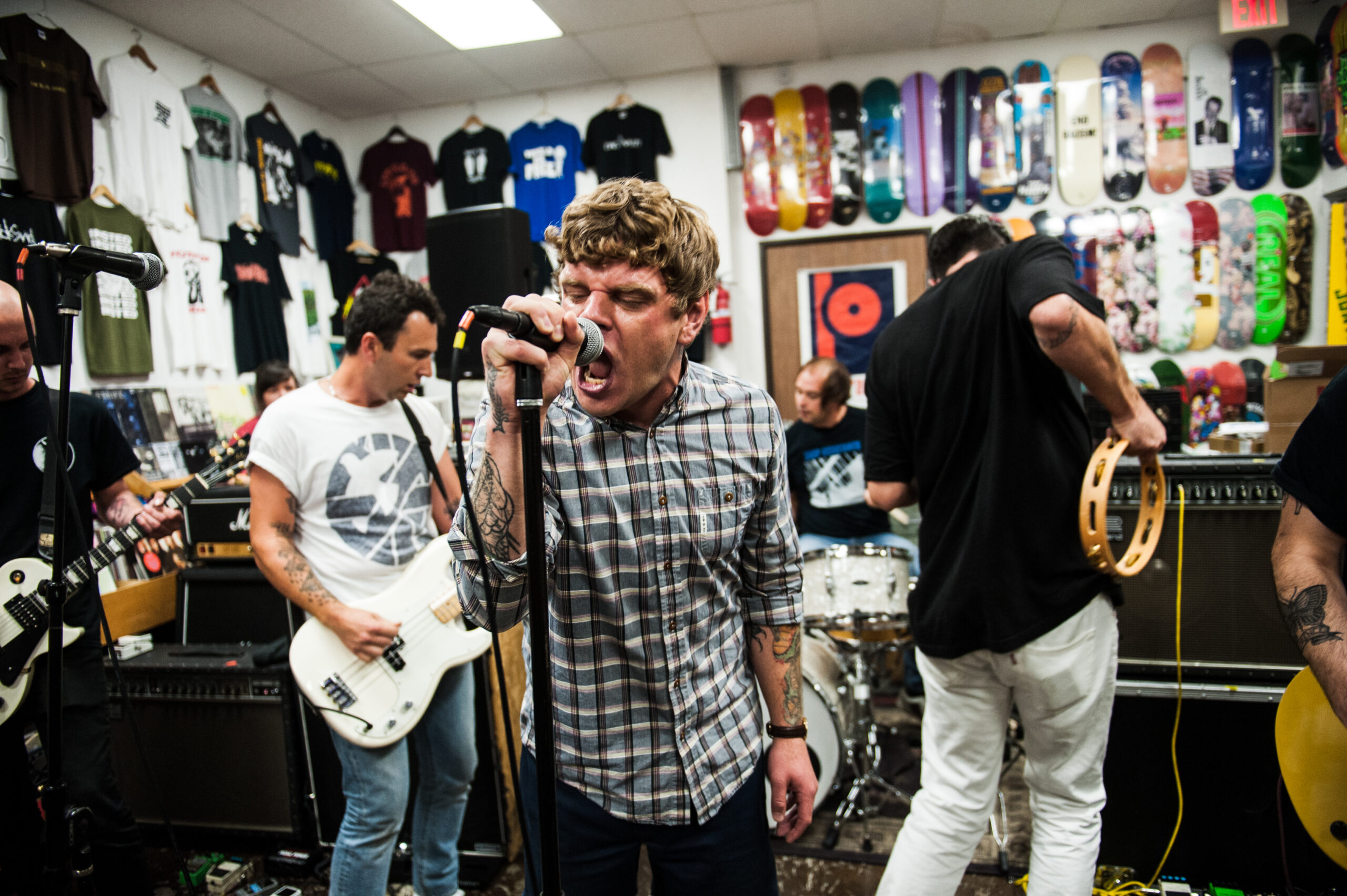 Among the most memorable opportunities provided there is undoubtedly Fiddlehead's 2018 performance: Mere weeks after the release of their debut album, Springtime and Blind, the Boston-based post-hardcore band tore through a 25-minute set in front of a packed crowd. For a life-long skater like guitarist Alex Henery, that show meant everything.
"Growing up skating, one of the main things that drew me to the subculture was the strong use of art and music in the videos," Henery says. "It just blended everything I loved and had me hooked instantly. So to be able to play in a skate shop just feels right, there's just a sense of belonging — and the kids who go to shows there know that too. They can go off and get involved with the music without feeling out of place or judged. It's cool to play at a place that understand the history of punk and hardcore, and there's just a genuineness of playing on the floor right in people's faces. No barrier. No rules. Everyone's there just to have fun."
For a band with a small but devoted following like Fiddlehead circa 2018, having a welcoming venue — and one where they knew kids would show up — in the SoCal suburbs didn't just mean an opportunity to play an extra show on the West Coast. It also meant an entire shift in the way they viewed performing live. Before that, the band had been viewed as a combination of the members' two primary existing groups (Have Heart and Basement), but over the course of their time at Programme, they melded into a unified force.
"For us, playing Programme was particularly memorable, as it was a turning point for the band," Henery says. "Up until this point, our live shows had been pretty somber in crowd response. But when we played that night, kids packed into the room and the energy was intense. Everyone was singing along, the room was moving and swaying. From then on, our shows became more and more expressive with kids stage diving and really engaging with the music. So that show always sticks out as a prominent moment in the history of the band. I'm glad we had our friends filming the show, because I still go back and watch it from time to time."
But it's not just Henery who feels a special connection with the unassuming Programme. Every band who's passed through the door has their own unique story about why their shows were special or how they changed the band. Schulz and Gronowski are frequently both surprised and honored when acts they befriended years ago want to come and play an acoustic set or an unexpected set while they're in town to perform at much larger spaces. Maybe it's nostalgia for when playing to dozens of people instead of hundreds (or thousands) was new and exciting, maybe it's the aforementioned authenticity, or perhaps it's just something about the environment and scene within the shop that's hard to put into words — because no one seems to really be able to explain what makes Programme work so damn well.
"If you told me a small cave lined with shirts and skate decks in a strip mall in Fullerton would routinely be one of my favorite places to play, I'd assume you were on a sick one," says Drug Church singer Patrick Kindlon. "But, here we are."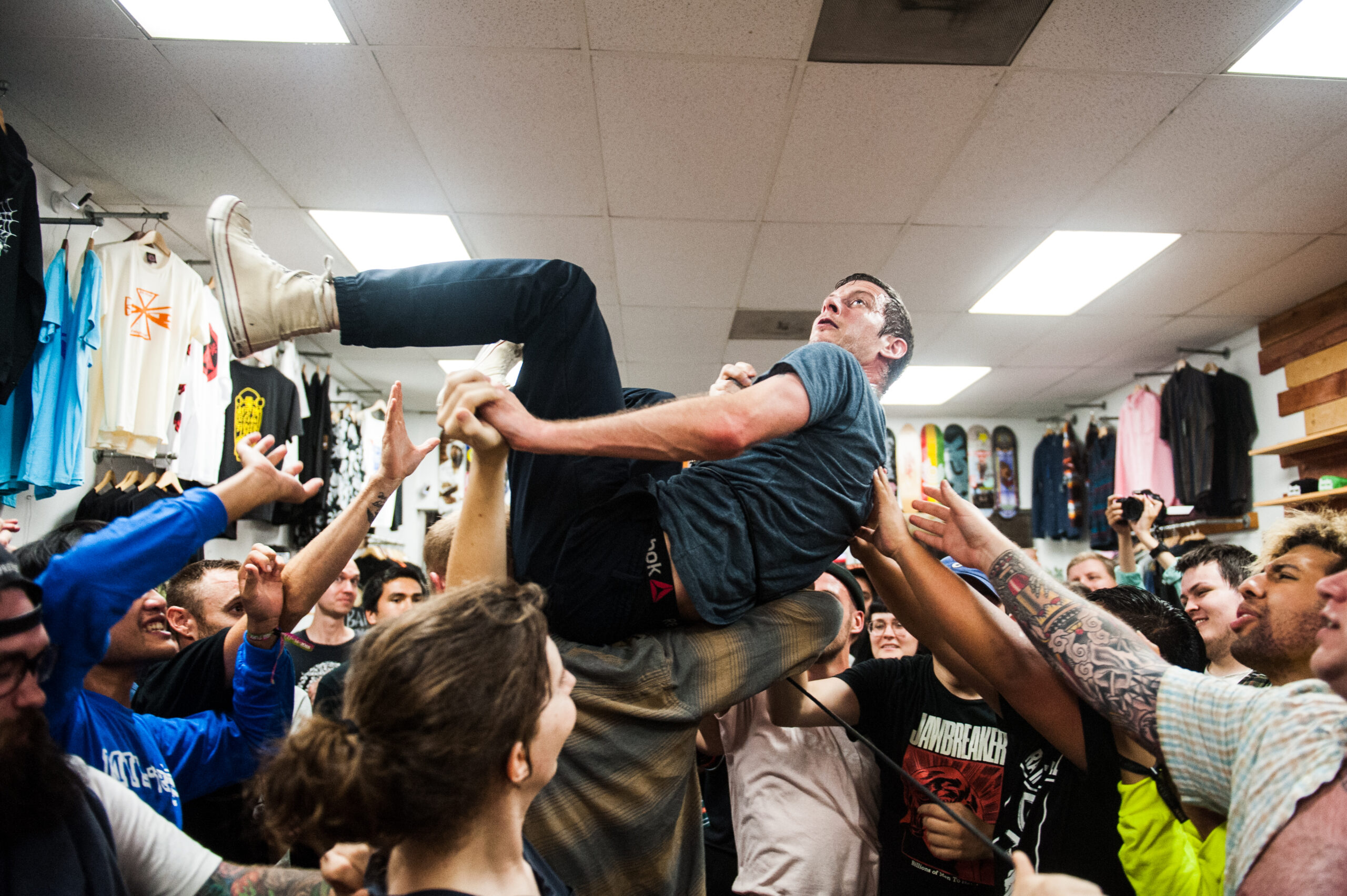 "I think people gravitate to a space where everybody can share their ideas and be themselves," Schulz says. "When I was younger, we didn't have any places to go that were all ages. There was a place called Koo's Cafe in Santa Ana, and they just let us all hang out, do our thing, express ourselves, and be ourselves in an area where there was nowhere to go for a kid. I think it's really important to carry that tradition, because otherwise who's going to be tomorrow's NOFX? These kids need their own places to play, because they're the future of this culture. This is our culture. This is our folklore, and it's up to us to keep it going and pass it down to kids who will carry it on. Long after we're dead, I hope people are still fucking singing along to Black Flag."
Ultimately, that's what's most important to the ownership duo. Schulz and Gronowski may be more in the mold of punk rock uncles to some of the young bands coming through, but it doesn't feel like all that long ago that they were little punkers growing up in the now-legendary OC scene. Bands like The Offspring and No Doubt never would've become global superstars in the '80s and '90s without a rampant underground punk scene beneath the surface of the milquetoast Orange County suburbs. But the spaces in which those kinds of happenings can occur now are few and far between. If it's up to the Programme guys, they'll wind up punk rock grandpas, still helping to continue punk, hardcore, and the other music scenes most parents don't want their children involved in — and then maybe they'll pass it down to the next generation.
"I personally think the kids are alright," Schulz says. "They're more creative than ever. They've torn down all of the boundaries. From our little DIY shows to those massive underground shows in the ditches and stuff in L.A. that everybody sees on the internet, they're living how they want to live. They're being who they want to be, and I think we fit into that too. Growing up, that's all I wanted to do. I just wanted to be who I wanted to be and just fucking create a world where I could be myself and live and be free."
For punk and hardcore bands that broke out of the local OC scene in the 2010s, Schulz's words — and his actions with Gronowski — carry extra weight. Many of them attribute their success to Programme in one way or another; and they're thrilled to partner for everything from exclusive vinyl variants and skateboard decks to in-store signings and celebratory pop-up shows.
"Programme allowed us to foster a community in a time when there was truly nowhere else," says Fury guitarist Madison Woodward. "It has served and still does serve as a space to ignite conversation, expansion, and long-lasting friendships. I never was able to go to CBGB's in its glory, but I'm thankful we were able to make our own landmark with Programme."
"Programme has been my second home since I was 12 years old," adds Dare singer Angel Garcia. "Playing there is always nothing but a blast. It's super intimate and really let's you feel the energy of the crowd or the band that you're seeing. There's nothing that compares to it anywhere in the country."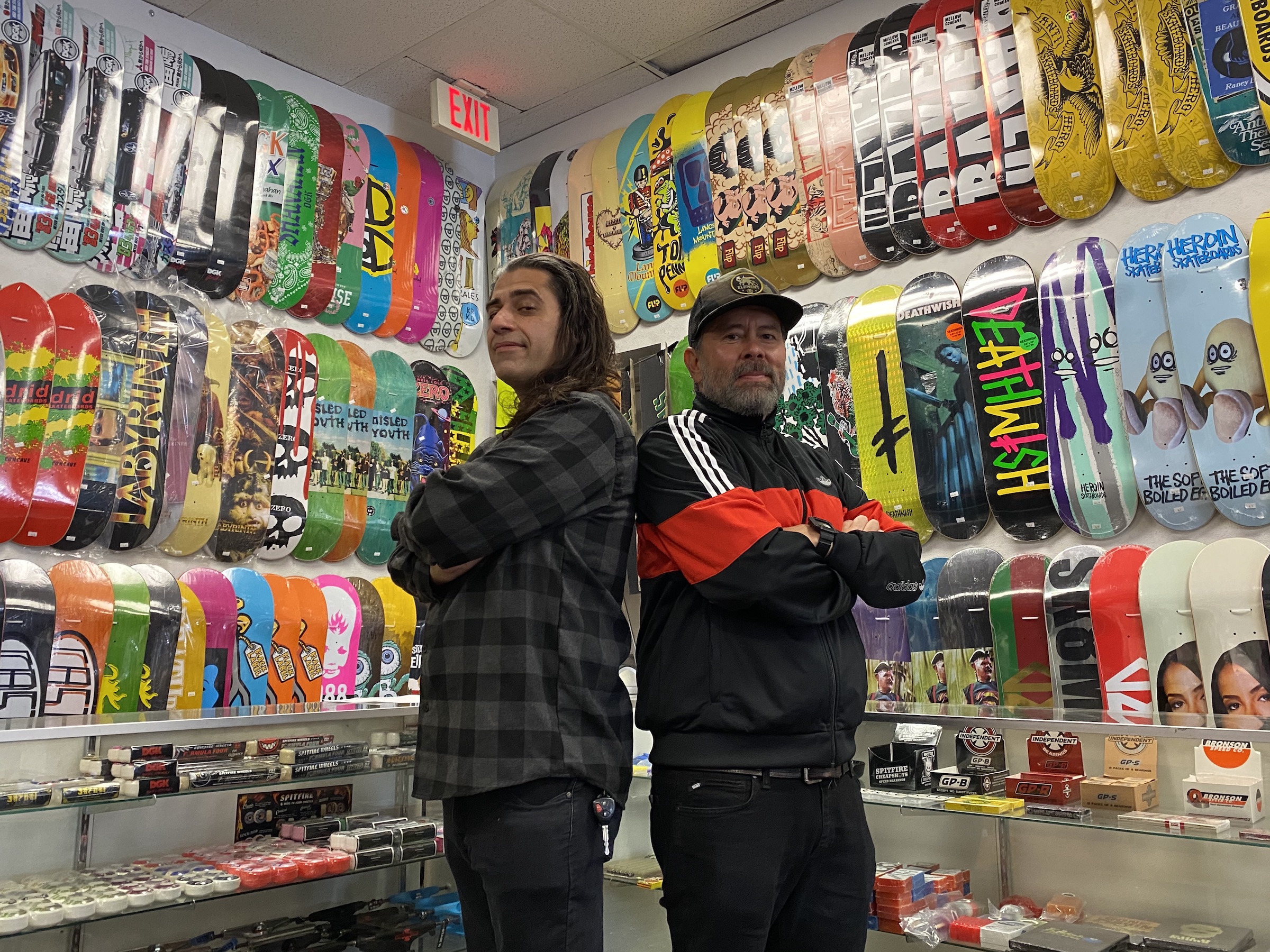 While Gronowski was initially hesitant about when they'd be able to resume shows, Programme re-opened its doors as a venue this fall — albeit months after many other Orange County spaces had begun pretending the pandemic was long over. Every night means walking a fine line between enforcing the various safety mandates and packing every angsty Fullerton teenager into the concert they've waited 18 months to see. It's not exactly a part of the job the owners expected or wanted to do, but it's one they need to do if they want to continue hosting and supporting acts of any size.
"It's really about finding the responsible balance between letting people have a good time and help the bands promote themselves while keeping everyone in the community safe," Gronowski says. "So we are dealing with smaller capacities for in-stores, possible vaccination cards, tests, and masks in store. Worst-case scenario is cancelling or postponing shows like we did in spring 2020, but hopefully that part of the pandemic is behind us."
For now, the plan is simple. Schulz and Gronowski are going to continue hosting show after show at Programme until they're physically forced to stop. Will that be a year from now? A decade? A lifetime? Who knows? They certainly don't. Hell, they're both honestly surprised they've gotten away with doing this for as long as they have.
"When we started Programme, I wanted to be able to contribute something meaningful to the scene, the same as being in a band or a record label," Gronowski says. "You might be a small cog, but you're part of something bigger. You want to be the best, but realistically you don't ever think you'll hit that level. I thought we would just do a couple of shows and would have a store that people could come to and shape their sensibilities through music and skateboarding. But to have gone and done everything that we've done? Like I said earlier, 19-year-old me would be like 'Sign me up!'"
"We can't believe we've been doing it this long, and I feel like we've gotten away with murder in this little shop," Schulz adds. "We're just going to keep trying and keep pushing, and everyone is welcome. It doesn't matter if you're a high school band or an international fucking superstar DJ. We've had them all and it's unbelievable. This is everybody's space. The way punk rock works is that we all have to show up for it. Without everyone there, punk rock just doesn't work."