Michael Nesmith passed away yesterday at the age of 78, and while musicians flooded social media to pay tribute to the Monkees star, Ben Gibbard took a different approach. The Death Cab For Cutie frontman hosted an impromptu livestream on Instagram to play some of his favorite songs written by (or for) Nesmith.
"Mike Nesmith passed today and I feel completely gutted. I also feel so fortunate to have called him a friend," he captioned the most. "I believe the best way to mourn the loss of a musician is to play their music. When we do so we keep the beauty of their spirit alive in our hearts. With that said, please enjoy this selection of some of my favorite Nez songs."
"Rest In Peace, Papa Nez," he concluded his message. "I am so grateful to have known you."
Wearing a blue beanie in honor of his friend, Gibbard ran through a five-song setlist that included tracks Nesmith wrote for other artists ("Different Drum"), those he performed with the First National Band ("The Crippled Lion," "Joanne"), Gibbard's favorite Monkees song ("You Just May Be The One"), and the song Gibbard wrote for the Monkees' last album Good Times! ("Me & Magdalena").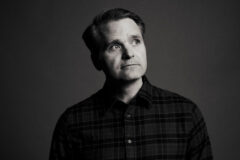 "I have to admit, when I wrote it I was thinking of a way to kind of move to the front of the line as far as songs that were getting submitted, and I knew that Nez lived in the Carmel/Monterey area, so I thought if I slipped in a geographical reference I might be able to get to the final line," the singer-songwriter explained before diving into "Me & Magdalena." "I guess it worked. I play it at solo shows sometimes, and I always say this — it sounds like hyperbole but it's not — the fact that Nez and the Monkees recorded this tune of mine is truly one of the greatest honors of my life."
Watch Ben Gibbard's tribute to Michael Nesmith below.
View this post on Instagram