Joe Talbot has two more things he wants to accomplish before the end of 2021: Start working on IDLES' fifth album and win a bar fight. "Those two things. That's it," he says forcefully with a clap.
Sitting on a cozy-looking couch, bearing a white, lightly plaid button-up shirt and thick-framed reading glasses in his Bristol home during our Zoom call, Talbot was taking some much-needed rest with his family in what's left of the turbulent year of 2021. "Just living calmly … getting ready for the storm that is 2022."
The post-post-post-punkers—or something of that nature—wrote and released their stunning, thrashing, widely acclaimed fourth record Crawler, which was produced by Kenny Beats. In recent months, IDLES performed an exuberant string of shows throughout the U.S., bathed in Crawler's high praise, and covered Gang of Four and Metallica on compilation collections.
Talbot can also look back at a wholesome year with his two-and-a-half-year-old daughter, who he was going to pick up from school after our call. He says she understands that her father is singing on Crawler ("She doesn't like it"), but she doesn't quite yet recognize its graphic retellings of Talbot's struggles with drug addiction and his mother's alcoholism. But at the moment, and how he'll finish off his 2021, he is taking on daddy daycare.
IDLES are set to close the year with a New Year's Eve concert supporting The Strokes alongside Hinds at Barclays Center in Brooklyn. Until then, Talbot will try to feat his two big goals, and plans to reflect just a little more on what 2021 (and the pandemic) brought to us all.
SPIN: How's it going? What are you doing in Bristol right now?
Joe Talbot: I'm alright, thanks. I'm alright. Not too bad. Getting ready to pick up my daughter soon.
How's it being a dad?
Turbulent [chuckles]. Beautiful. It's great. She's magic.
How was your 2021?
Stunning, yeah, really good.
As a musician?
Musician, like unbelievable. Got to make a beautiful album that I love, and prepare it for the world and look to release it on time. I deleted social media last year, so I was out of social media this year. I started touring again in the U.S., which is, without doubt, the best tour we've ever done. It's beautiful.
What was your main reason for quitting social media? Among the many reasons there are to quit social media.
Chaos. It's emotional chaos. It's lots of people who are lost thinking they found a part in a world that doesn't exist, which is slinging mud at each other and not listening. Freedom of speech is in listening, not talking. So I just wanted to get back to reality and enjoy what's in front of me.
I saw the news that you guys are contributing to the Independent Venue Week's live compilation. What importance do you find in independent venues?
The reason we are a band and the reason we still exist is because of independent venues. It allowed us the scope to play to audiences that were hungry for new music, and allowed us to make mistakes and learn about ourselves and our show over 10 years before we had to tour the world. Independent venues are the crux of the music and culture of this world's survival.
Obviously, Crawler released this year. It's an incredible album, and received wide acclaim. I've read that you and most people think it's your best album. Do you think that its reflection and vulnerability are to blame?
No. Not vulnerability. I think all of our albums are as vulnerable as the others. But definitely reflection, yeah. The pandemic and the two years we've just had allowed us a lot of time to really consider where we want to go next. And that was something we needed to do in order to not repeat ourselves and to challenge ourselves as artists, and to give our audience something better.
What were the worst parts of being an artist during the pandemic, and the best?
The worst parts? Not for me to say. We're one of the privileged few that didn't have to worry about our careers. We always knew we were going to come back to our audience and be able to release our album and everything like that. A lot of our friends lost a lot, and had to go back to their jobs, and lost tours and lost albums and lost releases and everything. So we're just grateful there's no bad part of our being a musician during the pandemic. The best thing about being a musician in the pandemic is our audience. As always, with everything about being a musician, our audience carried us.
Did you notice a difference in your audience versus pre-pandemic and then kind of this weird, post-ish pandemic time?
There's definitely a united sense of jubilating respect. There's a lot more respect, I think, that may be because of a sense of not wanting to impeach on other people's space more because of COVID, but there was a real beautiful sense of positivity and respect. There seemed to be no assholes where there's normally one … normally. But it was beautiful. A real positive time. There's a lot to be grateful for.
Regarding songwriting, was the process for Crawler more in-depth and personal to avoid the backlash or the criticism that Ultra Mono received?
No. It had nothing to do with Ultra Mono. The criticism we received for Ultra Mono was also what we knowingly made. The point of my lyrics was to challenge myself to be as naive, as simplistic as possible. Obviously, that comes across as exactly that, which some people don't like. We were always setting out to write Ultra Mono as the last chapter of the blunt instrument that is IDLES, and build a caricature that we could burn and start again. We just didn't realize that we were going to have two years of space and time to write the next album so quickly. It was all about writing forward and starting something new. But the beauty of Crawler was that we didn't have an audience and we didn't have the critics to think about. We didn't consider the critics at all. And I still haven't considered the critics, because they're always going to be there. Not everyone's going to love your art. It's art, it's not science; there's no fact in my music, it's all just what we love. And there's always going to be some incel with a girlfriend writing about us saying we're this, that, and the other … well, fuck 'em. I love it.
Would you say that Crawler is kind of a first chapter in what's to come for IDLES?
Yeah.
What do you guys plan to play on your next year's European tour? What do you plan to do differently?
Nothing differently, other than playing from four albums instead of three. We're gonna try and create a really beautiful narrative arc for our show. We'll play for [around] 45 to two hours. We won't play the same set every night. And we'll just try and make the best show possible from all our records. It's going to be great.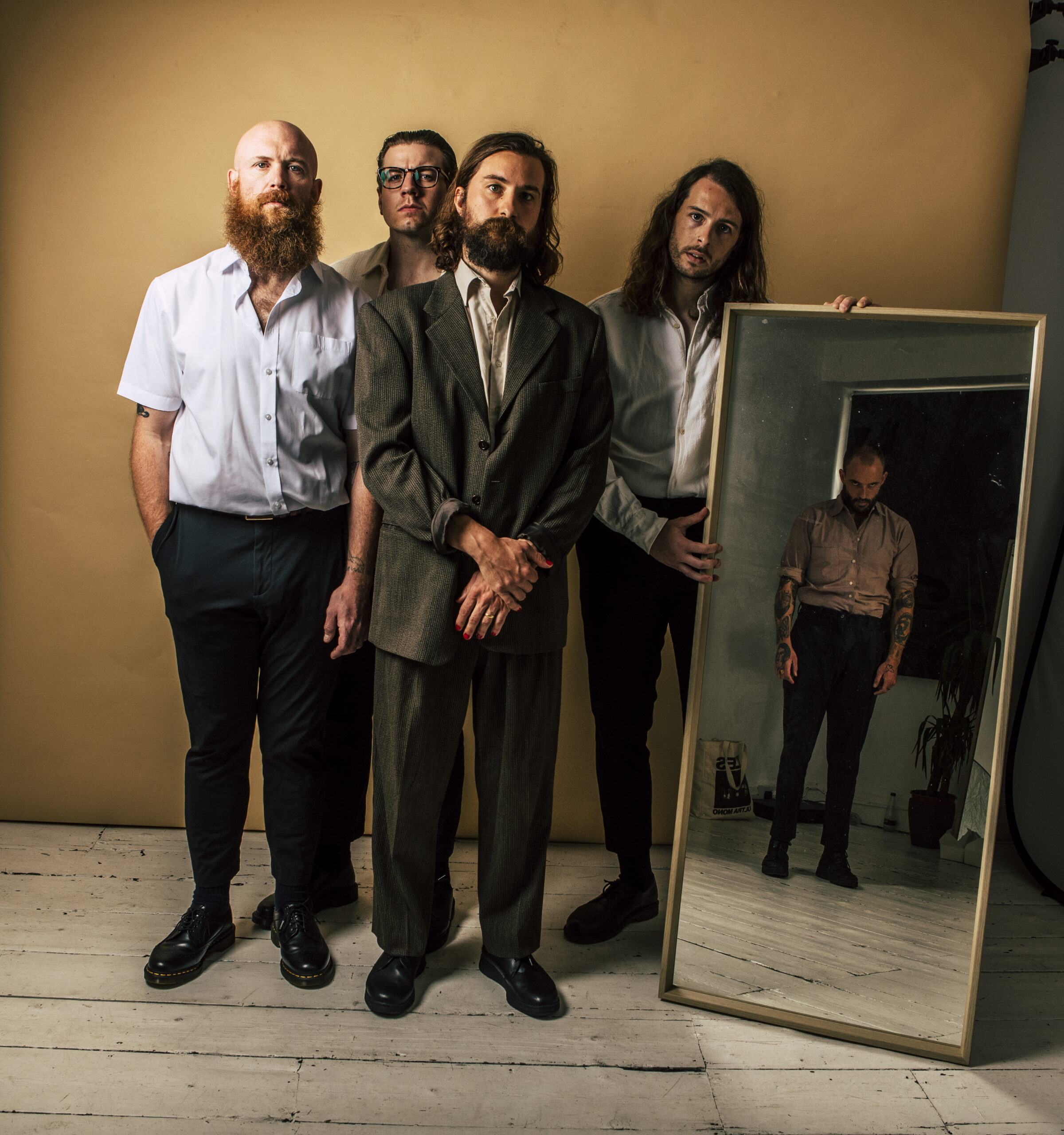 "The Beachland Ballroom" is definitely my favorite and, I think, the most captivating off Crawler. Could you tell me the trauma that the song's rehashing?
"Beachland Ballroom" is kind of an allegory for trauma itself. It's not referring to a specific trauma in my life. It's more an allegory of coming out of all trauma. It's referring to a lot of things that I've gone through in my life … yeah, all of it [laughs]. I went to write a soul song that was allegorical, rather than a soul song that was specific to me. Like gospel songs still speak truth, whether you believe in God or not. There's still an ounce of faith in everyone, and I just wanted to write a soul song that spoke to everyone because everyone's been through something. A lot of the other tracks on the album are about specific traumas, but "Beachland Ballroom" was written for all of it, really, for just coming from pain and succeeding.
I heard that you sang the recorded version in one take.
I wrote the recorded version in one take. I started and finished the song at the microphone.
Wow. So that literal first recorded take you just…
The first take is also me writing it on the spot.
Wow, that's beautiful. That's crazy.
Yeah, well, Kenny Beats, he's got some Mojo up him.
What was that like working with Kenny? I understand that he's more of a rap producer.
That was traumatic [joking]. No, it's beautiful. He's got an energy and he's got a skillset to back it up. He's very lucid. He's very hard working. He's the first person up; he's the last one to go to bed. And he's focused and he's, just, fucking, he's a genius. He can sculpt a song and work a song on a desk super fucking fast, but also brilliantly. He's exactly what IDLES need as a producer. So yeah, it was beautiful working with him.
Can we expect more soulful songs [like "Beachland"] from IDLES in the future?
I would hope that all our songs are soulful, really. But, in terms of "Beachland Ballroom," I have no fucking idea. It depends on what we write musically. If the song deserves a soulful singing thing, I'll do that. If it doesn't, I just got to do what's best for the song from now on, and not think about anything else. I learned that from Kenny as well.
The record store I work at is always restocking you guys' records.
Sick.
It's in Columbia, Missouri, and they can't get enough of you guys. Why do you guys think that you attract the audience that you do?
Because we are the audience. 'Cause we write songs that we want to hear and we want to dance to. We've always set out to try and make people feel part of something bigger than themselves, and to not feel isolated through empathy, compassion, and passion, through violence and beauty in our music. Because of that, we will always be part of the audience. And because of that, we'll always have an audience. I think what we speak of is universal, and what we speak of is true. People can see through bullshit a mile away when you're on stage, and there's not a bit where we are. So I think that's why.
I know y'all don't like being called a punk band, but what direction do you see punk, or whatever genre you think you are, going next year?
I don't mind being called a punk band, I just wouldn't call ourselves a punk band. Hopefully, in ways already drawn, which is forwards, you know? There's more people from all sorts of backgrounds, races, genders, filling the gaps where it was once a white man thing, and it's more interesting because of it. It's more beautiful because of it; it's more vivid because of it. I think the landscape of music itself is changing. I think it's just beautiful to be a part of that. But I think everything's moving forward … culturally, because we're all being neglected politically. When the government's neglect, the people pick up the pieces and start looking after each other, and making more vivid and beautiful art. Punk itself, I mean, I think it's just a word. But I think music, in general, is becoming more vibrant.
Are there any new artists from this year that you have become interested in?
Mandy, Indiana. They're a Manchester three-piece. French word, French language, vocals like, incredible kind of techno noise-rock crossover thing, really sick. Sprints. Irish post-punk. Backward G's album is really good. He's an MC for, I think, London. Yeah, those three.
Have you found yourself going back to older music this year—in the pandemic and everything that's happening—like old, classic, timeless records? And what were they if you did?
Yes, I have, but not specifically like albums. I made three, seven-hour playlists. One of them I play to my daughter every night at bedtime, like old soul music and folk music and just calm music because it's bedtime. I've been listening to a lot of old stuff, but it's all over. I discovered a lot of really sick post-punk bands from the '80s and discovered a lot of Radio 4 and the Au Pairs, stuff like that. I just make my playlists, basically, going on long walks listening to endless music.
Did the pandemic change the way that you spend your free time this year?
Yeah, I started doing exercise. I started boxing two years ago, and cycling because it gave me a sense of freedom, and also put me fit. Just loads of exercise when I can.
What were your top five records released this year?
Send Them Back To Coventry by Pa Salieu, Promises by Floating Points, the London Symphony Orchestra, and Pharoah Sanders, Awake And Hungry by Folly Group, Crawler by IDLES—I mean I've listened to that more than anything else—and Audio Drag For Ego Slobs by Gustaf.
Other than touring, do you have any other plans for the rest of the year? Any holiday plans or anything outside of music?
We are seeing the year out with The Strokes, so we'll be doing that until then. Try and get a bit fit. I'm getting fat eating loads of pizza. I don't know … I guess daddy daycare at the moment. I don't fucking know.
Do you have a favorite memory this year with your daughter?
Yeah, she woke up at eight o'clock once. It was a dream. [I laughed]
Any final words?
Merry Christmas, everybody.