Ezra Blount, the nine-year-old Astroworld attendee who was put in a medically-induced coma last week, has died. Blount's family confirmed the news of death with Houston's ABC affiliate KTRK first to report. Blount is the youngest person to die following the concert disaster that left eight dead and hundreds injured. Ezra was on his father Treston Blount's shoulders when the deadly crowd surge started at the beginning of Travis Scott's set at 9 pm., and the two became trapped. Blount was trampled and suffered injuries to his kidney, lung and liver.
"The Blount family tonight is grieving the incomprehensible loss of their precious young son," the family's attorney, Ben Crump, said in a statement. "This should not have been the outcome of taking their son to a concert, what should have been a joyful celebration. Ezra's death is absolutely heartbreaking. We are committed to seeking answers and justice for the Blount family. But tonight we stand in solidarity with the family, in grief, and in prayer."
Last week, Blount's family sued Scott, Live Nation, and others, alleging they "egregiously failed in their duty to protect the health, safety and lives" of all concertgoers, and accuses Scott of gross negligence.
Treston Blount created a GoFundMe page for Ezra, to help with his medical bills.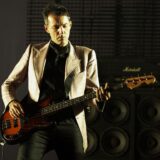 Last Wednesday, 22-year-old Texas A&M senior Bharti Shahan, became the ninth person to die related to injuries suffered at Astroword. According to KTRK, Shanhani attended the festival with her sister Namrata Shahani and her cousin Mohit Bellani, and all of them were separated during the massive crowd surge.
"Once one person fell, people started toppling like dominos. It was like a sinkhole. People were falling on top of each other," Bellani told KTRK. "There were like layers of bodies on the ground, like two people thick. We were fighting to come up to the top and breathe to stay alive."
Eight people were confirmed dead the night of the concert. A medical examiner is currently investigating the causes of death of the deceased, who ranged in age from 14 to 27. Scott has expressed his devastation of the tragedies on social media, and has pledged to cover the funeral expenses of the Astroworld victims.