About two hours after finishing their set at the Constellation Room in Santa Ana, California, the night before vocalist/guitarist Alex Stoitsiadis's 24th birthday, the four members of Dogleg (and their trusty photographer/singular crew member, Erika) sit around a corner booth at a Southern California diner. The Saturday night show where they blasted through a half-hour set of their punk/emo/post-hardcore blend wasn't their first in the area, but it was the only one since they stormed on to many people's radar with their first full-length album, last year's Melee.
The Michigan quartet — Stoitsiadis, bassist/vocalist Chase Macinski, guitarist Parker Grissom, and drummer Jacob Hanlon — recorded Melee in Stoitsiadis's house back in the summer of 2019, but they spent the rest of the year producing and perfecting the mixes, maintaining a running joke was that the sun would explode before they finally released it. Eventually, the 10-track album landed a firm release date with Triple Crown Records, March 13, 2020.
As the initial reviews came in — including an 8.6 from Pitchfork that earned their coveted "Best New Music" connotation ("It should've been a 9," Macinski jokes while eating an onion ring) — it was clear that Melee was going to launch them to the next level. Their pair of previous EPs, Dogleg and Remember Alderaan?, earned a decent regional following, but Melee immediately bumped them into the national and global scene. They'd gone from playing bowling alleys and dive bars to being booked for SXSW and a major tour with an eye on the festival circuit.
And then everything shut down due to the COVID-19 pandemic.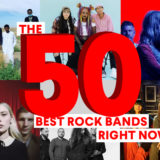 "People online kept telling me, 'Oh, this is great. You guys are so popular. You're awesome,' and I'm sitting in my bedroom literally waiting a year to play my music in front of people, so it didn't feel like I was popular," Stoitsiadis recalls with both hands on his breakfast sandwich. "It didn't feel like anything had happened. The Pitchfork review was a really nice review, but it doesn't mean anything if we can't do anything. Before any of the press or anything like that — and before this album — we thrived on playing live in a room, so having that taken away from us completely just shot both of our feet out from under us, so we couldn't move at all."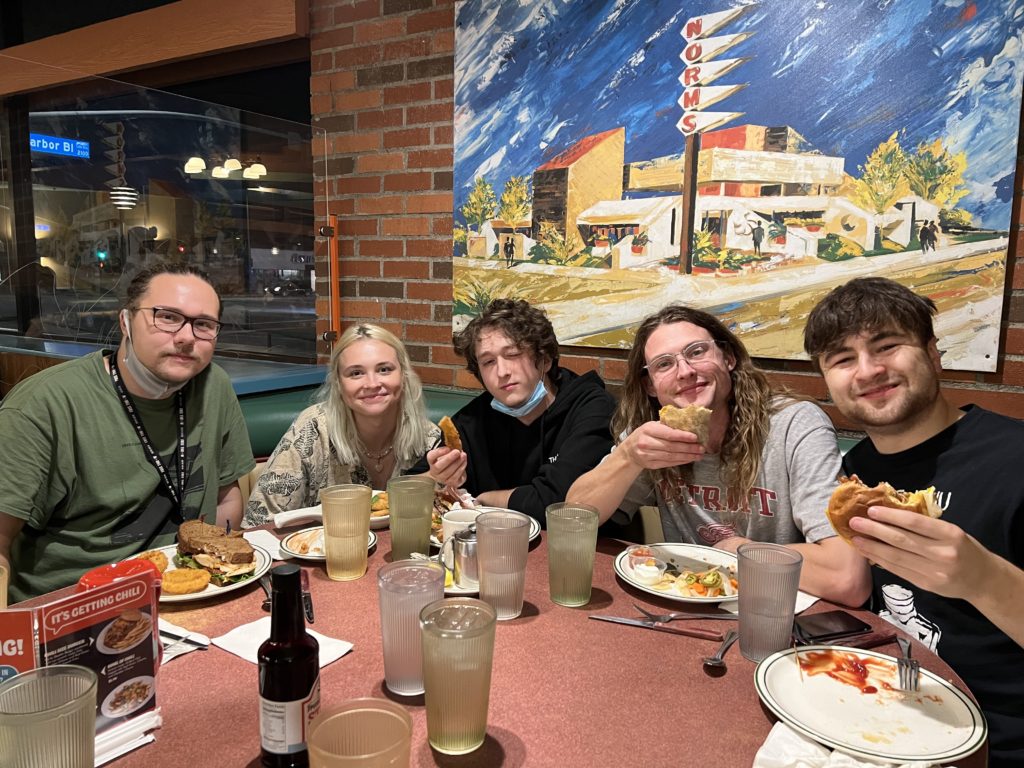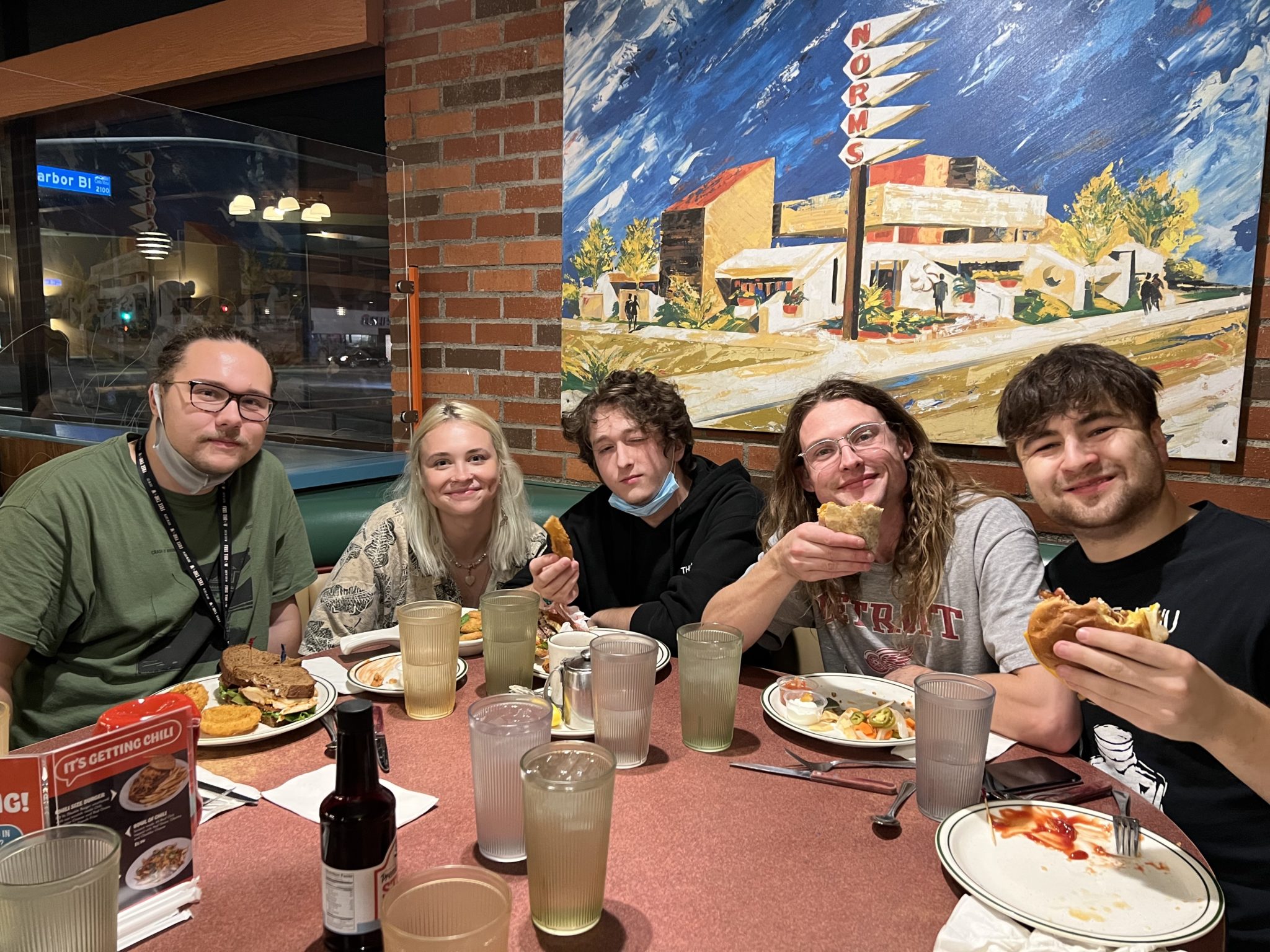 Without being able to play shows and bust out his onstage cartwheels, the critical success of Melee all felt hollow for Stoitsiadis. Despite ending up on multiple "Best of 2020" lists (including SPIN's), Melee is still a live album at its core, filled with several moments that seem perfectly crafted for a young crowd to lose their shit to. Without the ability to tour, Dogleg searched for anything they could do to stay busy — and relevant — during the pandemic, ranging from cover songs to Twitch streams to limited merch and everything in between.
"At first, it was 'No anything until July,' but we didn't really expect how long it would last," Stoitsiadis says, moving on to his side of tater tots. "We didn't know if it was going to be a month or three months or the whole next year. So then we were trying to figure out what we do during that time to keep the steam rolling on this album — to keep people engaged and interested?"
"The answer was merch," Hanlon chuckles between bites of his breakfast burrito.
"We were literally doing anything else," Stoitsiadis continues. "We shot a lot of music videos. We did a lot of merchandise. We tried Twitch streaming. We recorded covers or other songs with friends we had in town. We were really kind of grasping at straws just trying to keep interest."
So when the pandemic restrictions were lifted and Stoitsiadis and the guys could finally properly hit the road in support of Nashville emo band and their labelmates in Free Throw (until the remainder of the tour was canceled less than two weeks after this late-night breakfast due to a COVID-19 case within Free Throw's camp), everyone jumped at the opportunity. Outside of their limited appearances beforehand at events like Pitchfork Music Festival, it would be the first time a lot of the country got the opportunity to hear Melee performed live — a moment many fans waited over 18 months for.
But while Dogleg may technically be the featured support act on the tour, you wouldn't know they weren't the headliner by watching the sold-out crowd — at least for their lone SoCal date on this run. The amount of crowd-surfing, stage-diving, moshing, and screaming along through their eight-song set was at least comparable to what Free Throw saw in an hour, and almost certainly more than was happening at Tinashe in the Observatory's larger room next door.
"I was a little worried [about fans no longer caring about Melee], because this is an album that's now a year and a half old," Stoitsiadis admits. "Will people still care about the songs? Will they still want to come to the shows? So it's really great to see that these shows are selling out and people are coming out in large numbers. They're still telling us all these great things like 'Oh man, this got me through the pandemic' and 'I've been waiting a year and a half to see you guys.' I just feel so happy and validated that people are still interested and engaged."
Of course, taking Dogleg on the road now that they're able to sell out venues across the country meant some changes at home. Macinski quit his job underwriting mortgages, and he, Stoitsiadis and Hanlon left the home they share in the care of their one non-Dogleg housemate. The combination of Melee's popularity and supportive parents (Grissom jokes that his father's living vicariously through his touring after finishing his bacon cheeseburger, while other members earned that full support after obtaining a college degree) means that everyone seated in the round booth can focus fully on the band from here on out.
Considering what they were able to do with day jobs and college schedules, a fully-committed Dogleg figures to quickly put the entire rock scene on notice. Already boasting lyrics more clever than most bands ever sniff on their debut album and tunes that would fit with the best of any post-hardcore band from the past 30 years, Dogleg has already grown a fan base already spans multiple scenes and musical generations. Hell, they even throw a bone to their fellow video game fans who recognize that Melee's title comes from the best iteration of Super Smash Bros while also including references to other Nintendo classics like Star Fox and Pokémon — all without ever specifically singing about video games.
"I really love bands like Modest Mouse or Bear vs. Shark where it's like lyrical splatter paint poems," Stoitsiadis says, wiping his hands of the last crumbs of his meal as the clock strikes midnight, officially marking his birthday. "If you really dig into the lyrics, you can actually create your own story as to what happened. Then if you go and talk to the person who made it, they have their own interpretation of it, but anybody else can interpret it whatever way they want to. The beauty of it is that it's not 'This is the story exactly as it is,' and I think I definitely tried to do that when writing the lyrics for the songs. I love that everybody can have their own story and connect to it in their own way."