Welcome to the latest edition of Difficult Fun! Each month, SPIN will spotlight the best punk on the planet and discuss it here, with the ambition of challenging preconceived notions of what the four-letter word actually means and, ideally, entertaining readers in the process. Purists, piss off! Everyone else, enjoy.
No time to mince words: November 2021 has been an absolutely astonishing month in the punk world; it's a crime that some publications have already moved forward and published best of the year lists. (Looking at you, Decibel. Has no one played you the punishing Acaustix demo, Texas' latest and greatest? Or the shit-kicking Florida crust Sociedad Bastarda demo? Or the People's Temple demo, an inferno of a new band featuring members of Glue, Fuckin Lovers, and GUNN? What if I told you all of those titles dropped on Brooklyn's RoachLeg Records this month alone, and we're not even at the list portion of this month's entry? It's overwhelming!)
Look, I loved Taylor Swift's self-indulgent 10+ minute performance/Jake Gyllenhaal takedown on Saturday Night Live as much as the next red-blooded American, but man, the hardcore Gods have been good to us. Let's get into it.
Oh, and make sure to tune in next month, when we will unpack the greatest punk releases of the year. Should be a real treat for the freakiest among you.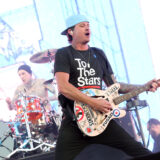 LOW LIFE, From Squats to Lots: The Agony and XTC of Low Life
The first time I heard Low Life was in 2016, with their Dogging LP. It, as some commenter much cleverer than I points out, was immediate, "life affirming degeneracy" – sludgy, tough guy post-punk that happened to name-check Rihanna and offered satirical takedowns on macho bullshit with lyrics like, "Tryin' to be a good man, to be a good bloke/But I love gettin' off and I'm fuckin' stoked." When my friends in the band Perfect Pussy (RIP) toured Low Life's native Australia, I asked them to cop the record for me – naturally, they left it somewhere Down Under, a fitting death, but my obsession only grew from there. 2019's Downer Edn proved the band could clean up their dirtbag dirges and they've only grown more sophisticated in time. All that said: the Aussies have a new one, From Squats to Lots: The Agony and XTC of Low Life, a danceable, textured, smart guy evolution of the band. It's the kind of record that absolutely will not receive the credit it deserves, and fuck everyone for failing to see its greatness. Not that I'm biased, or anything.
Punitive Damage, Strike Back
Blink and you'll miss it: three tracks under three minutes, Vancouver's Punitive Damage (featuring members of Change, Regional Justice Center, Applewhite) are reinvigorating the Canadian city's hardcore scene, and I can't wait to hear more. This is no-frills hXc – something for the purists. (No frills, I should say, save for the use of protest recordings and impeccable mixing by Cameron Heck at Whalehouse Studio, but hell, what do I know.)
Spice – A Better Treatment b/w Everyone Gets In
Like many morons unable to keep up with every killer new band releasing debut albums during the pandemic, I missed Spice's 2020 self-titled LP, nearly bypassing my (retroactively) favorite song of the year/life mantra, "I DON'T WANT TO DIE IN NEW YORK." Lucky for all of us late to the party, the band – which is fronted by Ceremony's Ross Farrar and boasts of the most innovated violinist in the game, Victoria Skudlarek – released a new seven-inch this month, "A Better Treatment" btw/ "Everyone Gets In" on the incomparable Dais Records. The A-side features the most heartbreaking lyric you'll hear all year ("I thought loving someone would cure my self-hatred") and bass line that feels eerily optimistic, and the B-side is a hazy detour, a purposeful stumble, percussion that feels like a heart rate dropping. If only every band could tell such a story with such gradients, and in just two songs.
Florida Man, Florida Man EP
Ever hear something so good it almost makes you angry? And absolutely not in a righteous way? Enter Florida Man, a riot grrrl-inspired punk band from South Portland, Maine made up of three impossibly cool 15 year old girls (including Quinnisa Kinsella Mulkerin, daughter of Big Blood's Colleen Kinsella and Caleb Mulkerin.) A friend recently referred to this demo as "Maria-core to the max," and he ain't wrong – thunderous, controlled, reverbed to hell greatness. Florida Man, when you take over the world, please remember us little guys, okay?
Schneider, "Mitternacht"
Freiburg, Germany's Schneider is Fabian Steck and Gonzalo Böckel, a cold wave duo specializing in Nine Inch Nails basslines and gratuitous church bells used as percussion. So, naturally, it's genius. I happen to prefer the B-side, "Rotes Licht," to the A-side, "Mitternacht," but to each their own. Either way, the release feels like a very early night at the goth club, when the smoke machine begins to fizzle on, and dancing looks like a sober-ish, slow-motion, socially distanced sway. It's gloriously melancholic, hungry and unenthusiastic, and I just pray their politics are good.
Ms. Machine, "Vår"
Japan's Ms. Machine's pummeling industrial post-punk sounds like something straight out of Scandinavia – it doesn't hurt that "Vår," despite appearing like "War," is actually Swedish for "Spring" – but harking on their influences would only undercut their decimating brilliance. Also, try this one on for size: frontwoman Sai (all three members go by their first name only, for privacy/safety: Mako plays guitar and Risako is on bass) was part of Tokyo's Harajuku street snap community around the same time as Kyary Pamyu Pamyu prior to forming Ms. Machine, which only gives their moments of blackened industrial that much more edge. Nothing will ever be cooler than this.
Pouty, "BAMBINA"
Pouty is the project of Slutever's Rachel Gagliardi (featuring Amanda X bassist Cat Park and Pears' drummer Jarret Nathan on record) – all of her songs have an addictive sugary-sweetness to them – twee punk filtered through girl group-worthy melodies. In 2016, before Gagliardi relocated to Los Angeles from the indie rock mecca of Philadelphia, she released Sad, a cassette that rarely leaves my Walkman, even five years later – but unlike that release, which was preoccupied with a young woman's frayed interiority, "BAMBINA" is all about life: those precious first few moments of motherhood, articulated with such an energetic kindness it could get someone pregnant. Or, failing that, it could get the lyrical line "Time is a bitch / And so am I," stuck in your head for a while.
Scowl, How Flowers Grow
A more popular columnist would've found a way to work in something about the rowdy San Jose, California hardcore scene long before right now – unfortunately the bravado of acts like Gulch, Drain and Sunami are extremely not my thing – but Scowl is in a league all their own. How Flowers Grow is a spellbinding debut – groovy, angry, inventive hardcore. Plus, there's saxophone, and frontwoman Kat Moss sings sometimes (both on "Seeds to Sow," a pleasant melodic detour, but it is by no means "melodic hardcore.") Great stuff.