There's a line in Almost Famous where Stillwater's manager (played by Jimmy Fallon) proclaims: "If you think Mick Jagger will still be out there trying to be a rock star at age 50, then you are sadly, sadly mistaken."
I couldn't help thinking about how unbelievably wrong that character's prediction was last night, watching the three septuagenarians take the stage on the second of two shows in Los Angeles' $5.5 billion SoFi Stadium just weeks after the devastating loss of drummer Charlie Watts. But them British Bad Boys carried on, with Steve Jordan filling in on drums.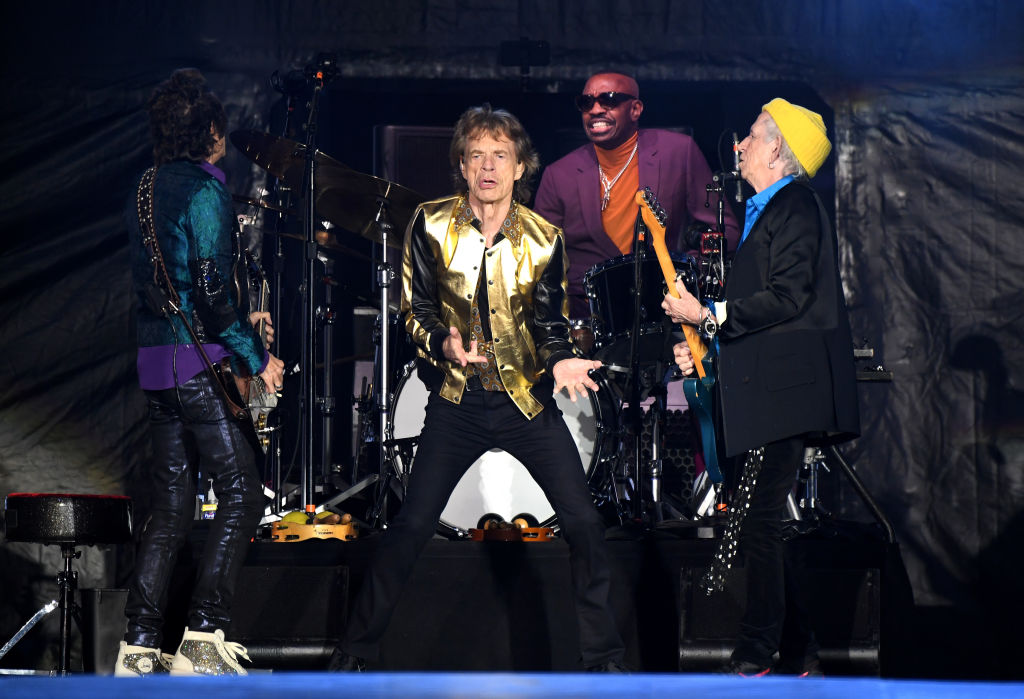 Noting that this was the band's 49th appearance in Los Angeles, Jagger can still move and groove across the stage even as he approaches his 80s. The same goes for how Richards and Ronnie Wood still have the energy to do this as frequently as they do — even with a buffer of nearly a week between shows. Nonetheless, you try getting up and putting on a stadium show for 70,000 people at the age they are and tell me how it feels.
Unlike Thursday's show, where Jagger hit back at Paul McCartney's dig that the Stones were just a blues cover band or having to explain why "Brown Sugar" is likely retired, the only fireworks came when a 12-string guitar went missing before "Wild Horses" in a Spinal Tap-esque moment that left the band befuddled (Jagger quipped that there were 75 guitars onstage but they couldn't find the one they wanted, but hey, you can't always get what you want, right?)
At this point in their storied band-span, the Stones remain one of the last links from rock's nascent days. That's why you saw families (from grandparents to grandkids) rocking to songs that remain timeless even if they capture an era that you'd need Doc Brown's DeLorean to experience.
Over 30 years since their last "hit," (I'm being generous by calling "Mixed Emotions," a great track that has seemingly has vanished from the setlist outside of a spot here and there, a hit), the Rolling Stones keep on choogling along, revving up nostalgia for the Boomer bunch every time they hit the road. Despite the setlist having barely moved (outside of their 2016 Desert Trip appearance) and only one song ("Living in a Ghost Town") on it that has been released since George H.W. Bush was president, the Stones continue to prove why they are the world's greatest rock n roll band.
Rolling Stones SoFi Stadium 10/17/21 Setlist:
Street Fighting Man
All Down the Line (tour debut; first time since 2016)
19th Nervous Breakdown
Tumbling Dice
Beast of Burden
Play Video
Wild Horses (by request)
You Can't Always Get What You Want
Living in a Ghost Town
Start Me Up
Honky Tonk Women (Followed by band introductions)
Connection (Keith Richards on lead vocals)
Before They Make Me Run (Keith Richards on lead vocals)
Miss You
Midnight Rambler (with "Come On In My Kitchen" snippet)
Paint It Black
Sympathy for the Devil
Jumpin' Jack Flash
Encore:
Gimme Shelter
(I Can't Get No) Satisfaction