SPIN and Machine Gun Kelly have partnered for a one-of-a-kind art show to help raise awareness for mental health and addiction recovery. The gallery of iconic SPIN covers opens on October 29 at MGK's The 27 Club in Cleveland to raise awareness for The Phoenix organization and Stand Together.
The opening of the gallery (which happens to be the night prior to the Rock & Roll Hall of Fame induction ceremony) will serve as part of an effort to attack stigmas around mental health and addiction, featuring a panel discussion with both music industry personnel and mental health experts as well as live music from DJs curated by SPIN and MGK.
The event coincides with the launch of SPIN's IMPACT hub, which is committed to raising awareness and taking action around some of society's most pressing issues, particularly as they relate to music. Mental health awareness is one of the key topics for IMPACT, as artists have played a key role in opening a dialogue about vulnerability and asking for help for many fans.
The Phoenix is an organization that uses physical activity and fitness classes to help those struggling with addiction. Their mission is to build a sober active community that fuels resilience and harnesses the transformational power of connection so that together, people can rise, recover, and live. Since 2006, the Phoenix has helped more than 42,000 people across America rise above addiction and harness the power of self-transformation.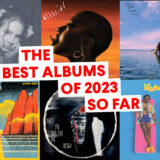 Stand Together empowers people dedicated to helping others improve their lives. Their philanthropic community tackles some of the biggest challenges of our times, including reforming the nation's criminal justice system, strengthening K-12 education, helping neighbors beat poverty and addiction, empowering everyone to find fulfilling work, and more. Their motto is that we can all make a greater difference by uniting than we can by acting on our own.
Opened in 2020, The 27 Club is an unapologetically authentic Coffee Lounge and Kitchen located in Downtown Cleveland's Flats East Bank Neighborhood. Owned by Cleveland native and multiple-award winning musician Machine Gun Kelly, The 27 Club serves decadent coffees, delicious food and themed cocktails with an aesthetic meant to reflect the notorious group of legendary rock stars and artists that died at 27. As a part of the event, SPIN will create a dedicated gallery of the memorable covers portraying these artists, as well as other iconic images captured in years past.
Tickets are required for the opening of the gallery, but the installation will remain in place following the event and be open to the public.