"Well, this is cozy," said Foo Fighters frontman Dave Grohl, taking in the audience Thursday night at the House of Blues in Cleveland, Ohio. He tucked his mane behind both ears like a professor adjusting his reading glasses.
"How the hell did everyone get tickets for this?" he joked. "I'm just assuming, a good internet connection?"  
The spectacular one-off show marked the beginning of Rock Hall weekend. On Saturday, a Beatle will induct all six members — Grohl, guitarists Chris Shiflett and Pat Smear, keyboardist Rami Jaffee, bassist Nate Mendel, and drummer Taylor Hawkins — into the Rock and Roll Hall of Fame. 
The Foos seem legitimately psyched about the distinction. And the gravitas of theirs being the first ceremony following two devastating years wasn't lost on them.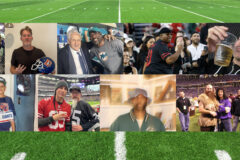 "RIP Charlie" was scrawled on Hawkins' drumkit at the heart of the stage.  Longtime fans (which was basically all 1,200 of us) knew the band was grieving the loss of their manager, Andy Pollard. The deferential tone fed into the first three songs, forming a kind of hard-rock homily, starting with the heartrending 1999 song "Aurora" — arguably Grohl's most evocative songwriting — then to 2002's unrepentant "All My Life," to the invigorating gust of "Learn to Fly."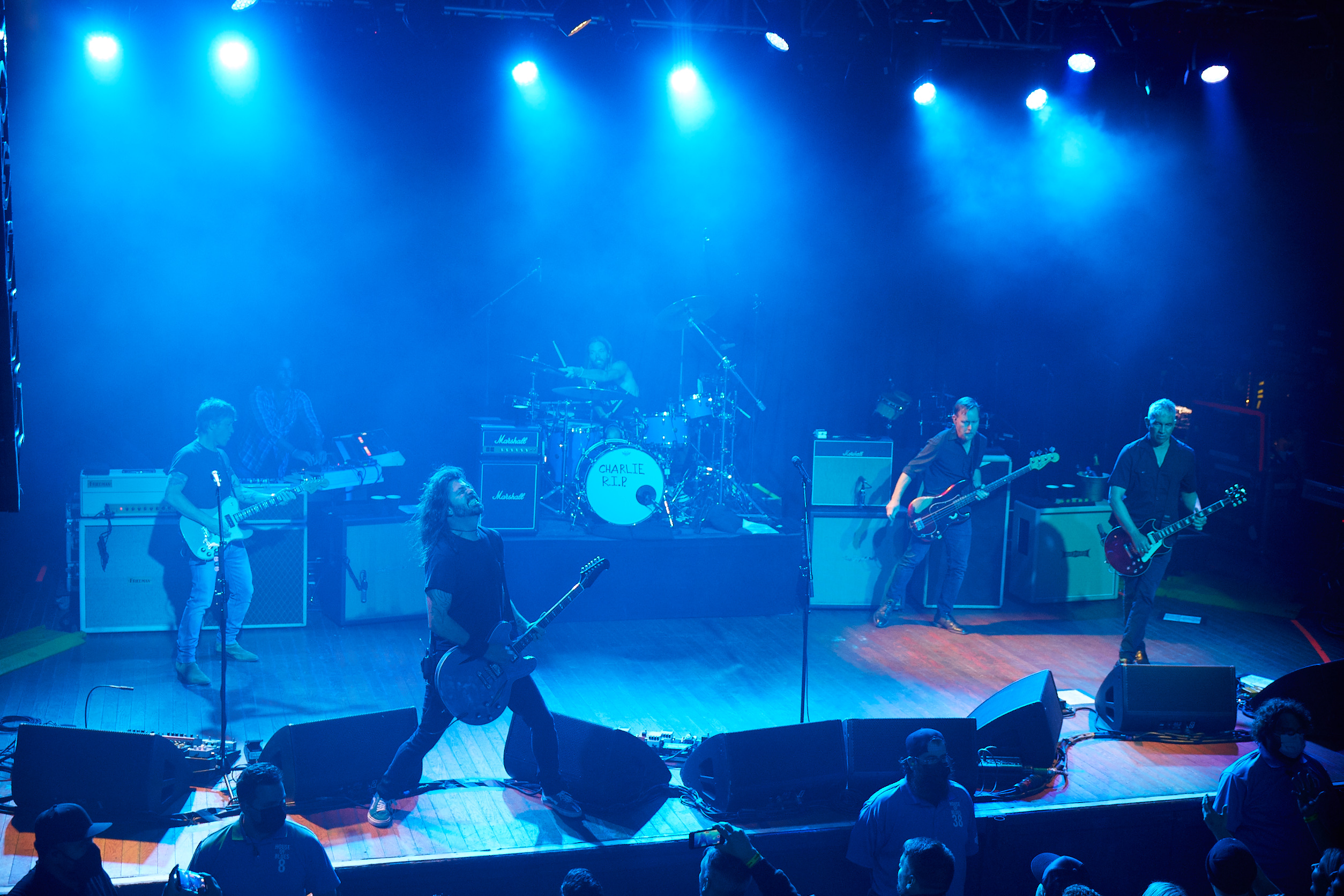 "I was fuckin' born in Ohio," Grohl bellowed as cheers and fists seized up to meet him. "I've got some roots in this motherfucker."
They barreled through singalongs like "The Sky Is A Neighborhood," "My Hero," and "Walk," giving way to plenty of the cliffhanger drum-and-guitar-blasts you expect at a Foos concert. But actually seeing the veins pop out on either side of Grohl's neck choker is why general admission tickets were going for upwards of $3,000. 
No one was particularly shy about launching into a full-blown solo or letting a riff meander into an extended jam. Drummer Taylor Hawkins — the Iggy-est Foo — who sat atop his hot-pink drumkit, all white teeth and blond hair blowing everywhere, gave "My Hero" a percussive face-lift. Grohl would often just stop to marvel at this zen beast pounding away like a machine. "No one has worked harder than Taylor Hawkins," Grohl said, trailing off, then prompting him to do another solo. "Take that, Carole King!"
Even famed concert photographer, Danny Clinch, ventured onstage for a rollicking, completely unplanned harmonica solo during "The Pretender." 

The more feverish, blues improvisations occurred during the new songs from their 10th album, Medicine at Midnight. One of the best was during "No Son of Mine," which also featured a trio of backup singers (one of whom was Grohl's teenage daughter, Violet). 
Blues was balanced with disco fever. Grohl determined there was "too much rock" as he was snapping his gum (was he been chewing gum this whole time?) Back came the singers for the DeeGees spotlight, a cover of Bee Gees' "You Should Be Dancin,'" which has been a setlist staple this year. 
Hawkins and Grohl also traded places for Hawkins' euphoric rendition of Queen's "Somebody to Love," which was particularly apt considering that the Foos inducted Queen into the Rock and Roll Hall of Fame in 2001.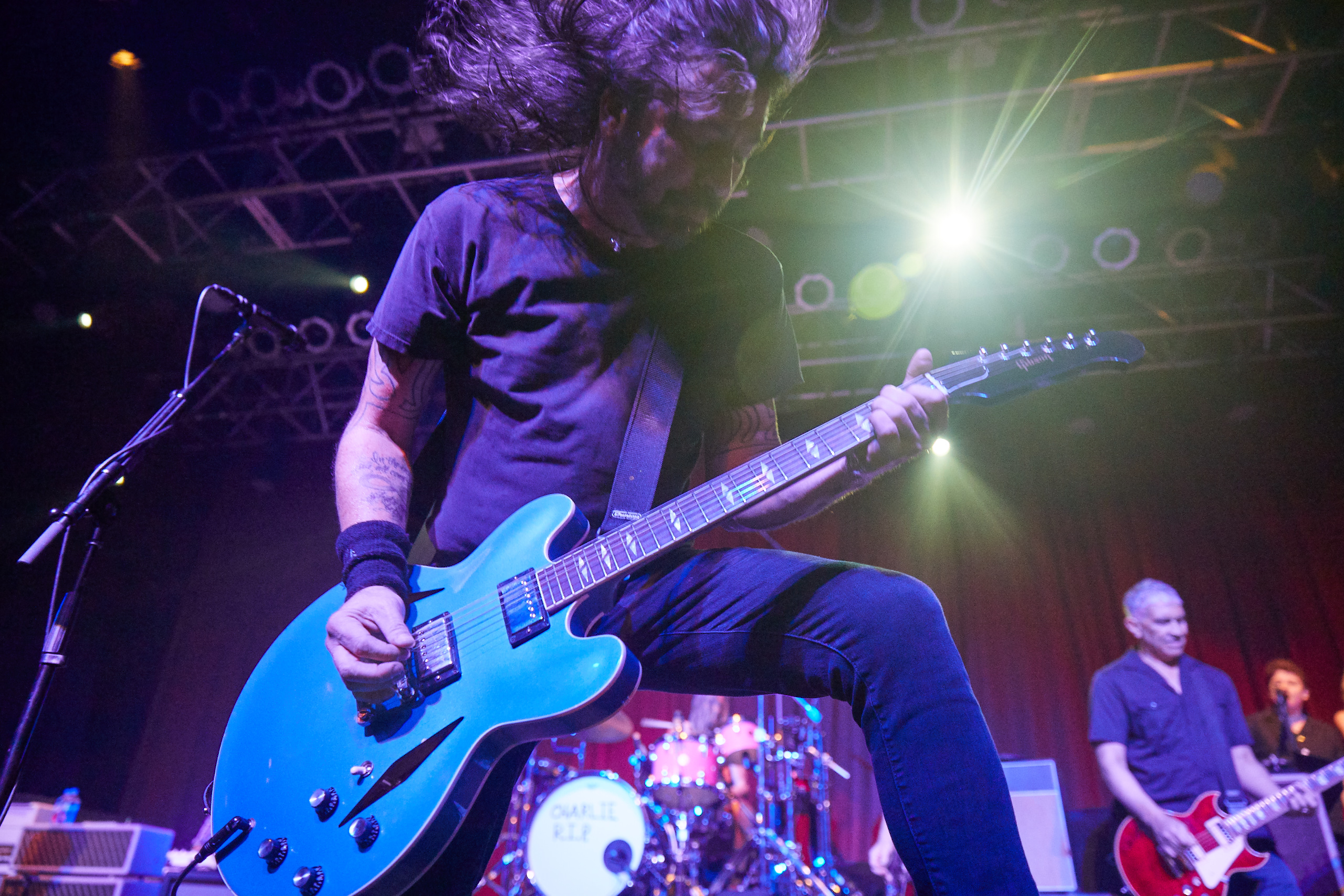 Hawkins crouched at the lip of the stage to watch Grohl's drum solo, later introducing him to the crowd, and noting this will be Grohl's second induction into the hall of fame for the second time after initially entering with Nirvana in 2014. "I don't know when the third's coming, but I know it is," Hawkins said. "Is there a Book Hall of Fame?" (Someone in the crowd answered: "The Pulitzer Prize?") 
For nearly forty years, the Rock and Roll Hall of Fame has been contentious and fraught almost by design. As more '90s bands become eligible for entry into the hall, there's been no shortage of pettiness, from Trent Reznor saying he "couldn't give less of a shit" about Nine Inch Nails getting snubbed over the years to Axl Rose's batshit 1,000-word "open letter," to Radiohead abstaining from the ceremony altogether (although none of those hold a candle to the Grateful Dead in 1994, who arrived onstage toting a cardboard cutout of Jerry Garcia, who boycotted the event.) 
But there's none of that with Foo Fighters. And that's a blessing after 18 months of watching music on an iPhone while venues around the world were shuttered and trying to stave off bankruptcy. Who better than Grohl and Co. to deliver some rock and roll catharsis to Cleveland, and everywhere else. 
"We'll be back," Grohl said at the end of the show, his left eyebrow aloft.
"But next time you see us, we'll be 100 yards away in some big stadium, probably opening for the Chili Peppers."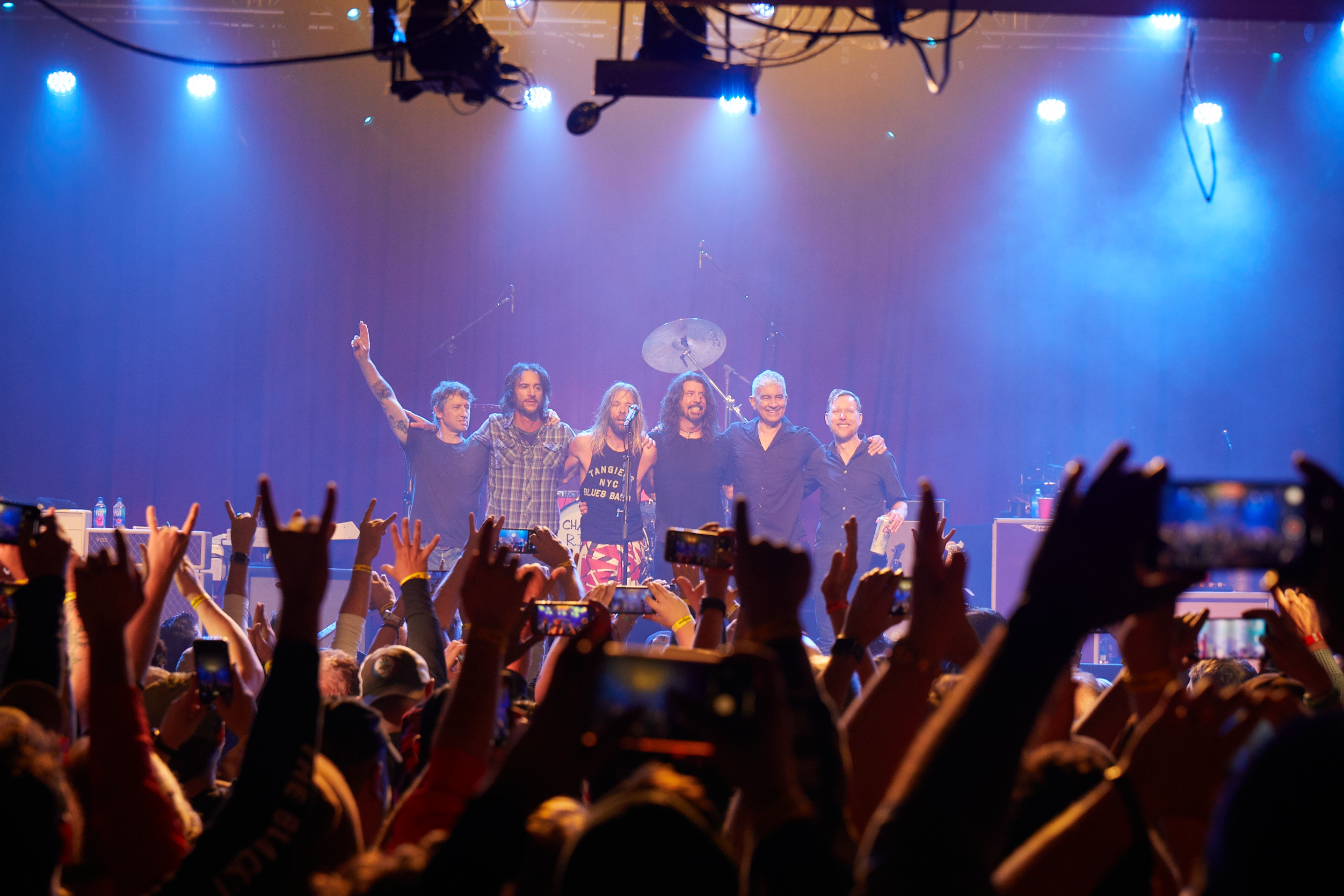 Foo Fighters House of Blues Set List:
"Aurora"
"All My Life"
"Learn to Fly"
"No Son of Mine"
"The Sky Is A Neighborhood"
"Shame Shame"
"Breakout"
"My Hero"
"The Pretender"
"Walk"
"You Should Be Dancin'" (BeeGees cover)
"Somebody to Love" (Queen cover)
"Times Like These"
"Young Man Blues" (Mose Allison cover)
"Best of You"
"Everlong"
Missed the show? Check out SPIN's footage from the Foo Fighters' wild House of Blues concert below: