Matt Sorum was sitting poolside with his wife when he got a text on his phone from legendary Motörhead bassist/singer Lemmy Kilmister. Lemmy was asking Sorum to fill in on drums for a run of Motörhead shows. In a self-conscious moment, Sorum texted Lemmy back, asking "why me." "And Lemmy wrote back, 'Because Dave Grohl's not available,'" Sorum tells SPIN over Zoom while letting out a chuckle.
Sorum is known for his colossal grooves with Use Your Illusion era Guns N' Roses and early 2000s Scott Weiland-fronted supergroup Velvet Revolver. But in 2009, Sorum filled in on drums for around 14 shows with "Ace of Spades" speed-rock trio Motörhead. The band's regular drummer Mikkey Dee had signed up to be part of the Swedish version of I'm a Celebrity, Get Me Out of Here, and wasn't available.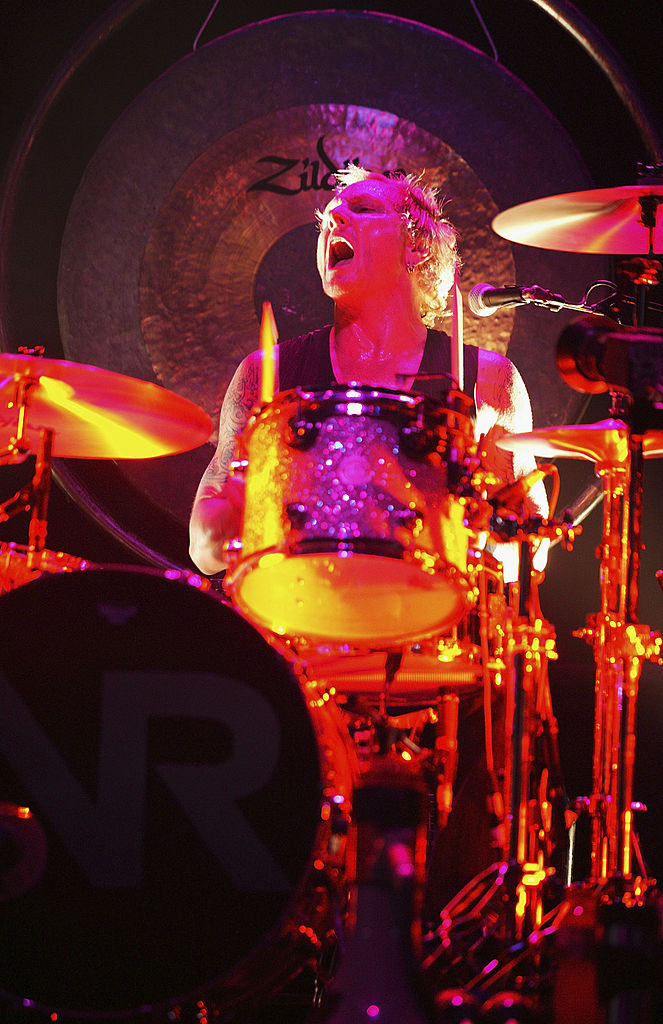 When a show or entire tour is in jeopardy because a band member is out of commission, "fill-in" musicians are called on to learn the set and do the gig. Bringing in a fill-in helps a band meet contractual obligations and keep money from live performances flowing in.
Faces guitarist Ron Wood was one of the early high-profile fill-ins, after touring zoomed to new levels of big business in the '70s. The Rolling Stones initially brought in Wood as a temporary fill-in for the 1975 Stones tour after lead guitarist Mick Taylor quit. Following that tour, The Stones made Wood a permanent member. But it usually doesn't work that way. Unlike "replacement" members, intended to be full-time additions to a band's lineup (think Sammy Hagar with Van Halen or Jason Newsted with Metallica), fill-ins are inherently designed to be temporary. A short-term fix that allows the show to go on.
Guns N' Roses frontman Axl Rose famously filled in on AC/DC's 2016 tour after singer Brian Johnson was sidelined by hearing problems and temporarily retired from the road. Rage Against the Machine guitarist Tom Morello stepped in for Bruce Springsteen in 2014 while Steven Van Zant was filming Van Zant's TV show Lillyhammer.
There are many other examples, past and present. With countless touring bands now comprised of musicians in their '50s, '60s and '70s – not to mention COVID cases arising within bands, as well as financial challenges from the 2020 touring shutdown – fill-ins, will likely only be more critical going forward.
Even The World's Greatest Rock and Roll Band is leaning on a fill-in again. The Stones brought in drummer Steve Jordan to sub for the late great Charlie Watts on their 2021 tour. Initially, he was brought in before Watts died and was recuperating from a recent medical procedure. Jordan has risen to the occasion. His propulsive precise drumming has The Stones rocking stadiums better than artists half still-sassy singer Mick Jagger's age.
Talent, chops, touring experience and musical compatibility are obviously essential for a fill-in. But a personal connection to the band helps too. For example, Jordan has collaborated with Stones guitarist Keith Richards on solo projects for decades, and Jordan and Watts were mutual musical admirers. Before his Motörhead run, Sorum had been pals with Lemmy for years. Lemmy had also guested onstage with Sorum's all-star Hollywood cover band Camp Freddy.
In the mid-'90s, The Bangles guitarist Vicki Peterson filled in on lead guitar with new wave hitmakers The Go-Go's on-tour while her friend Go-Go's guitarist Charlotte Caffey was pregnant. "I like to say that Charlotte was pregnant with my ex-boyfriend's baby, which is true," Peterson tells SPIN with a good-natured laugh since all parties had remained in good stead. Adding to the familiarity, The Bangles performed with The Go-Go's earlier in their career.
The Go-Go's 1994-1995 tour dates fit into Peterson's schedule. The Bangles were done at that point and she'd been performing with The Continental Drifters. Playing "We Got The Beat" and "This Town" with The Go-Go's seemed like fun, and Peterson" jumped" at the opportunity.
Around 2013, guitarist Steve Brown, who enjoyed some MTV-driven success with "Give It To Me Good" band Trixter, landed a fill-in gig with melodic-hard rock titans Def Leppard, who he'd known since 1988. Backstage at a Def Leppard show, Brown and the band's guitarist Phil Collen bonded over gear. "We became instant friends," Brown tells SPIN.
Over the years, Brown and Collen jammed together a few times, including onstage with Trixter, backstage at shows, at Collen's home and, in the early 2010s, on a FOX News TV show hosted by former Arkansas governor Mike Huckabee. After the Huckabee segment aired, Brown says Collen called him excited about "how great our voices blend.'"
Strong harmony vocals are often a desired attribute for a fill-in musician. Harmony vox are a key sonic facet of hits by many bands, including The Go-Go's and Def Leppard. In his own band, Brown had been "Trixter's version of Richie Sambora," he says, referring to the Bon Jovi guitarist's backing vocalist skills.
The Bangles' jangle-pop hits like "Walk Like an Egyptian" make extensive use of harmony vocals, "which is one of my favorite things to do in a band," Peterson says. She relished singing harmonies with The Go-Go's too. She'd prepped at home for the tour by singing and playing along to Go-Go's albums she owned, to fully learn the guitar parts. "It was teaching my hands to play what my brain already knew," Peterson tells SPIN, "because I was so familiar with their early stuff especially."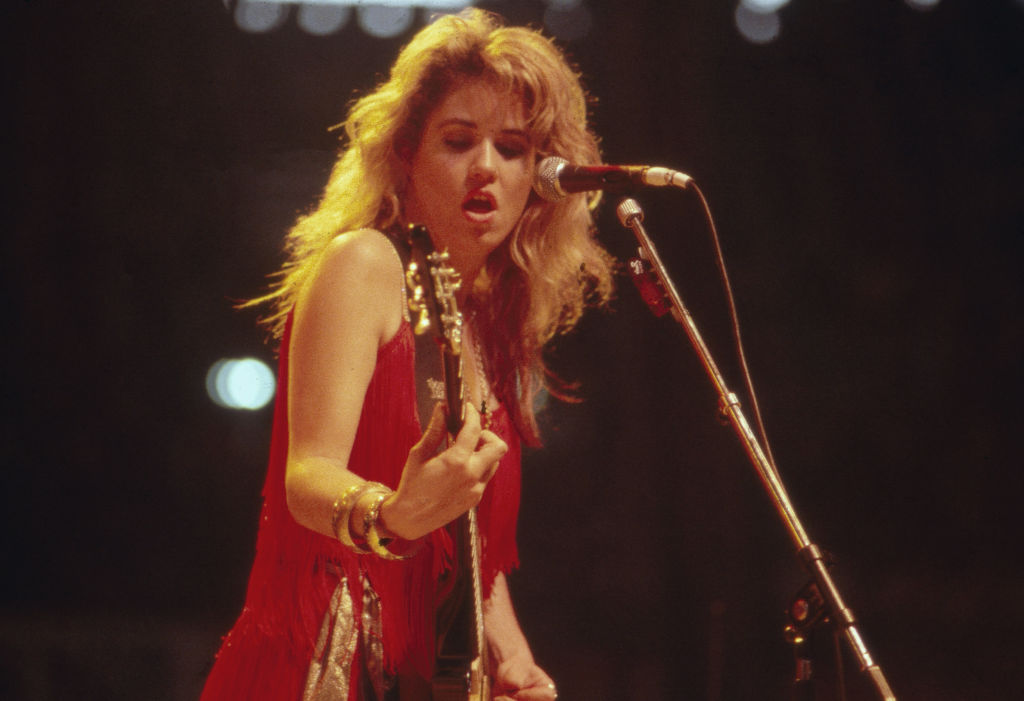 While backing vocals are part of Sorum's skillset too, they weren't part of the Motörhead gig. Sorum texted Lemmy to ask when they were going to rehearse before the shows. Lemmy texted back, "We're not." Management sent him a Motörhead live DVD to learn the set from. Lemmy and Motörhead guitarist Phil Campbell would meet up with Sorum at Washington's 930 Club, where they'd soundcheck before playing their first show together there that night.
Sorum flew to D.C and when he got to the venue his kit was all set up. In soundcheck, "We did beginnings and endings," Sorum says, "and in sort of the middle (of songs) we stopped because we didn't want to be up there for two hours." In 1991, Sorum played his first-ever Guns N' Roses show in front of an ocean-sized crowd at Brazil's Rock In Rio festival. Even so, prior to his Motörhead debut, he was "fairly nervous."
That first gig "was really like a rehearsal for me," Sorum says. Things really gelled during a subsequent Motörhead gig at New York's Roseland Ballroom, "a great sounding room," resulting in a transcendent show, Sorum says.
Sometimes fill-in prep can last much longer. About 18 months after Steve Brown and Phil Collen had jammed together on TV, Def Leppard guitarist Vivian Campbell, unfortunately, was diagnosed with cancer. Collen called Brown and asked him to learn Campbell's live guitar parts, many of which originated with classic era Leppard guitarist Steve Clark, and accompany Def Leppard on their 2013 summer tour, in case Campbell was unable to go on.
The band sent him a hard drive with live versions of Leppard's set. He jotted down copious notes, including chord changes, lyrics, etc. in a spiral-bound notebook. The band brought him out on the road in 2013 in case Campbell took a turn for the worse. Brown continued to wait in the wings into 2014, by which time he was sound-checking with Leppard, but not yet performing live. Brown's time finally came in September 2014. His first show with Def Leppard was at London's Wembley Stadium. Brown says he was more excited than nervous to finally be playing songs he'd put so many hours and miles into.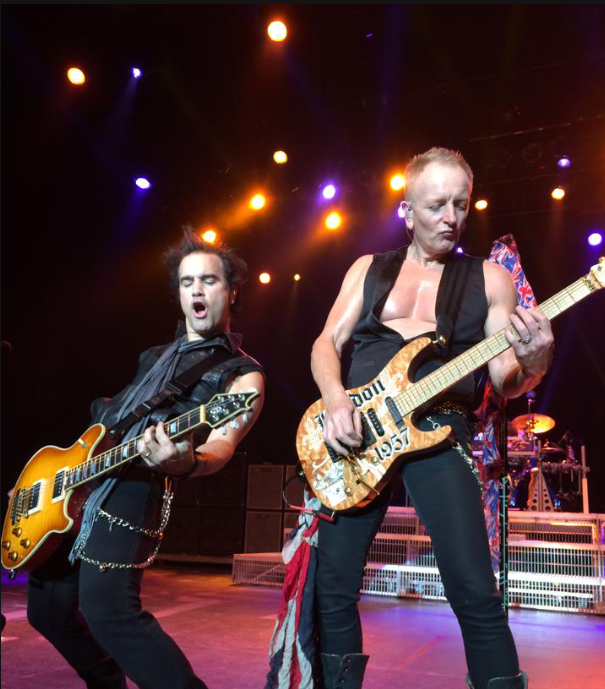 After filling in for Campbell at shows in 2014 and 2015, Brown stepped up again in 2018, this time on just a day's notice for Collen, who was dealing with a family emergency. That meant learning an entirely different set of guitars and harmonies in time for Def Leppard's concert at Hershey Park Stadium. That show's "pinch-me" moment: Brown walking down the catwalk to play Collen's solo on Leppard anthem "Photograph." "You're finally getting your due for all your work," he says. To date, Brown has played 15 or so shows with Def Leppard.
In addition to onstage thrills, a fill-in gets perspective that sticks with them long after the gig is over. For example, Peterson – who Go-Go's rhythm guitarist Jane Wiedlin lovingly referred to as "Vick-Vick Side Chick" – says, "It's a completely different approach to the work. I wasn't worried about ticket sales or anything to do with the business. My focus was just playing the show and have a good time."
Asked how his time with Motörhead changed him, Sorum says, "I stay true to myself more now. Don't go down a road or a path because the world's doing this. Lemmy wasn't that guy."
Sorum says Motörhead was very supportive during his time with the band. He fondly recalls a time when Lemmy included him in a magazine interview. The Motörhead stint provided Sorum with many memories, some of which appear in his upcoming Double Talkin' Jive memoir. Whereas some fill-ins have different accommodations than the band, Def Leppard put Brown up in the same posh hotels they stayed, like the Sunset Marquis in Hollywood. He shared a dressing room with them too.
Both Brown and Sorum tell SPIN other major rock bands have contacted them individually about fill-in work. Due to non-disclosure agreements, they won't name names though. With Def Leppard set to co-headline stadiums with Motley Crue in 2022, has Brown cleared his schedule just in case? He declines comment other than saying, "I'm always there ready to go should the guys need me."