Twelve years ago, Enjambre was on the brink of breaking up before taking off due to another pandemic, 2009's swine flu pandemic. Fortunately, the band hung in there and have released seven albums that blended the romanticism of Mexican folk music with rock and roll that's rooted in the U.S. Amidst the ongoing COVID-19 pandemic, the guys decided to translate the allure of their Spanish alternative rock into English on their EP Ambrosia.
"Because of the pandemic, we finished the record [Próximos Prójimos] and we couldn't go out and tour with it, so we were like, 'Why don't we just do that English thing?'" Luis Humberto Navejas tells SPIN over Zoom.
With last year's plans to tour the Próximos Prójimos album in Mexico and the U.S. sidelined, Luis Humberto started work on Ambrosia while in quarantine during the COVID-19 pandemic.
"We always wanted to record an EP in English," Navejas adds. "We're from Zacatecas, but we also consider ourselves from the states. It was just natural for us to want to explore that area."
Enjambre's bicultural sound is the soul of the band. Luis Humberto formed the group with his brothers, Rafael and Julián, and drummer Ángel Sánchez in Zacatecas, Mexico. The Navejas brothers grew up on classic rock, Mexican rancheras, and boleros that their dad listened to. When he moved to Orange County for work, they went with him and recorded their first album, 2008's El Segundo Es Felino. From the buzz behind their debut, they were booking live gigs in nearby L.A. Enjambre gained a local fanbase, but they wanted more. The guys moved to Mexico City and worked part-time jobs while chasing their music dreams. That almost came to a halt during the swine flu pandemic.
"It was very discouraging," Rafael Navejas recalls of that time. "Luis was about to throw in the towel. It was a very challenging time, but we always believed in what we were doing. We believed we had something to offer, that our music was unique."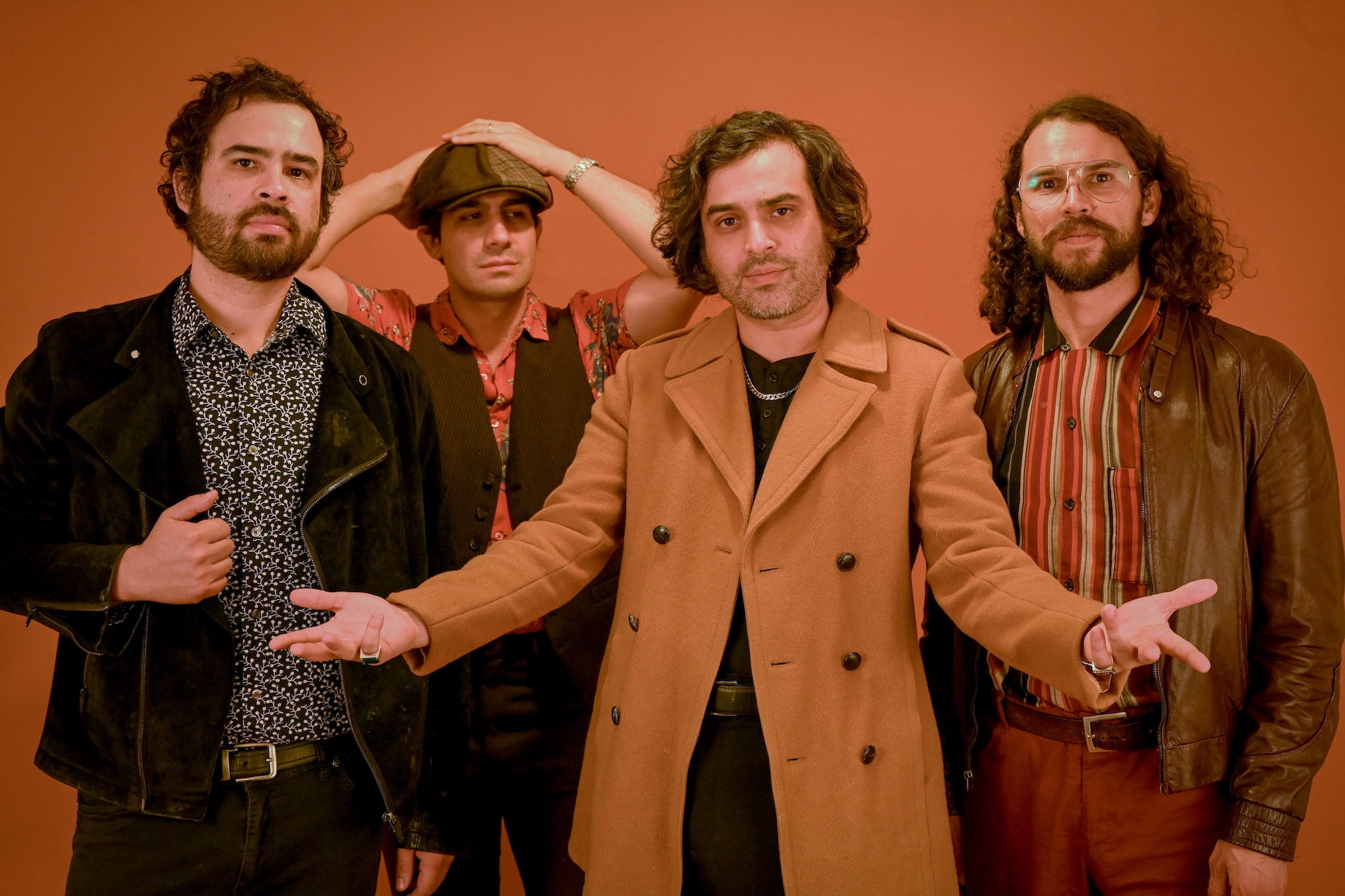 Enjambre played on through the pandemic, performing in bars and opening other bands' shows. At the same time, their music was attracting major labels and later that year, the band reached a licensing deal with EMI to distribute their breakthrough album, 2010's Daltónico. Enjambre hit its stride with its loudest LP at the time. Songs like the dreamy "Dulce Soledad" amped up the alternative allure behind the band. The album struck a chord with the mainstream, and suddenly, Enjambre was headlining their own shows in Mexico.
"We started experiencing for the first time massive audiences," Rafael says. "We started experiencing for the first time massive audiences."
Now Enjambre is looking to translate its success into English with the band's follow-up to Próximos Prójimos, the Ambrosia EP. There was an English song on Daltónico, but this is the first time that they tackled a project fully in that language.
"To me [the EP] feels a little bit like an extension of Próximos Prójimos," Luis Humberto says. "We were still with that inertia. We had finished recording that record and everything was still fresh."
On the lead single "Delorean," Enjambre seeks to right any past mistakes through time travel, evoking the time machine from the Back to the Future movies. Luis Humberto sings in awe about taking Marty McFly's ride for a spin. The music video opens like a public broadcasting channel where the host pokes fun at the band going English by mimicking a gringo accent in Spanish.
"Since the song has a nostalgic feeling, I thought it would be interesting to have this nostalgic symbol, this car from this film that I watched when I was a kid," Luis Humberto says.
The futuristic theme runs through the four songs on Ambrosia. In the raucous "Crash," Luis Humberto seemingly comments on influencer culture in social media. "You are running from the mirror, you show yourself only with filters," he sings. On the EP's stunning closer, "Upgrade," he takes his stance on today's technology into hyperdrive.
"The way that we live nowadays is very influenced by what we see in our cell phones," Luis Humberto says. "We're a culture now that's very dependent on this apparatus, and that's very sci-fi like now. We always have to upgrade. We're succumbing to this technology. It's a song about that with a very romantic frosting."
As venues reopen, Enjambre are starting to tour again while amassing new fans. Elvis Costello enlisted Luis Humberto for last month's Spanish Model album, covering the pub rock legend's "Hand in Hand" in Spanish with Chilean singer Francisca Valenzuela. As for the future of Enjambre, the guys hope to continue reaching more people in any language.
"The plan is to keep recording, to keep making music, and to keep traveling," Julián Navejas says.
Luis Humberto adds, "All we wanted to do was get onstage and play our songs. We've been doing it for a long time now and we're still getting away with it. That's the next goal, to do it until we can't."