Back in May 1990, the phone rang, I asked who it was, and an unfamiliar voice said, "Ricky Powell." "As in 'Homeboy throw in the towel Your girl got dicked by Ricky Powell,' Beastie Boys fame?"
"Yeah, listen," he said directly, "What's this you're dissing the Beasties in SPIN?"
Uh-oh. In my "Hip Hop Map of America" [SPIN, June '90], I had written "L.A., the way, also acts as a rest home for retired rappers Rick Rubin and the Beastie Boys." So I did what any critic would do in that situation: I blamed my editor.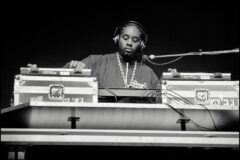 This pacified Ricky Powell, and that's a good thing. Because Ricky Powell — part-time photographer, cable-TV personality, substitute teacher, and stand-up comic — is what you might call "the fourth Beastie.
"Of course, in the same way there were many "fifth" Beatles, so there are a few fourth Beasties. There's DJ Hurricane, who took over the wheels of steel from MTV's Dr. Dre in summer 1986. There's Mario Caldato, Jr. — an engineer, co-producer, and co-writer of six songs on the collection of funky instrumentals, fuzz- bass rock, hardcore, progresso psychedelia, and, oh yeah,/ 21st-century schizoid hip hop that is the brilliant new Beasties album, Check Your Head; in other words, the poor bastard who helped cull an LP from the 50 songs scattered throughout 100 hours of digital audiotapes. Finally, there's Caldato's high-school buddy Mark Ramos by Nishita, a master carpenter and keyboardist who first came into the fold when some girl ran her car into the entrance gate of the "G-Spot," an incredible '70s-type pad that the Beasties rented in 1989 during the recording of their last album, Paul's Boutique. Nishita fixed the gate before the owners came back and later helped the band build their new studio. In the end, he co-wrote nine cuts on the new LP and added tasty keyboards in an array of textures, ranging from Jimmy Smith-type jazz to Pink Floydish razzmatazz.
Nevertheless, there was still only one Ricky Powell. He had grown up in New York's West Village, playing basketball and going to elementary school with Adam Horovitz's sister, Rachel.
Eventually he toured the world with the band, chronicling with Instamatic camera the carnage of various tours that accompanied the Beasties' multi-platinum 1986 debut, Licensed to Ill. Nowadays he hangs out, waiting for the band to tour again — still pissed at their old manager, who reportedly wouldn't let the band tour in support of Paul's Boutique unless they played arenas. If Ricky were to hang around any other band, he'd be a flunky. But perhaps more than any of the Beasties themselves, he is just plain ol' funky.
In other words, I saw my in. "So Ricky, what are the boys up to?" They were working on a new album, he said. As a band. Playing their own instruments. They had their own studio and everything. "Jeez, Rick," I said, trying to play cool, "that's a great story. You wouldn't be able to hook me up with them, would you?
Ricky Powell said he'd see what he could do, and in early 1991 he gave me the phone number of Michael Diamond, known as Mike D, of the Beastie Boys. I left several messages with Mike D to no avail, but one day I finally got through. The only thing I remember him saying was: "Gene Simmons is a man of wealth and taste.
"I could do the story, but I'd have to wait until they got it together. That wasn't until June. Even once I was in L.A., I couldn't go over to the studio until they finished doing some vocal tracks — at 1:30 a.m.