Upon its premiere on Netflix in 2019, Tuca & Bertie was the animated talking bird sitcom we didn't know we needed. Created by Lisa Hanawalt, an award-winning graphic novelist and illustrator who served as production designer and producer for the beloved Netflix animated series BoJack Horseman, the series was met with rave reviews, and immediately earned a dedicated fanbase of cosplayers. 
If you have no idea who we are talking about, Tuca & Bertie chronicles the delightful friendship between Tuca (voiced by Tiffany Haddish), an impulsive toucan that balances a series of gig economy jobs while trying to maintain her sobriety, and Bertie (voiced by Ali Wong), an anxious song thrush that balances a boring desk job with dreams of becoming a baker.
With its blend of character-based comedy, bizarre jokes, stacked vocal cast (Steven Yeun voices Speckle, Bertie's insanely sweet boyfriend; and Reggie Watts brings a foppish air to Pastry Pete, Bertie's baking mentor) and incisive social commentary (Bertie eventually has to call out Pastry Pete for being a creep) Tuca & Bertie seemed destined to fill two voids: the "strangely human show about weird animals" void created by the impending end of Hanawalt's old show (BoJack creator Raphael Bob-Waksberg serves as an executive producer of Tuca & Bertie) as well as the "wacky feminist show about mismatched female friendships" void created by the end of Broad City.
Instead, Netflix — who created its reputation, in part, by saving prematurely canceled shows such as Arrested Development that had deep fanbases — canceled the show after only two months, declining to order a second season. Perhaps this is proof that the alpha streamer is losing its touch.
Fortunately, Walter Newman, the vice president of comedy development at Adult Swim, began pursuing the Tuca & Bertie team for a deal. After staying grounded for two years, the second season premiered in June on Adult Swim. (Episodes air Sundays at 11:30 p.m., right after Rick and Morty, and are also available on the Adult Swim app.) The series remains as whimsically weird and touching as possible, finding time for judgmental plant people, Tuca's "sex bus" (don't ask) and an honest look at how aggravatingly tough, but necessary, it can be to find a good therapist.
Hanawalt is hopeful that the second season of Tuca & Bertie is a new beginning, as she's got a lot more bird stories to tell. A few days after the season two premiere, she spoke with SPIN about second chances and how to avoid easy buzzwords when crafting topical comedy.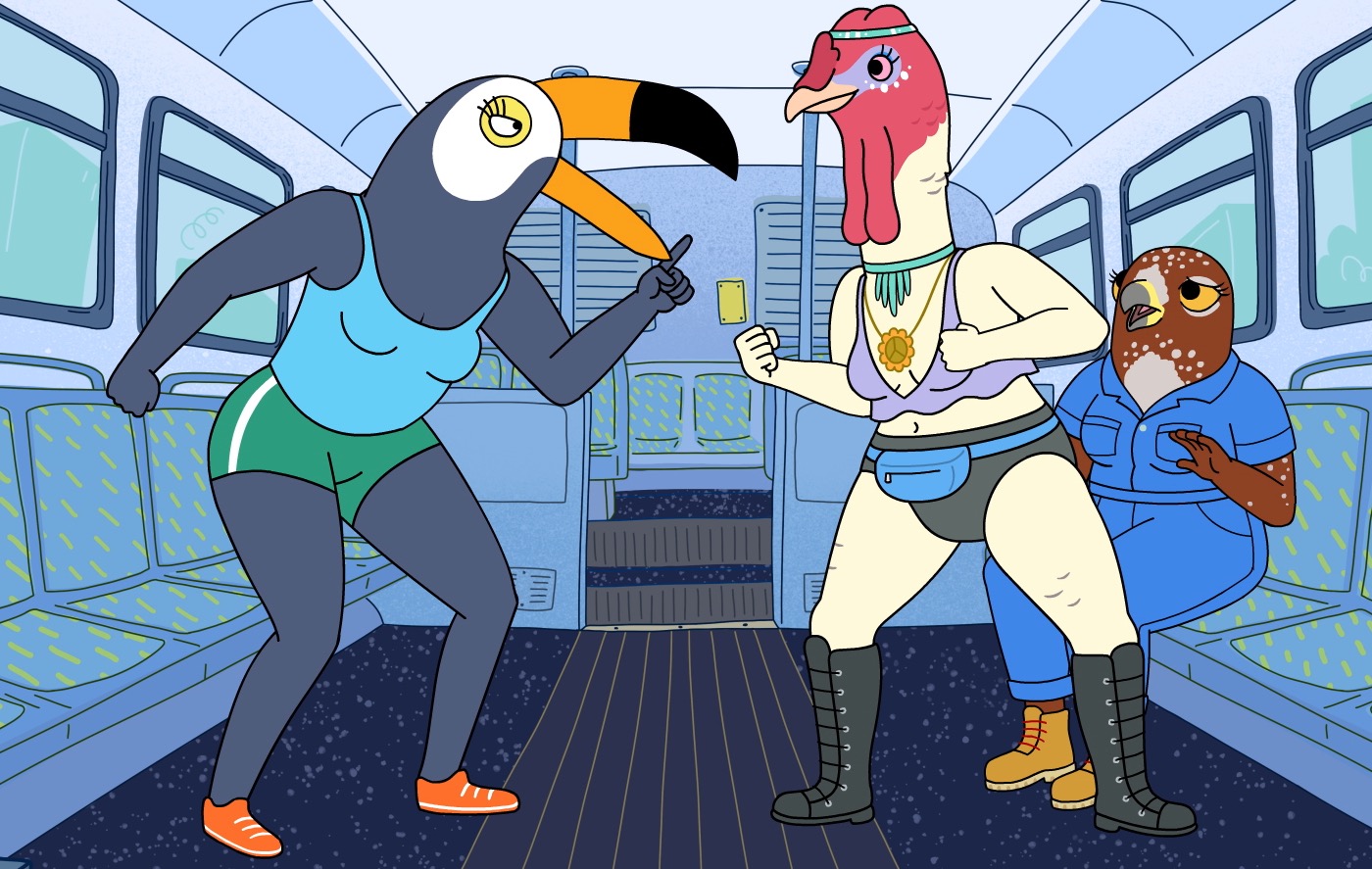 Hanawalt is 38]. To some degree, I can't avoid that. I mean, it's nice that more and more people are destigmatizing and seeking help for mental health issues. I support that.
Our first episode is about Bertie seeking a therapist, but a lot of the therapists she meets are really bad. They suck. They're not going to help her. It's not that simple. It's not going to fix all her problems. I hope to always do a slightly nuanced or twisted take on whatever I'm interested in.