The Flaming Lips document their socially distanced "bubble" show in Oklahoma City with their new "Assassins of Youth" video.
Despite the strangeness of seeing attendees in their own individual bubbles, everyone appears to be having a good time. It's part rave, part Lips extravaganza, and everyone gets in on the action — including singer Wayne Coyne, who walks atop the crowd in his own bubble (a staple of the Lips' concerts for quite a while now).
Coyne, who also directed the video, detailed the filming process in a statement.
"Of course, our MAIN priority (when doing the performance for the music video) was making sure everyone was safe and all the health cautions were being enforced," he said. "But there was a welcome side effect: 'I forgot about how exciting and fun and ridiculous it is to do a Flaming Lips show!!! I think the video shows it!!!'"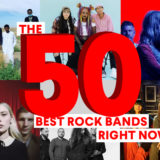 Check it out below.
We spoke with Coyne before the release of American Head, out now on Warner Records. He told us at the time that the Lips were planning these shows, but it looks like it's going even better than he described.