Fame is Sasha Sloan's worst nightmare. 
"I get anxiety if a stranger looks at me in public — I can't imagine that times 10," the alt-pop singer tells SPIN. 
The ascendant songstress, best known for her contemplative ballad "Older," may soon have a problem then: Her debut LP, Only Child, is out Oct. 16 on RCA Records. Vivid and confessional, the album merges attentive, late-night songwriting a la Julia Michaels with the witty daydreams of Kacey Musgraves. It's a worthy successor to the Boston native's sultry singles, which since 2017 have notched over 2 billion streams — a number that nearly triples if you include her songwriting credits with pop nobles like Katy Perry, Camila Cabello and Charli XCX. 
Sloan (born Alexandra Yatchenko), 25, moved to Los Angeles in 2014 after signing a songwriting deal with Warner Chappell Music, who spotted the 19-year-old Berklee School of Music student on Reddit, of all places. A photo of Sloan's parents painting the word "DORK" underneath her bedroom window had gone viral, and Sloan, capitalizing on the notoriety, linked her SoundCloud page. Right place, right time. 
She's been building her career ever since, collaborating with mega-artists and dropping EPs that detail volatile relationships, familiar insecurities and a wildly talented twenty-something figuring out who the hell she really is. 
Here's what Sloan had to say about Only Child, unpopular opinions and summers in Siberia.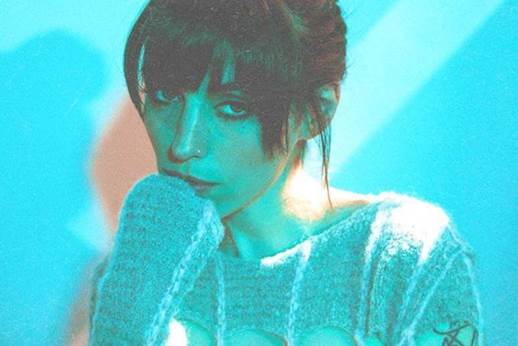 SPIN: While Only Child may come off as understated, there's such confident and concise songwriting, even in your most vulnerable moments. Is there an art to keeping it simple while still tapping those emotions?
Sasha Sloan: Every song starts with the concept and we go from there. I wanted to make an album that talks about more than just love and breakups. I think life is so much bigger than that. There's a lot more to me than just who I'm with or who I'm not with. I just wanted to talk about different things, like being an only child and how that shaped me, and "House with No Mirrors," which is about body image. That's a huge part of my life. And "Is It Just Me?" talks about my unpopular opinions on the world. I really admire people who write more abstract lyrics, but I think I'm just more of a storyteller — or I try to be, at least.
There's also a confessional quality to every song on Only Child. Is It difficult being so honest knowing millions of people are going to hear your deepest thoughts?
Yeah, it's always really hard until the song is out because I'm a very anxious person. I think a lot of my music is very real to me. I think that's what's the most important, but it's also the scariest thing to do. Because until I have people messaging me like "Wow, I feel the same way," I kind of start to question my own belief system and my own insecurities, but it's really cathartic once it's out in the world.
The new single "Is It Just Me" is not only funny but feels like a total stream of consciousness. Did that song just fall out one afternoon?
No, it took months of tweaking lyrics until I felt like it was right. … I'm a huge Reddit nerd; that's kind of where I get all my information and spend all my time online. There's this subreddit called /r/unpopularopinion. People just post their unpopular opinions, and then everyone comments and there are discussions about it. I just think it's super interesting, and I had always wanted to write a song called "Unpopular Opinion." I kind of brought that idea up, and then we landed on "Is It Just Me?" That was just a tough line to ride lyrically because I didn't want to take it too far. I still wanted it to be fun, but I also wanted to make sure that everything I was saying in there was actually kind of against the status quo in terms of the general brush. It was just tricky to make sure we weren't going too far or not taking it far enough.
Any opinions you're particularly worried about?
I'm really scared of the "Friends is overrated" line. That's kind of haunting me. I feel like I'm going to get a lot of backlash, but I'm team Seinfeld. I stand by it.
Last thing: I know you spent childhood summers in Siberia. What was that like?
Siberia is cold as fuck and hot as fuck in the summer. [Laughs] No, it's a really interesting place. My grandparents live in Siberia, and my dad's from there. I used to go every summer; we'd take the trans-Siberian railroad to their village, and it is wild. They don't really have computers or phones, and my grandparents have a farm, and that's how they sustain. There are no paved roads. You're really just out there. It's a really simple way of living. To think that my dad grew up in Siberia and now I get to live a life that's completely opposite of that is really humbling. Any time I complain about a WiFi outage or whatever, I just think about my grandparents in Siberia. And I'm like, "Okay, you know what? I have, like, the easiest life in the world."