There's something uniquely visceral about "Crème Brulee," the recent collaboration between Kaleena Zanders and VenessaMichaels. You can feel it in every push and pull of the '90s-smooth-R&B-meets-dance-pop jam, released last month.
But Zanders and Michaels didn't stop there. The duo's follow-up video has them landing in a neon vaporwave wonderland of flying cupcakes, electric pyramids and flip phones. In the midst of everything we're seeing in the world today, it's a very welcome escape.
Go-to house vocalist Zanders' big break came in 2015 with her SNBRN collaboration, "California." With Diplo unleashing the track at his Encore residency and Calvin Harris dropping it at Omnia, the song would go on to become the No. 3 top-selling track on Beatport that same year. Kaleena's "Stronger Than I've Ever Been (Piano Edit)" premiered during a Toyota commercial during Super Bowl LII then landed a featured spot throughout the 2018 Winter Olympics.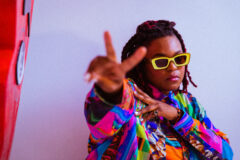 Michaels produced the main title track for Dreamworks' new Netflix animated series Kipo and the Age of Wonderbeasts, and she's had tracks featured on Charmed, Good Trouble and Atypical. With Zanders and Michaels joining forces, the momentum was inevitable. We caught up with the duo to talk about their new tune and yes, copious amounts of dessert.
You're both prolific on so many fronts. How did you meet and what inspired you to combine your super powers?
VenessaMichaels: It all started from a DM! You know how it goes down. I noticed that Kaleena followed me on Twitter, and I was so stoked I slid into Kaleena's DM right then and there to see if she was interested in working together! We got together, and it was instant magic! It's rare to find that genuine music connection.
You also teamed up on J. Worra's enormously successful "On The Run" earlier this year. Did you channel anything from that collaboration into "Crème Brulee"?
Kaleena Zanders: Oh, yes! We all got along very well, and our session was full of laughter and libations in creating this fantastical story. So we put that same energy into every record we do together. 
The "Crème Brulee" video checks all of the boxes for a good time: swimming pools, partying, dancing and great snacks. How did you level up to floating swimming pools of crème brulee? Not to mention the elephant and rhino? Where did that all come from?
KZ: We have a whimsical and zany outlook on life. We love lighthearted and weird things. Animals, bright colors and otherworldly visuals. We are very inclusive people and want people to feel good. We both have an affinity for futuristic, cyber wave sea punk. We really went through all kinds of ideas and managed to truly blend in all of our madness and get it together for this video! [laughs] It's kind of like watching a grown-up zany Sesame Street episode.
There's a recurring space alien performing bass in the "Crème Brulee" video. Did that space alien also play the track on the actual recording? If not, who laid that down?
VM: I have a confession…yes, the space alien wrote the bass line. No, just kidding — the alien just wanted to vibe 'cause they really liked the song and wanted to be a part. I did happen to lay that down without their help.
Kaleena, you're currently the face of Spotify's Dance Rising playlist. How did you first find out that "Creme Brûlée" was added, and what was it like seeing your image up there? 
KZ: First off, I have to thank Helen at Harp Digital Media for this photo. While we were shooting, I picked up this phone and she said, "Hey, I think it's your future calling." And then bam! Seeing this on the cover was unreal! I had an out of body experience to be honest. I was walking around in circles with my eyes wide open! [laughs] Then, tears and an immense amount of gratitude. This really came at a unique time in the world. Being a person of color, a woman and in the LGBTQIA+ community and having this happen feels like a huge win! My hope is that these kind of endorsements continue and allow for many underrepresented groups to shine dance music and really music as a whole.
Venessa, you produced the main title track for Dreamworks' Kipo and the Age of Wonderbeasts, a series that features sexuality, race and self-identity in a way that's so refreshingly relatable. What was it like bringing your musical vision to such a groundbreaking production?
VM: I couldn't be more proud to be a part of Kipo! It literally will sometimes still bring a tear to my eye when I watch it. The whole series is next level. They push boundaries in the show in every level with queerness, race, sexuality, music, visuals, and self-identity. They also highlight the power of friendship and togetherness. It is such an iconic show. I am just, again, so proud to be a part. And I am so grateful that they loved what I created. It really is wild!
Let's talk about these "Crème Brulee" remixes. The array of house, tech house, nu-disco and breakbeat really moved us. It all works so well together. Did you initially set out with that eclectic vision, or did it all just kind of happen organically?
KZ: We definitely sought out an eclectic mix of sub-genres in dance from artists that we've been watching over the past few months, and also it happened organically. Brooklyn Fade is a side project of Olan, who recently did a track called "Problems" with Mat Zo. She provided us with a Kaytranada-style aesthetic. Boiish is an awesome female duo on the come up with their recent remix for Wrabel x Kesha. They gave us a super hot, jungly tech-house banger. Desert Disco delivers a nostalgic disco house vibe perfect to turn up and get wild poolside. Lastly, Leemz knocked it out of the park with a silky jersey club treatment. Overall, this is a tasty little package. Everyone really did their thing with these remixes. Fire, bro!