Gorillaz, "Clint Eastwood" (2001)
(Morricone homage: "The Good, the Bad and the Ugly (Main Title)")
Look, I'm cheating on this one — technically speaking, Gorillaz's 2001 trip-hop classic does not sample Morricone. But its opening banshee wail is such an obvious callback to the famous coyote howl flourish from Morricone's The Good, the Bad and the Ugly theme that the cartoon group even titled the song after the film's rugged-hero star actor, Clint Eastwood. (And if you doubt that Damon Albarn is a Morricone obsessive, consider that Blur has a Think Tank-era outtake titled… "Morricone.")
Atmosphere, "Shrapnel" (2002)
(Morricone sample: "Man With a Harmonica")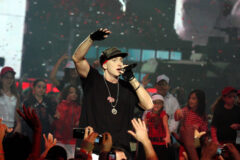 Has anyone ever managed to make a harmonica sound as grim and foreboding as the harmonica-wielding gunman who stalks the Old West in Sergio Leone's 1968 classic Once Upon a Time in the West? No. Probably not. On Morricone's soundtrack, that ominous harmonica whine dominates two tracks: the aptly titled "Man With a Harmonica" and "Death Rattle." The Minneapolis rap duo Atmosphere utilized a snatch of "Man With a Harmonica" in an eerie outro from their 2002 track "Shrapnel."
Jay-Z, "Blueprint2" (2002)
(Morricone sample: "The Ecstasy of Gold")
Having previously sampled Isaac Hayes' wah-wah classic "Theme from Shaft" on "Reservoir Dogs," Jay-Z understands the power of a well-deployed iconic movie score sample. Still, it takes Kanye-level nerve to rhyme over a cinematic cue as recognizable as the majestic, operatic climax from Morricone's The Good, The Bad and the Ugly score. But this outcome is certainly preferable to Metallica's turgid cover of the same piece. 
Mobb Deep, "Blood Money" (2006)
(Morricone sample: "Cosa avete fatto a Solange?")
The 1972 murder thriller What Have You Done to Solange? (or Cosa avete fatto a Solange?) may not be the first film most American viewers associate with Morricone, but it did occasion a wonderfully lush, angelic theme from the composer. Decades later, East Coast rap duo Mobb Deep looped an enticing fragment of the piano and strings intro for their track "Blood Money," a song orphaned from the 2006 album of the same name. (Curiously, Joey Bada$$ sampled the same track, though not the same snippet, seven years later.)
Flying Lotus, "Turtles" (2014)
(Morricone sample: "Piume Di Cristallo")
Flying Lotus's ever-shifting, maximalist mishmash of electronica and jazz owes more than just one sample to Morricone's influence. But for the purposes of this article, that one sample is what we're going to talk about, and it's an incredible one. Instead of borrowing from one of Morricone's more familiar works, FlyLo zeroed in on a remarkably expressive slice of the L'uccello dalle piume di cristallo (1970) score—an ambient fade-in ornamented with pattering bells and angelic murmurs—and equipped it with a thumping bassline and beat. The result is like a cross-genre collaboration spanning across 44 years.