Genesis will be reforming.
Sitting together on BBC Radio 2, Phil Collins, Mike Rutherford and Tony Banks announced their intention to reunite for the first time in 13 years for a U.K. tour. Collins and Rutherford did previously reunite onstage in Berlin for one of Collins' Still Not Dead Yet Live! shows last June.
Called The Last Domino? tour, it will take place at the end of the year. The tour will kick off on Nov. 16 in Dublin and will hit 10 cities, with two dates at London's O2 Arena, before it wraps in Glasgow on Dec. 11.
"I think it's a natural moment," said Banks. "It's happened very naturally. It sort of seemed a natural moment to have a conversation about it. We're all still good friends, we're all above grass and here we are."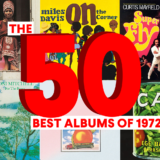 As to the tour setlist, Collins said, "There are songs that you feel you have to play because the audience will feel cheated if you didn't, and then it's a question of putting the rest of the stuff together from songs that maybe we haven't played for a long time and, you know, I mean obviously we're still working out what the order will be, but things tend to sort of take shape gradually."
Collins' son Nic, who plays drums on Collins' solo dates, will play drums on the tour. "He plays a bit like me when he wants to, you know. He doesn't when he doesn't want to," said Collins. "But I'm one of his many influences, of course, you know, being his dad, and he plays like me and he kind of has the same attitude as me." Longtime Genesis bassist and guitarist Daryl Stuermer will round out the lineup.
Genesis' original singer Peter Gabriel, who left the group in 1975 to embark on a solo career, is not part of the tour.
On Tuesday, word trickled out about the reunion. British newspaper The Sun reported on it and an accidental text sent by the O2 arena in London also added fuel to the speculation.
Tickets go on sale on Friday (Feb. 6) at 9 am local time. Head to Genesis' website for more information on getting tickets and see the full set of tour dates below.
Genesis are delighted to announce that @tonybanksmusic, @PhilCollinsFeed
and #MikeRutherford will be touring the UK in late 2020! Tickets go on sale on Friday at 9am.
More info here https://t.co/L0KvJuBNRw #lastdomino pic.twitter.com/X2RodjlpkJ

— Genesis (@genesis_band) March 4, 2020