Gang of Four guitarist and co-founder Andy Gill sadly passed away after suffering from a "short respiratory illness," and in the hours since the band announced his death, numerous musicians including Tom Morello, Flea, Lol Tolhurst, Gary Numan, Graham Coxon, and El-P have taken to social media to show their support for the musician.
"So sorry to hear of the passing of the great Andy Gill, guitarist of Gang of Four," the Rage Against the Machine guitarist wrote on Instagram. "One of my principal influences on the instrument as his jagged page disco raptor attack industrial funk deconstructed guitar anti-hero sonics and fierce poetic radical intellect were formative for me. So glad I got to see him and revel in his incendiary art and wry wit several times over the past year. He was really, really fucking great."
The Red Hot Chili Peppers bassist also shared a heartfelt tribute on Instagram. "Andy Gill, one of my favorite guitar players of all time has left us. Go listen to the Gang of Four album Entertainment! right now," he wrote. "Turn that shit up loud and rock the fuck out. Dance. Think."
"Thats a record that changed my life forever, and was massively influential on my development as a musician, and showed me what a rock band could be," his statement continues. "There is nothing else like it. It cut a fucking hole right the thick LA smog that I wanted to jump through."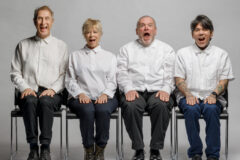 Cure drummer and keyboardist Lol Tolhurst took to Twitter for his memorial, reflected on growing up with the music of Gang of Four. "'Damaged Goods' will always remind me of being 19 and free," he wrote. "Thank you for that."
Read other tributes from Gary Numan, Graham Coxon, El-P, Colin Meloy, and more below.
RIP Andy Gill, Gang Of Four " Damaged Goods " will always remind me of being 19 and free. Thank you for that.

— Lol Tolhurst (@LolTolhurst) February 1, 2020
Just heard that Andy Gill from Gang Of Four has died. That is tragic. Andy was a unique talent.

— Gary Numan (@numanofficial) February 1, 2020
Andy Gill..R.i.P-??
Gang of Four – Ether https://t.co/sOW87H8qy0

— graham coxon (@grahamcoxon) February 1, 2020
RIP Andy Gill! This performance — unearthly weird. Totally rearranged what guitar playing was/is. https://t.co/E833Mlc6A1

— colin meloy (@colinmeloy) February 1, 2020
https://twitter.com/therealelp/status/1223679121051402241
So sad to hear about the passing of Andy Gill. Gang of Four were one of the best and working with Andy on our early singles and first album set us on our path. A true gent. Absolutely gutted.

— The Futureheads (@thefutureheads) February 1, 2020