Foo Fighters shows have turned into something of a rock 'n' roll fantasy camp for young audience members lucky enough to get summoned to the stage by frontman Dave Grohl.
The latest civilian who got to rock out with the Foo Fighters onstage is 8-year-old Revel, who played guitar with the band in front of 40,000 fans during "Everlong" at the Bourbon & Beyond Festival in Louisville, Kentucky, on September 20. Of course, little Revel had an advantage, being that his dad is Anthrax guitarist Scott Ian. Also, we'd be remiss if we didn't mention how Revel brought the heat with his denim jacket, which had the sleeves lopped off.
"There goes my hero," Ian later wrote on Instagram alongside video of the performance. "Proudest dad moment ever? How about when your son gets to join his favorite band on stage to play Everlong in front of 40,000 people and NAILS IT! Thank you Dave, Taylor, Pat, Nate, Chris, Rami, Gus, Kerwin, Sean, Patrick, Simone and everyone else on the Foo crew for being the best!!!"
Ian's video depicts Grohl beckoning Revel onstage and referring to the little boy as "one of my favorite guitar players of all time." Grohl then motions for a guitar tech named "Armondo," who looks a whole hell of a lot like the Anthrax shredder, to help "his kid" get situated. "Armondo" gave Revel a kiss atop the head before scampering off stage and marveling at his son playing the opening notes to the Foo Fighters hit. Adorable.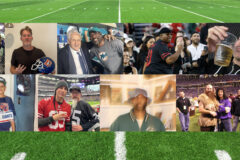 However, you don't have to be the progeny of a metal guitar god to rock out on stage with Foo Fighters. Here are some other kids who got to live out their rock star fantasies for a song or two, courtesy of Grohl and company.
The "Wee Rock Star"
In August, Grohl plucked 5-year-old Taylor from the crowd at Vital Belfast and encouraged the pint-sized fan to show off his sick dance moves while the band jammed. The crowd clearly wasn't ready for the kid's innovative dance moves that combined shadow boxing and jogging in place, but as you can see, Taylor brought the heat anyway.
As Taylor's mother Nikki confirmed to SPIN, her son was indeed named after Foo Fighters drummer Taylor Hawkins.
"Our Taylor's first ever gig," Nikki wrote on Twitter. "Insanely proud of our wee rockstar. Life long memories made at Vital Belfast last night."
The Young Singer
In 2015, Grohl summoned an 8-year-old named Frankie to the stage during a gig in Manchester to help sing the One by One track "Times Like These."
"I just saw this little kid singing our lyrics right there," Grohl said after starting the song. After some banter back and forth with the child, Grohl invites him on stage, along with his parents, to assist with the singing. "I ain't taking care of you, that's for sure," Grohl joked.
Grohl let little Frankie introduce himself to the crowd before asking him if he could sing.
"Me neither," Grohl said after the kid's inaudible response.
"Little Fonzie"
Little Fonzie serves as a cautionary tale for kids who get a little too carried away after being given the keys to the Foo Fighters kingdom. He's an 8-year-old who was beckoned to the stage by Grohl at a 2018 Nashville show, and brought huge Neil Peart energy with an elaborate drum solo lasting three-minutes, which is even years in drum solo time.
"Hey, Little Fonzie, can I have my concert back?" Grohl murmured at one point before bribing the kid to leave the stage with the promise of a soda.
The Guitar Virtuoso
In 2018, Grohl invited Collier Cash Rule, 10, to the stage during a show in Kansas City, Missouri. Little did the musician know, he was about to get upstaged by Collier when he allowed the young guitar student to play Metallica's "Enter Sandman."
Clearly, like Wu-Tang, Foo Fighters are for the children.