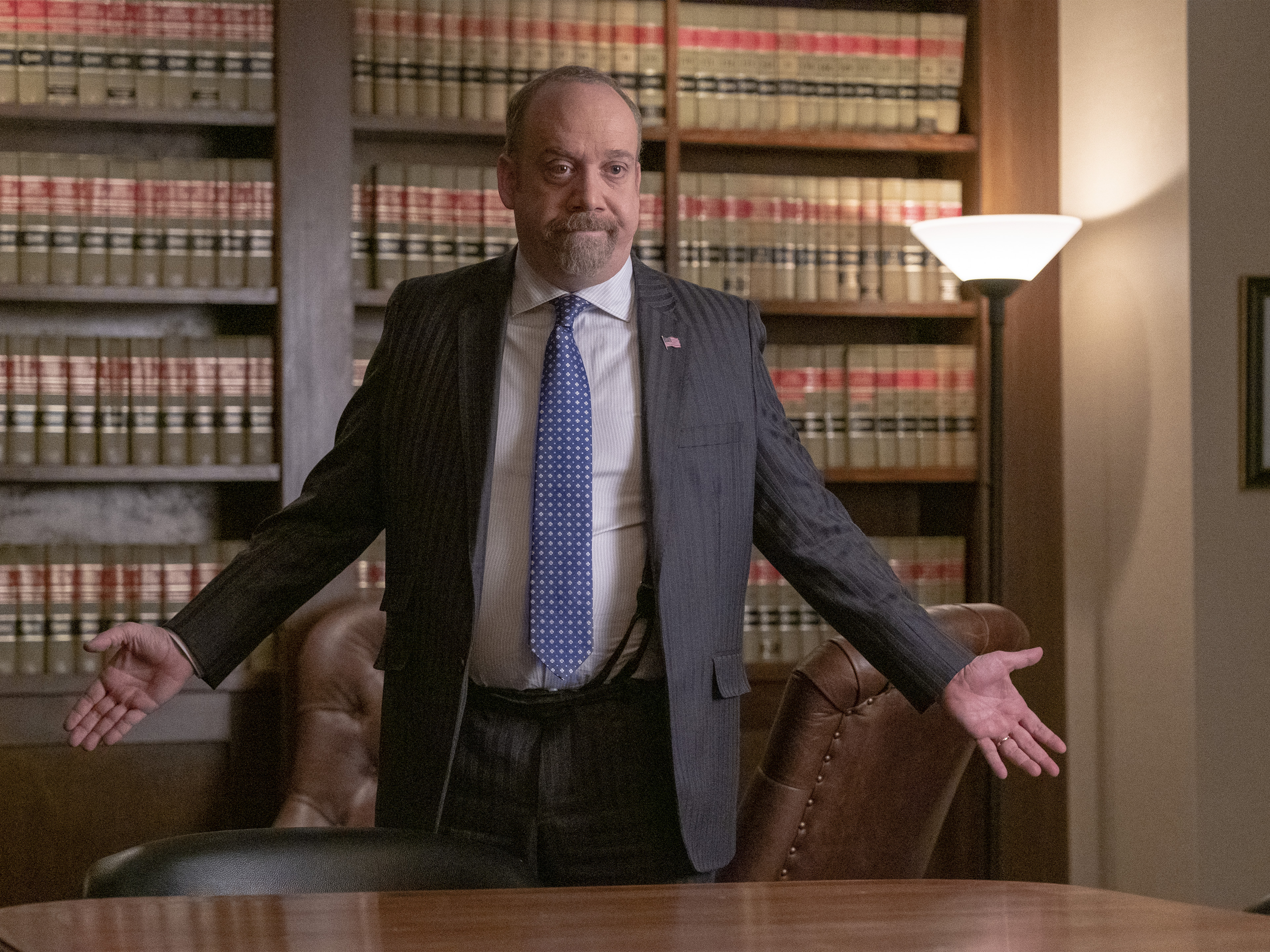 Billions (2016-present)
Billions exists in a sweet spot in the aspirational wealthy-bro-drama genre to which it belongs. It's easy to imagine a new TV show in this style instantly turning off the uninitiated 2019 viewer and coming across as hackneyed. But unlike predecessors like Oliver Stone's heavy-handed and often misinterpreted Wall Street, the Showtime series offers no cautionary tales or earnest condemnations of capitalism. Unlike the exhilaratingly decadent The Wolf of Wall Street, the characters, for the most part, are not irredeemable sociopaths, and the reckless partying is largely reserved for one character: the indefatigable Mike "Wags" Wagner (David Costabile). Most importantly, unlike the dumber-than-a-box-of-rocks Entourage, Billions is a meticulously crafted show, with writers who create elaborate—if ridiculous—plots that remain inevitably satisfying, even four seasons into its run.
Showrunners Brian Koppelman and David Levien also know which parts of the films and shows that inspired them do work, and borrow from them when appropriate. Bobby "Axe" Axelrod (Damian Lewis), the hedge fund manager with the aforementioned billions who serves, alternately, as a villain and hero in the series, flies in private jets and drives absurd sports cars and pals around with celebrities like Metallica and Kevin Durant, just like an Entourage character. In season two, Axe spots a rare spark in a talented intern named Taylor Mason (Asia Kate Dillon) and takes them under his wing, revealing the intoxicating effects of great wealth and power—just as Wall Street's Gordon Gekko does to Bud Fox. And of course there's Wags' hedonism, which, if not quite on the level of Wolf's Jordan Belfort snorting cocaine from a prostitute's ass, is close and at least as fun. 
Outside of Axe, the show's other protagonist is Charles "Chuck" Rhoades, Jr. (Paul Giamatti), the U.S. Attorney for the Southern District of New York, who is obsessed with catching Axe in one of the many financial crimes Chuck is (correctly) convinced that the hedge funder has committed. There's another reason for Chuck's obsession: His wife Wendy (Maggie Siff) works at Axe Capital as a highly paid in-house therapist and professional confidant who is privy to many of the company's secrets. This gargantuan and clearly untenable conflict of interest gets at another of Billions' charms. Like any great show, it operates in a universe that is entirely its own, following rules that make sense only if you surrender to that fact that it's not taking place in reality, despite the surface-level similarities. It's a testament to the success of Koppelman and Levien's world-building that their dialogue—often so densely packed with obscure pop culture references that it sounds like something Bill Simmons might have written on crank—is one of the show's many strengths and not grounds for ridicule. Their gonzo Billions-world logic allows us to accept story arcs that are as ludicrous as they are expert, involving things like elaborate stings built around the coordinated poisoning of a fresh juice chain's products on the day of its IPO. Combine the fearless writing style with the A-list stars obviously having a blast, and a murderer's row of great character actors in supporting roles, and you get the most entertaining show on television. —TAYLOR BERMAN

Read our 2018 essay "Billions Is Back and Still More Fun Than Your Favorite Peak TV Drama" here.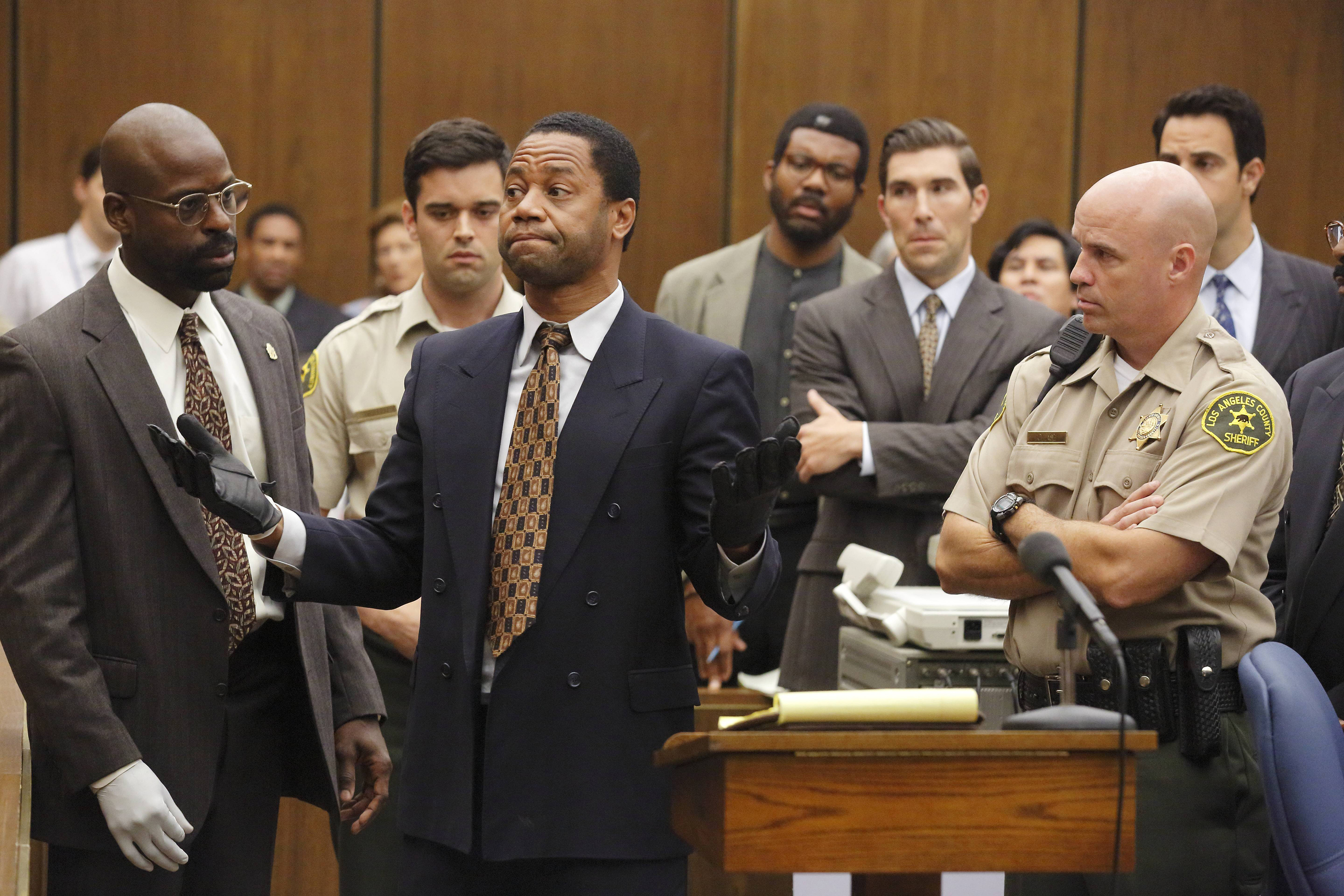 American Crime Story (2016-present)
In 2016, both the sprawling ESPN documentary O.J. Simpson: Made In America and FX's scripted series American Crime Story: The People vs. O.J. Simpson explored the way in which Simpson's murder trial became a powder keg that exacerbated racial tensions inpost-Rodney-King America. But American Crime Story leaned into the trashiest aspects of the story, exploiting our morbid fascination with celebrity scandals to unusual and polarizing effect. Developed by writers Scott Alexander and Larry Karaszewski (Ed Wood, The People vs. Larry Flynt), The People vs. O.J. Simpson offered a melodramatic and arch portrayal of the so-called "trial of the century, while also powerfully evoking the racism, toxic masculinity, and violence that factored into the trial, the media circus surrounding it, and the crime itself.
Above all else, it was the show's cast allowed the risky project to succeed. Its best performances felt emotionally nuanced as well as hyperbolic, including Courtney B. Vance's Johnnie Cochran, Sterling K. Brown's Chris Darden, and Sarah Paulson's Marcia Clark. John Travolta's Robert Shapiro, David Schwimmer's Robert Kardashian, and Cuba Gooding Jr.' O.J. were more bizarre, but their scenery-chewing characterizations provided an interesting point of contrast and served their specific purpose in the story well.

American Crime Story's first season was a huge success for FX, which is not surprising given the high-profile subject matter. To follow it up, the show tackled a darker and less ubiquitous tale: Gianni Versace's murder at the hands of serial killer Andrew Cunanan. Versace lacked O.J.'s intermittent lightness and absurdity, painting a heartbreaking and deeply disturbing portrait of a kid losing his grip on sanity in his pursuit of glory. (Darren Criss' pitch-perfect performance as Cunanan was ultimately the season's highlight.)
In the 2010s, Ryan Murphy established himself as one of television's most distinct voices, and quite possibly its most influential. The Glee and American Horror Story creator has an inconsistent track record—he produces so many shows that it would be almost impossible for it not to be—but his loud and theatrical style is particularly well-suited to tales of real-life violence and depravity, heightening their most lurid elements without losing sight of their essential humanity. In taking a bold and singular approach to sensitive subject matter, American Crime Story encapsulated the best parts of the Murphy empire's creative legacy. —ISRAEL DARAMOLA
Read our 2016 essay "Let's Appreciate The People v. O. J. Simpson's Emmy-Worthy 'N***a, Please' Scene" here, and our 2018 essay "Gianni Versace Is the Beating Heart of the Show About His Death" here.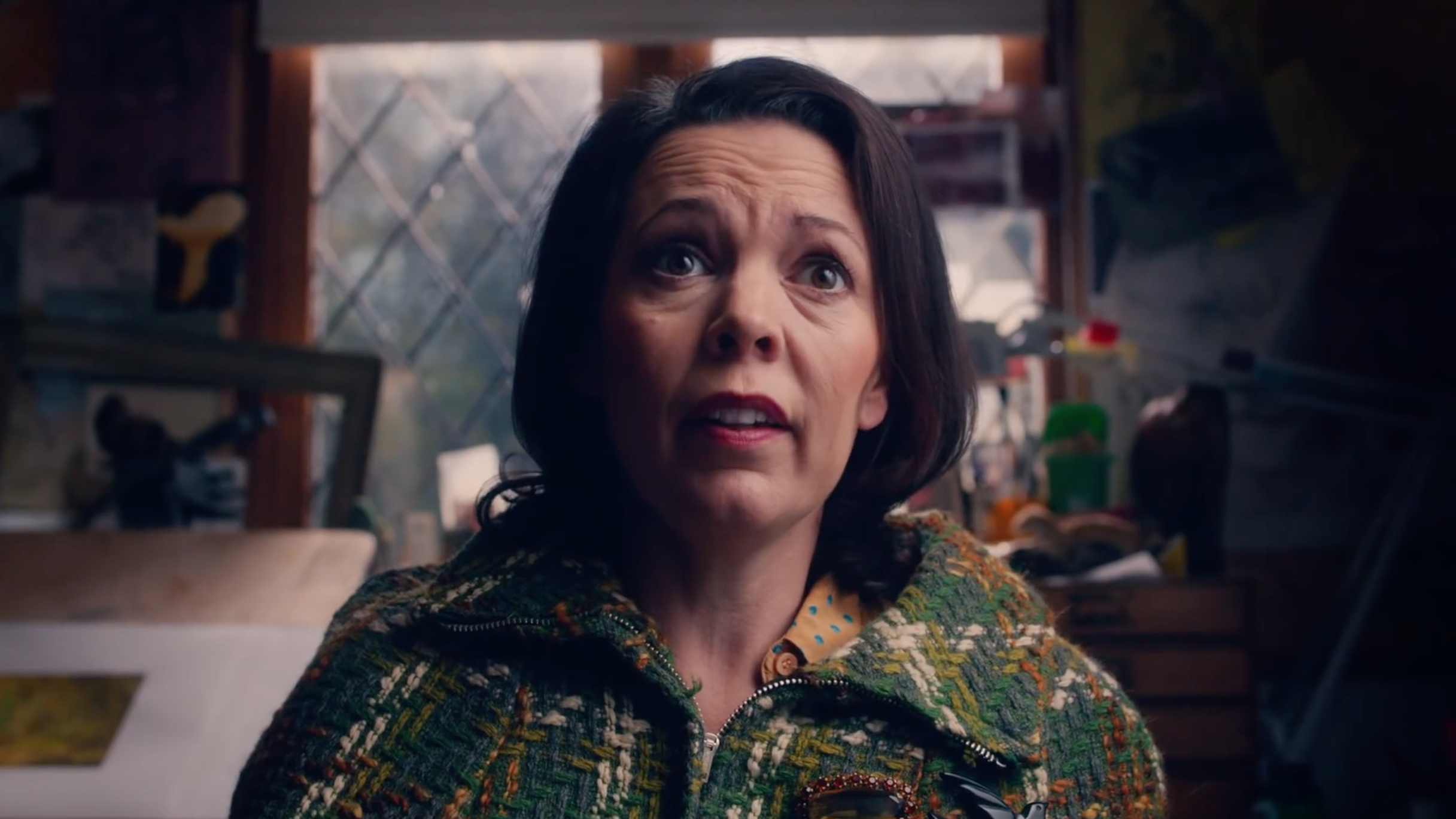 Flowers (2016-2018)
Ten years ago, getting access to a relatively obscure British show like Flowers might require you to purchase a set of DVDs online, or to risk your internet access by downloading an illegal torrent. Now, it's as easy as cueing up the correct Roku channel. For all the faults of the streaming era, it's undeniable that Netflix, Hulu, and their ilk have made it easier for Americans to access the sorts of idiosyncratic international shows that might not have crossed the pond otherwise. One of the strangest and most inspired shows in this category to show up on a major streaming service was Flowers, a two-season black comedy starring Julian Barratt and Olivia Colman as a suicidal children's book author and his long-suffering wife.
In this decade, especially its second half, discussions of mental health have been a welcome component of the pop-cultural zeitgeist. On TV, this tendency has mostly manifested in the post-Girls idiom of stylishly quotidian shows about depressed millennials working in coffee shops and having bad sex. Flowers bucks that trend in spectacular fashion, putting the depression of Barratt's patriarch Maurice Flowers and the inherited trauma of his wife and two children at the center of a fanciful and surrealistic tale that also involves a lapsed clown, a troupe of avant-garde musicians, a hysterical nymphomaniac neighbor, and a lesbian ex-junkie priest. The show's wild visual and narrative languages often feel like manifestations of its characters' inner states: sometimes foggy and slow, other times feverishly paced and deliriously colorful. 
Series creator Will Sharpe plays a bumbling but kindhearted Japanese-British illustrator, a role that dares you to laugh at what would at first seem like an ugly caricature of Sharpe's own heritage, but soon becomes much more complicated. Flowers as a whole is similarly steadfast in its refusal to offer the viewer predictable comforts, giving a depiction of mental illness that is boldly inventive, crushingly sad, ridiculously funny, and uncommonly true. —ANDY CUSH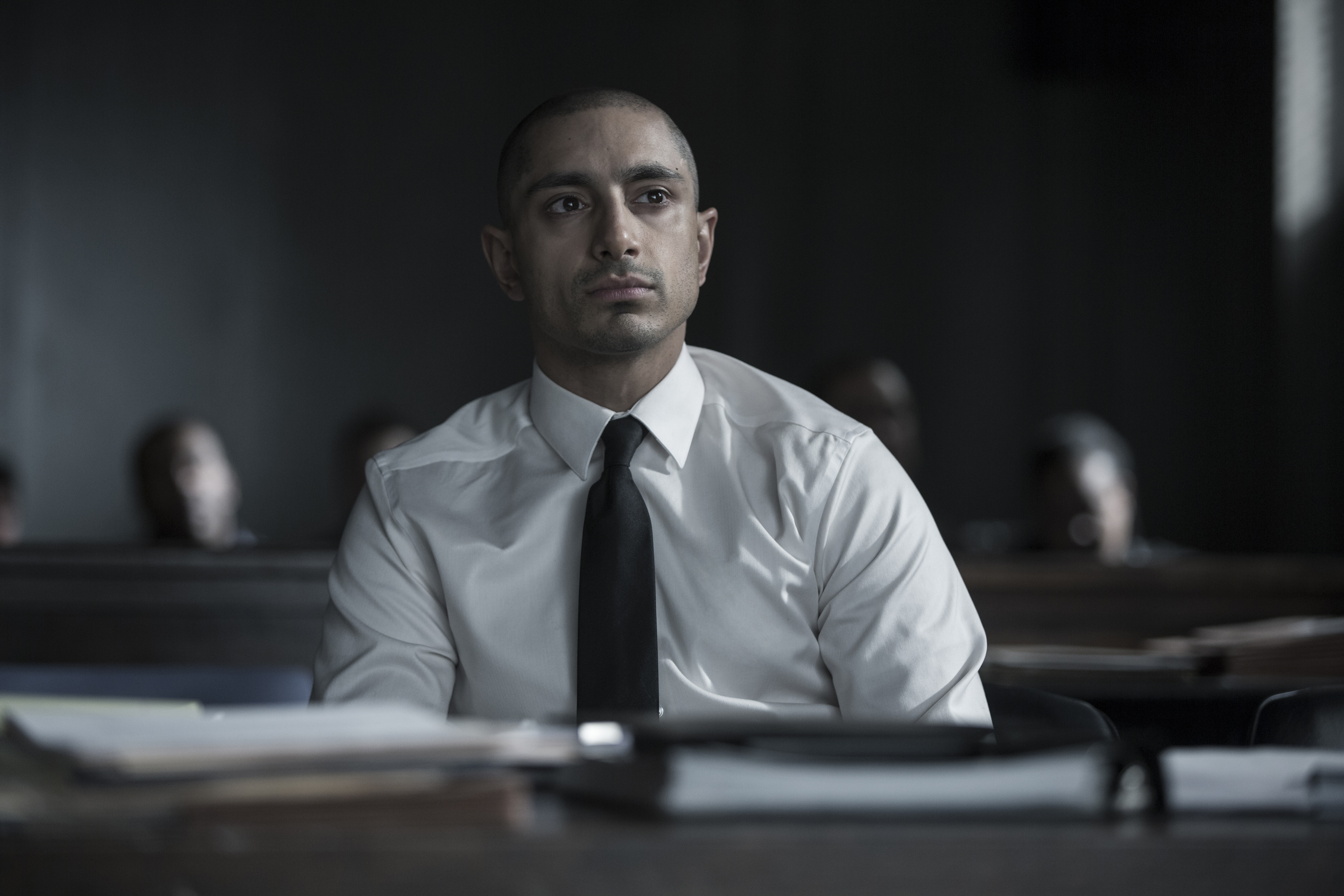 The Night Of (2016)
HBO's limited series The Night Of' offered a nuanced take on the criminal justice system, exploring the fallibility of every party involved without indulging in overblown cartoonish portrayals of corrupt cops and bloodthirsty criminals. This attention to detail earns it a place among the top tier of this era's crime shows, like a small-scale procedural version of The Wire, which series co-creator Richard Price helped to write. 
In its pilot, a young Pakistani-American kid named Naz (a thoroughly impressive Riz Ahmed) is apprehended near the scene of a grisly murder, with incriminating evidence on his person. Over eight episodes, the question of Naz's guilt is explored in police precincts, in courtrooms, and in the claustrophobic cells of Rikers Island, where Naz is left to await trial. Facing the cynical institution that is the New York County District Attorney's Office with nothing more than a budget defense attorney (John Turturro), the once-naive Naz wises up pretty quick, mingling with high-profile prisoners and picking up a crack addiction in the process. The city's attorneys know something's not quite right with the case, but they need a win badly enough that they don't really care. And Naz's shabby attorney, though his heart seems to be in the right place, doesn't have the legal chops to make a compelling case on his behalf. 
Everyone is falling apart, physically as well as psychologically and ethically (Turturro's character has a severe eczema problem that fluctuates along with Naz's case). Nothing works quite as it should, and there isn't a single character on this show that escapes the inevitability of compromise. The Night Of's most memorable moment may be its last—when a free Naz, his head now shaved, his body tattooed, looks out onto the Hudson and takes a hit from his crack pipe, thinking back on the naive college student he once was. Across the city, his committed attorney takes a call from a new client. The state of criminal justice hasn't changed, though Naz has. And it's the same for the countless others, whose experience of a deeply imperfect system comes to shape their lives irrevocably. The river rolls on. —WILL GOTTSEGEN
Read our 2016 interview with Riz Ahmed about The Night Of here.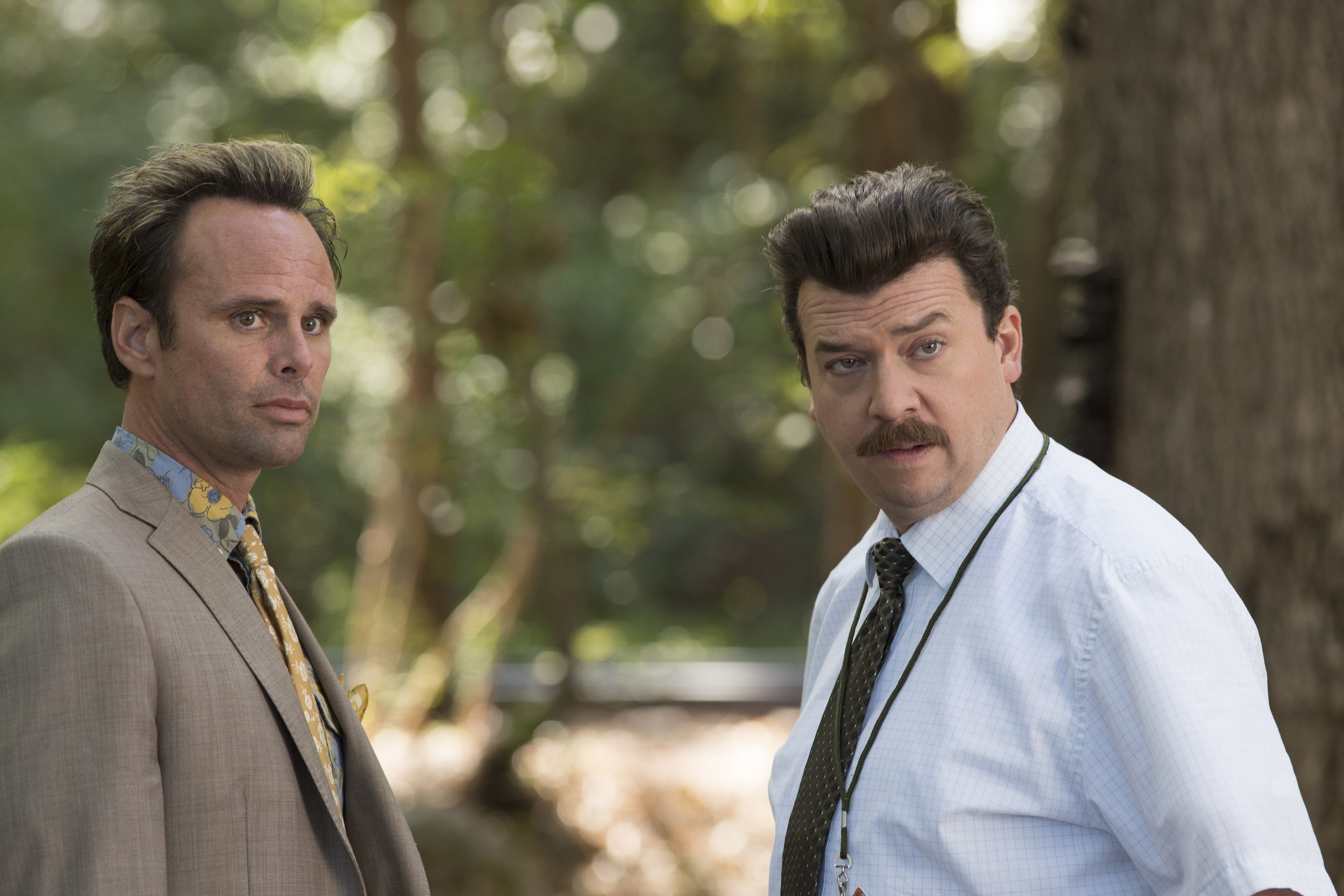 Vice Principals (2016-2017)
Comedy auteurs Danny McBride and Jody Hill are experts in evoking a particular strain of Southern life. In both their inspired debut HBO series Eastbound and Down and its superior followup Vice Principals, the showrunners' protagonists—both played by McBride—are amplified versions of a familiar type of Carolina-born idiot. Eastbound's self-destructive ex-pro-baseball pitcher Kenny Powers is the definition of a has-been, and high school vice principal Gamby is perhaps better characterized as a never-has-been. They are at turns cocky, selfish, vain, insecure, and cruel, but—if you squint hard enough—also empathetic and somehow worthy of redemption. They are also inevitably hilarious, with McBride's buffoonish presence and precise delivery highlighting the gap between his characters' self-perception and their actual standing in the world.
In Walton Goggins, Vice Principals has a perfectly cast second lead. As Lee Russell, Gamby's dandyish co-vice principal at North Jackson High School, Goggins prances and peacocks around in outlandish suits that should've won the show's costume director every award on earth. Whereas Gamby is an oafish disciplinarian, who huffs and curses his way through life in short sleeve button downs and clip-on ties, Russell is an ingratiating sycophant desperate to weasel his way into a position of true power at the high school. The retirement of North Jackson's longtime principal and announcement of an outsider, Dr. Belinda Brown (the excellent Kimberly Hebert Gregory), as his successor triggers a seemingly infinite number of insecurities within Gamby and Russell. The two former rivals join forces to sabotage Brown's tenure, ramping up their antics from petty in-school hijinks to full-fledged arson. 
Over its two seasons, the show spends an increasing amount of time detailing Gamby and Russell's warped personal lives. We see Gamby struggle to connect with his daughter Janelle (Maya G. Love), his ex-wife Gale (Busy Phillips) and her new husband Ray (Shea Whignam), all of whom are trying their best to support him despite his constant unprovoked antagonism. He has a disastrous fling with one co-worker and a more substantial but doomed relationship with another. It's hard to know if the dysfunction and failures of his professional or personal life are worse, but the end result is the same: he's profoundly fucked up. The second season focuses in on Russell's life at home, in particular his relationship with his long-suffering wife Christine (Susan Park). As a doctor, she is more professionally successful than he is, which clearly eats away at him. No matter how hard she tries, she can't do enough to assuage his myriad vanities and ambitions, and as a result, Russell repeatedly insults and humiliates her (along with her Korean mother, who lives with them and hates Russell). At various points, Hill and McBridge suggest deeper motivations for Russell and Gamby's insecurities and moments of cruelty: Russell is a youngest sibling with two sadistic sisters who tormented him as a child, and watching Gamby attempt substitute teaching for a day reveals he's less educated than the average upperclassman in an AP class. However, at no point does the show's writing excuse or justify their behavior, or make their undeserving targets the butt of the joke.
As bleak as the concept of two mediocre middle-aged men sorting out their insecurities in increasingly destructive and depressing ways sounds, the show is still somehow one of the funniest comedies of the past ten years. McBride's vision and sensibility remains unique, at once juvenile—he revels in dick-and-balls slapstick humor and innovative cursing—and profound. The deeper struggles of his characters are always clear but they exist on the periphery, fueling the comedy rather than providing a counterpoint to it. We laugh at Gamby and Russell as they bumble through a world they're too stupid and damaged to thrive in, insulting and belittling everyone in their path, because we know at the end of the day the joke is on them. —TAYLOR BERMAN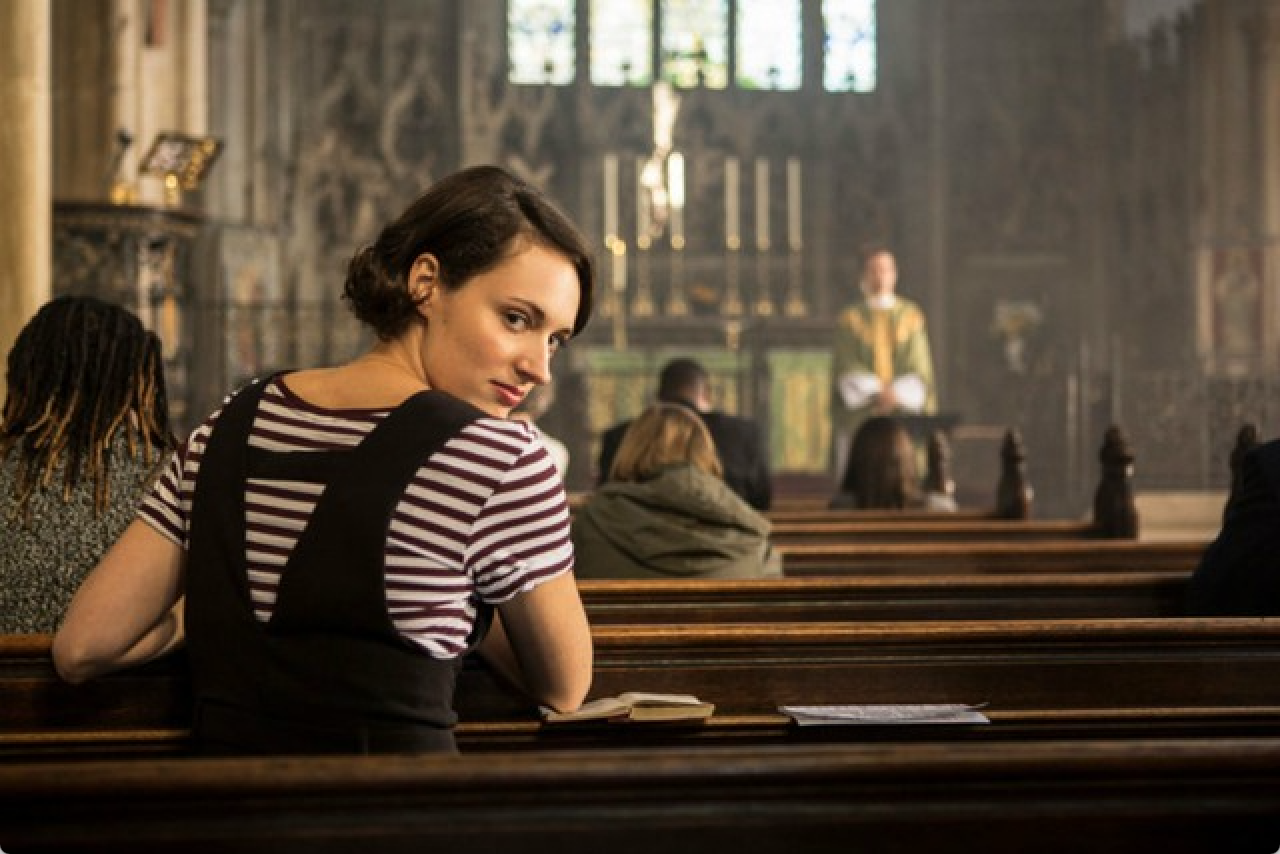 Fleabag (2016-2019)
Phoebe Waller-Bridge has a staunch quit-while-you're-ahead attitude. When you've created, written, and starred in two perfect seasons of television, wanting to go out on top is understandable enough, even if viewers may feel deprived of potential future greatness. 
The most brilliant aspect of the 12-episode run of Fleabag, Waller-Bridge's dark comedy for Amazon, is how deeply it immerses us in the intensely complicated inner life of the main eponymous character—the series' dirtbag anti-hero. We experience her grief, depression, and familial trauma, as well as a fear of intimacy so pervasive that she never even tells us her name. Fleabag communicates with the audience by breaking the fourth wall, privileging us with information that we then watch her keep from the people closest to her. As Vulture's Jen Chaney pointed out during the show's first season, every time Fleabag addresses the camera, she's telling you something she's afraid to tell the people closest to her, but desperately needs someone to hear and understand. 
It's in these pointed asides that show's biggest laughs usually come—whether Waller-Bridge's character is unloading impure thoughts about an obscenely hot priest (Andrew Scott) or providing the venomous subtext to a stealthy slight from her passive-aggressive mother-in-law (Olivia Colman). In those moments, Fleabag communicates more with a flicker of a glance or the slight curl of the lip than an entire season's worth of Jim Halpert bemused reaction shots. —MAGGIE SEROTA

Read our 2019 essay "Fleabag Season 2 Gives a Fresh and Honest Perspective on Grief" here.