5 Seconds of Summer have released a new song titled "Teeth" featuring Tom Morello of Rage Against the Machine and Audioslave dishing out guitar solos. The single is accompanied by a video directed by Thibaut Duverneix and features the Australian pop band undergoing a series of consciousness-altering experiments.
The group spoke with Apple Music's Beats 1 host Zane Lowe about the song and working with RATM's guitarist: "Tom was, we're grateful enough to have him on the track, and he plays the last outro. That's a big feat for us as well. We were rehearsing; we missed the opportunity to be there, but we have recorded proof that it was him."
https://music.apple.com/us/embedded-player/idsa.8c3aadb0-c395-11e9-be94-6641e2e24887
Frontman Luke Hemmings also opened up the origins of the group's new song. "'Teeth' came about after a month or two long blur of writing and pushing ourselves to go a step further than 'Youngblood,'" he said in a statement. "It was a tumultuous time in my life and the lyrics in the song definitely reflect that. It speaks lyrically about a trying time in my current relationship. Musically, it's another step forward from 'Easier' and really embraces industrial sounds and rhythms.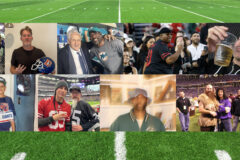 "'Teeth' captures the soul of 5 Seconds of Summer and I truly believe it is a unique song to us as a band and doesn't sound like anything out at the moment," he added. "It's my favorite song we've released ever, and I can't wait for people to hear it."
"Teeth" will be on the 13 Reasons Why season 3 soundtrack, which drops on Friday, August 23. The pop-punk boy band is also set to kick off a North American tour with Chainsmokers this fall.