This article originally appeared in the October 1999 issue of SPIN. In honor the 20th anniversary of the event, the 50th anniversary the original Woodstock festival, and the cancellation of the Woodstock 50 celebration, we're republishing it here.
Friday: July 23, 1999
Liz Pruitt arrived at the third coming of Woodstock by bus. The recent high-school grad was hot and tired after a five-hour ride that began before dawn in a New Haven, Connecticut, parking lot and ended at a defunct Air Force base in upstate New York, but she was with three friends, and she was excited to be on site by 10:30 Friday morning. The dark-haired, willowy 18-year-old would have time to pitch her $30 Wal-Mart tent and walk more than a mile to the main stage before the first act played a note.
Her bus had "express entry" into the compound, so she wouldn't have to wait in the idling line of autos that stretched down into the streets of the rusty burg called Rome. It dumped her by the gates, and she waited 20 minutes to have her bags searched and exchanged her $150 ticket for a wristband, and then she was inside.
It became clear right away, though, that no matter how much fun she was going to have during the next 72 hours, the ride might get a little bumpier. The $100 Woodstock travel package that had lured her from Norwich, Connecticut, included "preferred camping"—if she could find it.
"It became apparent that the staff from the bus didn't know where anything was," she says. "They said, 'Just look for the yellow flags.'" Pruitt and her friends wandered aimlessly, before chancing on the flags and plopping down under some trees, becoming the four newest residents of an instant city of 225,000.
"I was kind of disgusted with the staff, but it wasn't their fault. It was the fault of the people who hired them. They hadn't informed them."
The lines snaking outward from the entry gates at the former Griffiss Air Force Base that Friday morning were so deep and vast that they resembled nothing so much as a supplicant stream of refugees—albeit refugees who paid $150 to rock, and who were about to be charge $12 a pizza and $5 a beer. The gates and the surrounding three-mile-long plywood fence at Griffiss were bracketed by a phalanx of security guards who wore loud yellow T-shirts with the words Peace Patrol on them.
Inside the base, the sun, the concrete and the ever-expanding mass of human bodies jostled in perpetual competition for concertgoers' attention. Woodstock '99 was held in a triangular-shaped section of the former airbase, the surface of which was mostly concrete.
Two paved ex-runway tarmacs met on the north end of the site at a point that abutted the main gate. During the daytime the concrete became superheated by the blazing sun, an unavoidable feature of the hottest July New York had ever seen. Unlike the verdant, shady rusticity of Saugerties, New York—the site of Woodstock '94—Griffiss offered no relief. Any spaces not taken up by vending booths, trucks, beer gardens, political-action tents, ATMs, and Port-a-Sans were deemed campsites.
As tens of thousands of people streamed in, it became increasingly difficult to stay oriented. A look in any direction across the flat landscape was blocked by the 10,000 sweaty faces closest to the viewer. The only usable landmark inside the base was the 50-foot control tower. Even the five-story-high East and West Stages, located one mile apart, weren't visible from the campgrounds. The space set aside for the crowd in front of the East Stage alone was the length of three football fields. Above it droned a squadron of helicopters and an ever-present plane trailing a streamer that read, "Woodstock '99—CD and Video Available This Fall!"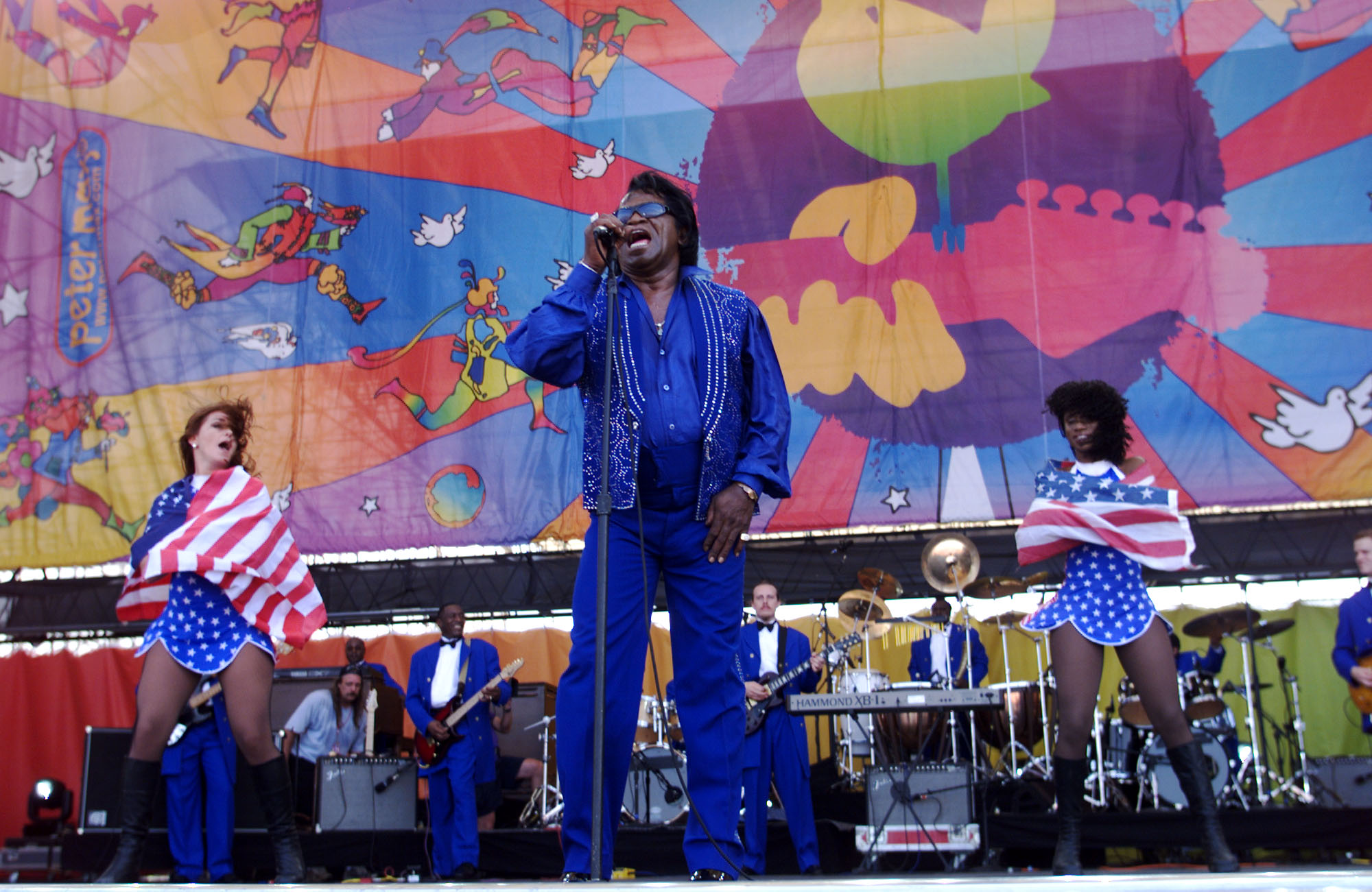 The festival officially began at noon Friday. On the East Stage, Tibetan monks chanted, and then MC Brother Wease yelled, "Show us your titties!" James Brown requested 30 seconds of silence for JFK, Jr. He got ten. Then he played "Sex Machine" and "It's a Man's Man's Man's World," two 30-year-old songs that would prove to be up-to-the-minute timely.
By 1 P.M., hundreds of people began to strip down in the oppressive heat. Public displays of affection quickly gave way to public displays of copulation. "Nudity was all over the place, and so was public fornication," says 18-year-old Gary Rushnick. "But you really got used to it."
At least 100 kids dove into a shallow mud puddle near the row of Port-a-Sans closest to the East Stage, largely unaware that they were slathering themselves in human waste. Men who encountered backed-up stalls relieved themselves in public, in what they took to calling "the piss pool." Meanwhile, the Mud People, who quickly tired of hugging passersby, picked up chunks of mud and violently hurled them at the people drinking expensive warm lager in the adjoining beer garden.
Wearing an elaborate white feathered headdress, Jamiroquai's Jay Kay took the East Stage at 3 P.M. He was the first performer to tell the crowd to throw shit. They did. At him. Word got out that teenage sanitation workers, frustrated that the area was rapidly becoming one huge compost heap, were quitting. They said they had been given no instructions—and no water.
As the day wore on and the heat intensified, garbage cans overflowed. Paper, plastic, and pizza remnants smothered the wood mulch that smothered the concrete and dirt. Clifton Property Services, the sanitation firm hired by Woodstock, would later complain that the festival organizers hampered cleanup efforts. Woodstock failed to provide adequate plumbing for the vendors, so they had to build their own.
Vendors were also at the mercy of Ogden Corporation, the firm that partially owns Metropolitan Entertainment (which is co-owned by promoter John Scher) and set the prices for soda and water. According to vendor Frank Cristiano, water sold by Ogden to the subcontracted vendors cost a whopping $70 a case, more than $3 a bottle. Fans paid $4. Attendees who didn't want to pay for bottles could drink from the free water spigots, most of which were located vast distances from the stages.
At the Action Lounge—an extreme-sports arena situated between the East and West Stages—attendees were charged $15 to skateboard, mountain bike, or in-line skate on, yes, a flat slab of concrete. A planned half-pipe had not yet arrived. The main attraction was a 10,000-square-foot "Shag-a-Quarium," which included extreme-sports heroes, ESPN announcers, 20 cheerleaders, and a disco.
To compete with the crowd-pleasing flesh on display outside, nude competitions—rock climbing, BMX racing, wet-T-shirt contests, bridge—were hastily organized. "We were cautious to make it more comical and less sexual," said Action Lounge manager David Pelletier, "but people were getting naked anyway. We just gave them a forum."
[featuredStoryParallax id="336553″ thumb="https://static.spin.com/files/2019/07/GettyImages-2225813-1564358701-300×200.jpg"]
A few weeks before Woodstock, promoters John Scher, Michael Lang, and Ossie Kilkenny, three longtime concert promoters were found in violation of a 1970 law that was passed in the wake of the chaos of the first Woodstock. The promoters averted $1.5 million in fines levied by Oneida County for failing to meet deadlines the law set for transportation and security; they convinced the county to wave them, promising a staff of approximately 1,200 guards. Locals hired directly by Woodstock were promised $12 an hour, and subcontracted guards from around New York State earned $6 to $8 an hour.
Starved for bodies, the promoters hired a number of workers from guards who were told they'd work 12- to 14-hour shifts and get two meals a day. They were housed in on-site barracks with only cold water and slept on air mattresses. Some guards charged that other guards were looting each others' quarters. "There was a lot of robbing in the Peace Patrol houses," said guard Charles Knapp. "We chipped in to have our own security person."
By Thursday night, a hundred guards had already quit. Friday, the undersized force was primarily deployed outside the gate; it mostly seemed concerned with getting concertgoers inside the base without drugs, alcohol, weapons, and important contraband like sandwiches and bottled water—stuff Ogden could sell. The searches were random, quick, often ineffectual, and stopped altogether once people had set foot on the base.
But people caught with drugs on their way in were often offered alternatives by some security guards. "They'd say, 'Okay, you can bring it in for …,'" said Art Reid, a security supervisor. "They could make more money that way."
"If the [kids] had mushrooms," said guard Dawn Jones, "they'd let them keep 'em if they paid $20." Body-searches were common, especially for women. "Girls who had been body-searched were complaining [about harassment]," said Jones. "They were visibly upset."
Only one drug arrest had been made on Friday, and that was off-base: Nineteen-year-old Brooke Young was caught by DEA agents with a staggering 11,000 tabs of LSD. Young had tried to sell 6,000 hits to an undercover agent and had planned to sell his remaining 5,000 at Woodstock. He thought he'd make about $55,000 and probably could have if he'd gotten through the gate.
According to staffers, the Peace Patrol had been instructed by promoters to ignore everything but on-site physical violence. "They said in orientation that there will be nudity and drugs, and you're going to turn your heads," said a security guard named Mark, who did not want his last name used. "Turn your head unless somebody is hurting somebody else. You're in a different world, no holds barred.' That's what led up to Sunday."
[featuredStoryParallax id="336579″ thumb="https://static.spin.com/files/2019/07/GettyImages-51066406-1564360774-300×127.jpg"]
The MTV crew had been setting up since the day before in the media tower to the right of the East Stage and the control tower in the middle, where the sound engineer operated.
As MTV producers scoured the grounds for materials, VJ Carson Daly mostly hung with the kids to get their thoughts. They were happy to share with him. "You're a fag!" yelled one. "I could fuck Jennifer Love Hewitt better than you could!" heckled another. One sated MTV viewer threw a cup of water in Daly's face, and the beleaguered VJ mumbled, "Just tell me, man, that that wasn't your piss."
The mob of dirty, thirsty teens yelled, "Let's get him!" and Daly and his crew fled. Pursuing garbage traced lovely parabolic arcs through the air but failed to hit its mark.
As evening fell, the medics in the first-aid tent behind the stage had treated hundreds of cases of heat exhaustion, dehydration, and bad trips—nothing too serious. It wasn't till the Offspring took the stage at 7:30 that the crowd truly responded with abandon, and the first sprawling, brawling mosh pits took amorphous shape. Dexter Holland whacked the Backstreet Boys in effigy with a baseball bat.
Nineteen-year-old Justin Brake relished every minute of it, despite jamming up his own shoulder while slam dancing. "It was more than I bargained for," he said enthusiastically, "an experience I'll never forget."
Since most of the 200,000 on base were by now firmly settled at the East Stage, waiting for Korn to start, anyone looking to take a breather could retreat to the campsites, which were quiet and empty, if rank. There was a definite sense of camaraderie. "Everyone was so friendly," says Renee Carter of Fultonville, New York, "that we didn't even worry about padlocking our tent."
The sun had set, cooling the concrete tarmac. Airborne debris, seemingly equipped with Daly-homing devices, found its way onto the lofty perches of the MTV tower.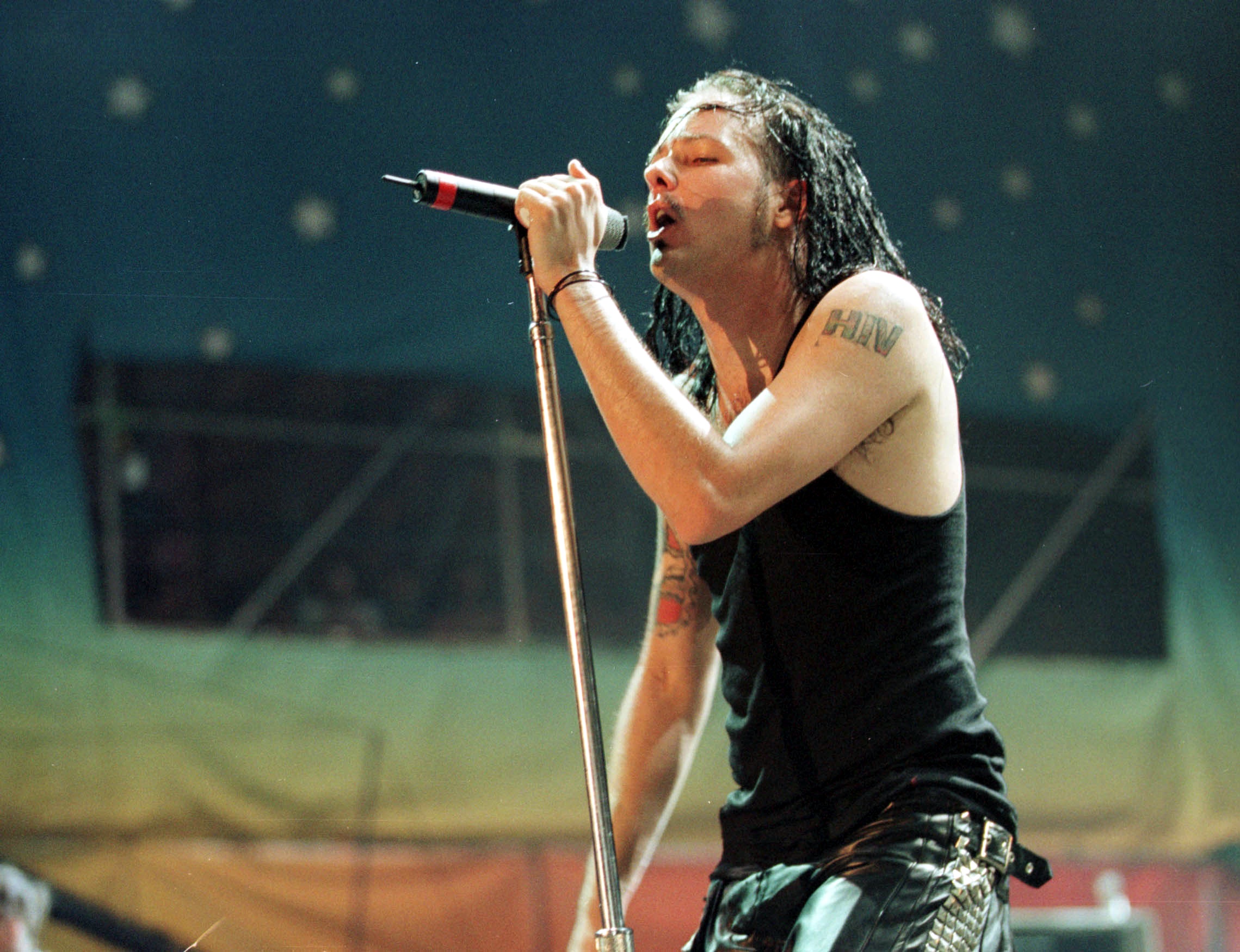 For all the shit-slinging, drug-taking, VJ-abusing, and spontaneous garbage-hurling, the real action didn't get under way until Korn strode onstage at nine. The center-stage mosh pit raged with a concentrated ferocity.
Britt Abbey, who was watching from his post at his vending tent adjacent to the stage, saw five boys emerge from the mosh pit with blood-soaked T-shirts. "The crowd was hectic," said Abby, "but it wasn't too bad at all."
Chaos erupted immediately in the backstage med tent. "When Korn came on, people were coming in every three minutes on stretchers," said Rachael Hoke, a medical volunteer. The medics had prepped for the expected bruises, lacerations, broken bones—but Hoke was stunned by what she saw.
"Every single person in our tent was OD'ing. A lot weren't conscious. One girl freaked out and broke the cot she was on. Seven EMTs tried to hold her down. She broke the restraints—they ended up having to duct-tape her to a backboard." The EMTs loaded her into an ambulance. "She tried to bite the EMTs," said Hoke incredulously.
Dave Schneider, who was volunteering at Woodstock's Crisis Intervention Unit, watched Korn from the edge of the main pit. By now it was around 9:30, and the moshing was even harder than before. Suddenly, Schneider saw a crowd-surfing woman get swallowed up by the pit; when she re-emerged, two men had clamped her arms to her sides.
"She was giving a struggle," said Schneider. "Her clothes were physically and forcibly being removed." Yet no one nearby seemed to react. Schneider said that the woman and one of the men fell to the ground for about 20 seconds; then, he said, she was passed to his friend, who raped her, standing, from behind. "The gentlemen's pants were down, her pants were down, and you could see that there was clearly sexual activity," he said. Finally, the woman was pulled from the pit by some audience members, who handed her to security.
Schneider said he watched in horror as five more women were pushed into the very same pit throughout Korn's set. "They were holding [the women] down and violating them. Maybe not everyone was raped, but the first one was, I'm sure." The pit broke up before Schneider left for this 11 P.M. shift at the on-site ER, but since all the women had made it to the arms of security, he assumed the crimes had been reported.
At the ER, Schneider watched as a 15-year-old girl who had OD'd on an estimated ten hits of Ecstasy was brought in unconscious. She was unconscious the next day, when he left. The only death of the day, officials said, was a 44-year-old Woodstock '69 veteran who had had heart surgery 11 days earlier. He succumbed to the heat.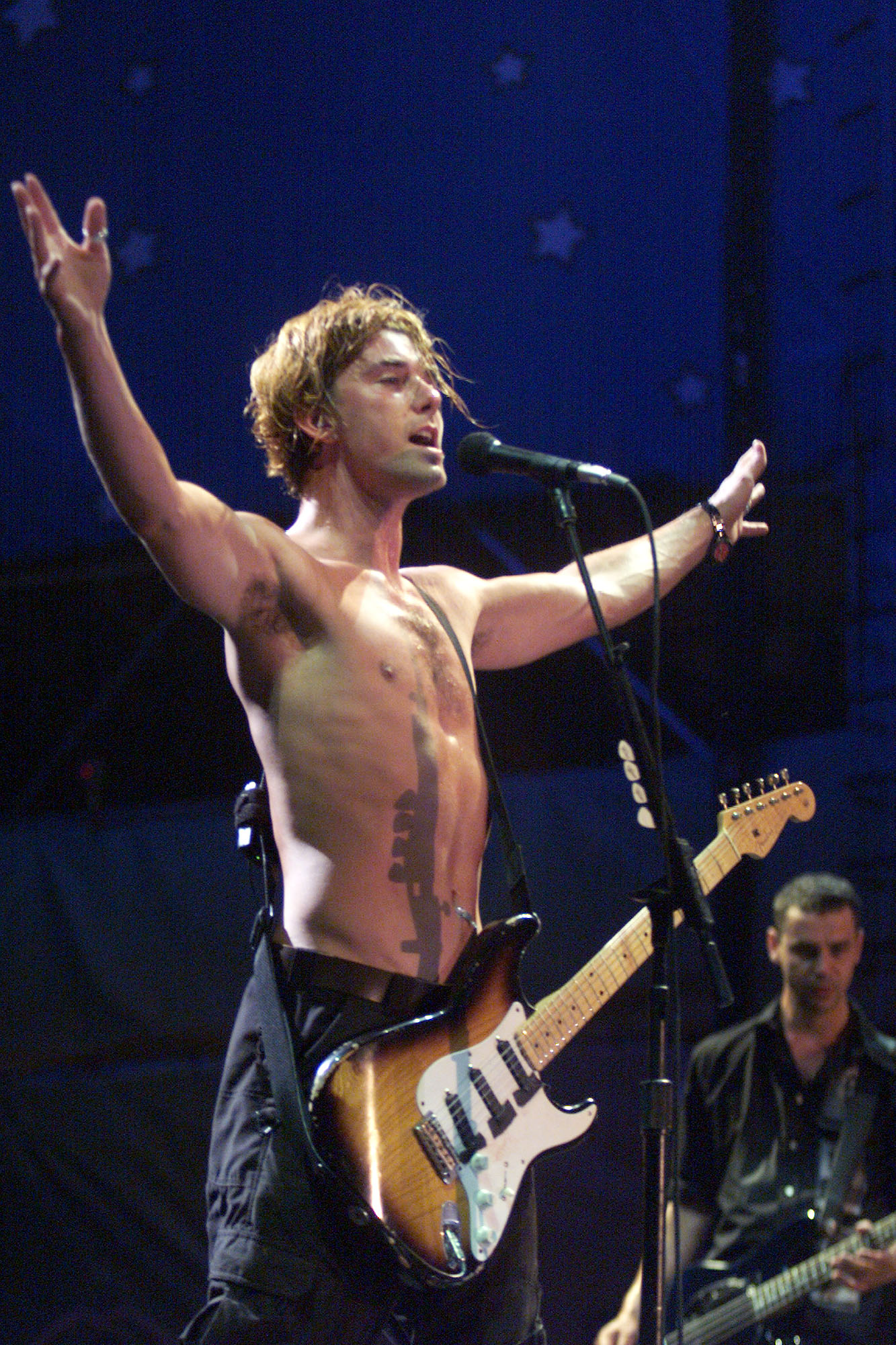 The girls took over two hours later, at 10:30, when they pushed their way to the front for Bush. By now, a tacit rule had been established: If you were a girl, and you were topless, you were going to get groped. If you were a girl, and you weren't topless, you were going to get yelled at for not being topless.
"There were naked women all over," said Pruitt. "I got so sick of it. I was like, 'Put those away!'" Bush singer Gavin Rossdale gazed out at the sea of half-naked woman and said, "This is the best thing I've ever seen."
Around 2 A.M., at the Rave Hangar, 25,000 people seemed determined to outperform the day's communal hedonism. They pulled it off, ingesting a staggering amount of drugs and engaging in a staggering amount of public and/or group sex as first Liquid Todd, then Moby, provided the soundtrack.
"There were a bunch of naked dues, and girls were just taking turns riding them," said rave promoter Matt E. Silver. "There were girls having oral sex with each other in the DJ booth. We had a topless girl dancing, and people were pouring orange juice on her and she was licking her titties. We were calling it Titty-Stock." A 30-year-old man tried to pick up the fully clothed Pruitt, to no avail.
There was a large contingent of security at this event. But most had removed their badges, stripped off their T-shirts, and started partying like regular unlawful Americans. They were oblivious to the observant kids who quickly seized upon their discarded laminates and made their way backstage. "In the dance area, where there were no rock bands, the vibe was terrific," said Moby. "Unfortunately, I didn't get laid."
Saturday: July 24, 1999
On Saturday morning, Joel Ferree was waiting outside a Rome bowling alley. Yellow school busses were ferrying latecomers to the former Air Force base, because full parking lots prevented anyone from driving anywhere near the site.
The bus rolled up, and Ferree took a seat. He was met with a musky combination of body odor and pot smoke. The passengers were shouting "Metallica!" while they banged their heads to a boom box blasting "Enter Sandman." Someone suggested that the bus driver indulge in a bit of smoke, and everyone agreed that this was a truly fine idea. They tugged on her arms until she turned and yelled, "Get off me, you cocksuckers! I'm driving."
Soon the bus passed a barricade lined with police officers, and a quick-thinking passenger yanked his shorts down and pressed his ass against the glass. The bus occupants cheered.
At the morning's press briefing, Woodstock co-promoter Scher was detailing his priorities for the festival. "You can have a Woodstock, and it can be a safe and secure environment," he said. "We're going to try and make a profit on this one."
That morning the sewage conditions at Griffiss were even worse than the day before. Port-a-Sans were clogged up and overflowing, and waste streamed into the field; several campsites were suddenly a wash in rivers of human waste. A few campers, seeking relief from the sweltering temperatures, had unscrewed the nozzles from nearby water spigots to keep the flow constant—which meant: 1) a lot of those water sources had dried up; and 2) some of the water that was still running had been contaminated with E. coli bacteria, which was flourishing in the omnipresent "mud."
Now in addition to the kids who were dropping from heat exhaustion and dehydration, there were just as many who were uncontrollably vomiting or doubled over with stomach cramps. These ailing concert goers were faced with three options: use a feces-splattered Port-a-San, which would likely make them sicker; run for it in hopes they made it to a medical tent in time; or squat down in the dirt and add to the overall squalidness. Many chose the latter.
At noon, the Canadian band Tragically Hip played the first set of the day on the East Stage. The Canadians were representing. There were faces painted with maple leafs and Canadian flags worn like superhero capes. They began singing "Oh Canada." At which point patriotic American audience members drowned them out with their version of "The Star-Spangled Banner" while pelting the Canadians with rocks and bottles.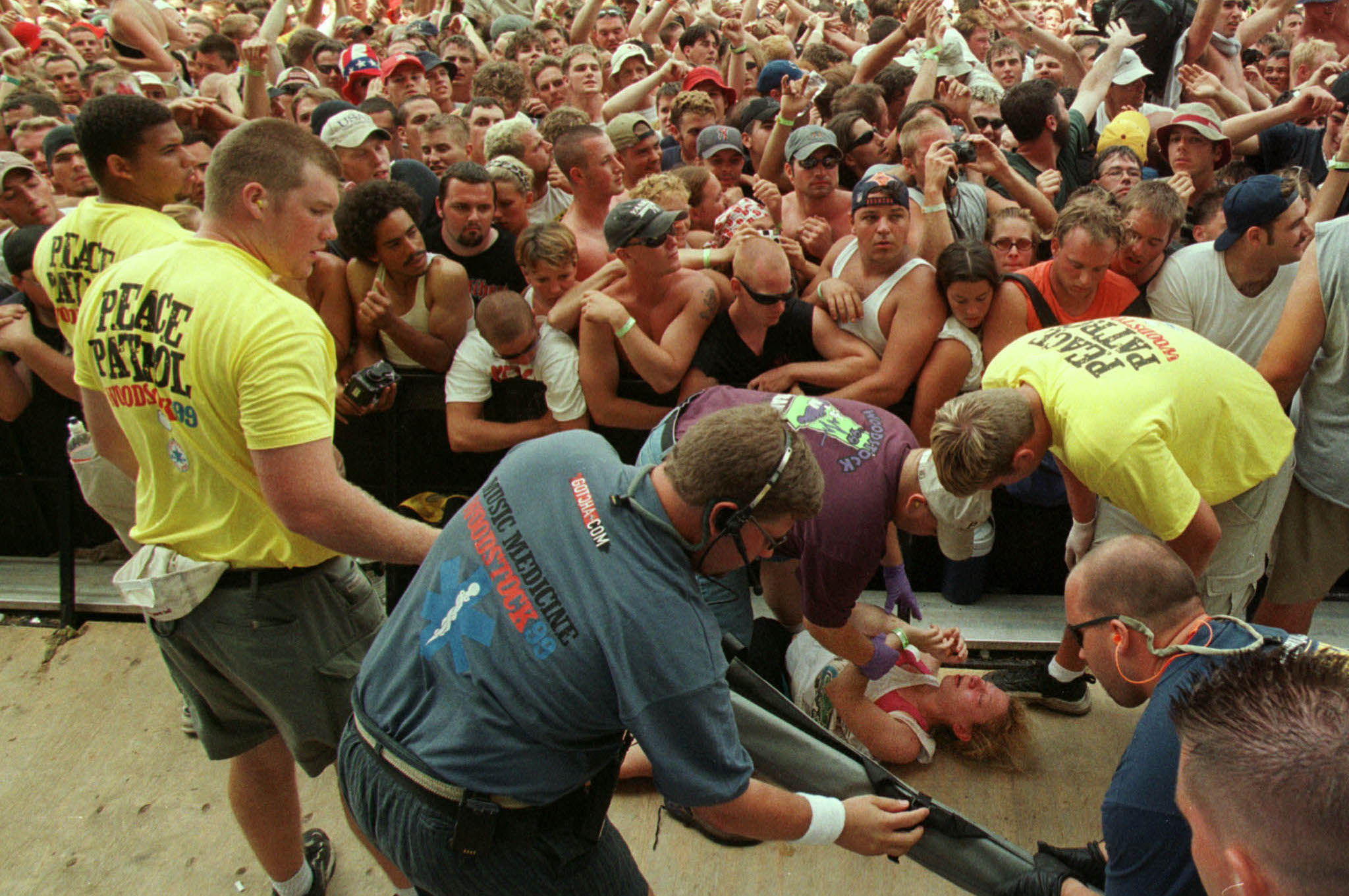 Also at noon, the beer gardens opened for business. Surrounded by tall wire fencing and elevated stations from which security could monitor the perimeter, and devoid of anywhere to sit, what the promoters called gardens were more akin to prison yards. The one near the East Stage had been packed to capacity the day before, but this afternoon it was mostly empty. The beer-drinking crowd had already migrated to the East Stage in anticipation of Kid Rock's set, and patrons of the garden were only allowed to buy two drink tickets at a time without exiting and reentering the garden—so they weren't sticking around for very long. In response, panicked workers abandoned the two-drink-maximum rule and handed out chunks of drink tickets—sometimes 20 or 30 at a time—to get things going.
One hour later, an enterprising local radio station, WEDG, put two naked women on top of its RV and used the loudspeaker to recruit willing females. Britt Abbey, who worked the vending tables closes to the right side of the East Stage, says packs of shirtless, sweaty guys clambered atop the tractor trailers behind him and yelled "Show us your tits!" at passing women. Their friends on the ground would block women's paths, swarming around them like ants.
Some women would laugh and deliver the goods; others were unamused and picked up their pace. One woman charged men $20 (an Andrew Jackson, please; no charge) to watch as she inserted the rolled up bill in her vagina.
At a quarter past one on an 88-degree day, Kid Rock took the stage wearing a full-length white fur coat. He told the crowd to say "You want my balls in your mouth?" instead of fighting if they got in a confrontation with someone. A few songs in, Rock's sidekick, Joe C., came out dressed in a hysterical Jimi Hendrix costume. Then he changed into a T-shirt that read "I'm Not a Fuckin' Midget," smoked a joint, and cursed himself sweaty. The crowd had unmitigated love for Kid Rock and showed it by throwing their bottles in the air like they just didn't care. Some who forgot to duck got their scalps ripped open.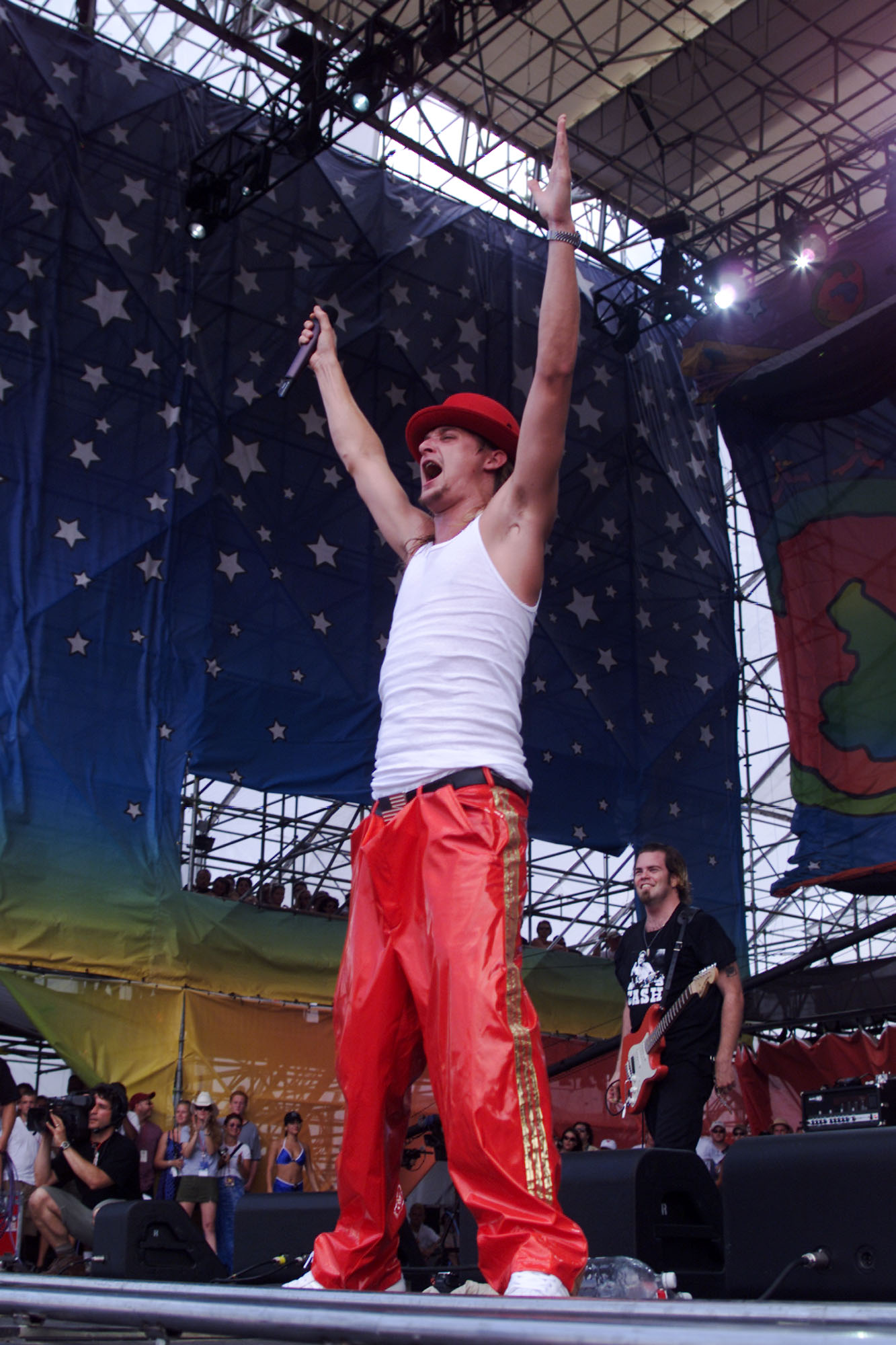 Around 3 P.M., Wyclef Jean performed a fairly embarrassing Hendrix imitation, in which he attempted to set his guitar on fire. He burned his hand. Dave Matthews took the stage just before 5 P.M. Far more girls than boys were up front. But this was Woodstock after all. Dave Schneider, who had witness the rape during Korn, saw a crowd-surfing girl's clothes get ripped off during Matthews' set. By the time she was passed off to security, the only piece of clothing to remain intact was the collar of her T-shirt.
Alanis Morissette arrived onstage a little before seven. She was hit by a lot of shoes. A woman (who asked that her name be withheld) said that although she had been assaulted while watching Tragically Hip earlier, she was sure that the pit for Morissette would be much safer. She surfed her way to the front of the stage.
"I don't know how they got me," she said. "There were about three guys on each arm and each leg, and then three or four right inside me with their hands. One guy put his hand inside my anus. Another guy was yelling, 'Rip her apart!' The woman finally managed to extricate herself from the pit by kicking some of her assailants in the head. She sat on the ground and cried. Some passersby tried to ask her what was wrong, but she couldn't even talk. "All I wanted to do," she said, "was kill somebody."
In the 20 minutes between the end of Morissette's set and the beginning of Limp Bizkit's, there was a sea change in the crowd. Boys pushed forward and prepared to mosh. Girls, for the most part, ran for their lives. By Saturday afternoon, kids without tickets had split open small gaps in the Peace Wall, the wooden fence that bordered Griffiss, and broken in to the grounds. Security was unable to keep up. One yellow shirt noticed a boy with pierced nipples and a mullet climbing over a still-standing ten-foot-high section of Peace Wall. It was painted with a portrait of Jimi Hendrix that made him look like an Ewok. The guard yelled at the boy to get down. "Fuck you," said the boy. "Fine," shrugged the security guard, and he walked away.
In all, only 175 security guards showed up for Saturday night's shift. And that's who signed in, not who actually stayed. The bosses made a call to prisons and jails looking for correction officers willing to work on short notice for supervisors' pay. Forty materialized.
While the guards were disappearing, the crowds were growing. Another 25,000 fans had arrived late Friday night. With fewer guards on the gates, more contraband began to seep in, especially nitrous-oxide tanks and beer. Soon, a small fleet of entrepreneurs were selling nitrous-filled balloons from the tanks. A short time later, the med tents began to see people who were sick from inhaling too much nitrous.
[featuredStoryParallax id="336583″ thumb="https://static.spin.com/files/2019/07/GettyImages-104846363-1564361075-300×181.jpg"]
There were just minutes to go before Limp Bizkit took the stage, but the crowd was so worked up they began throwing stuff with an inventiveness and dedication not seen before. At this point, hurling shoes and mud was an amateur pursuit. People moved on to batteries, disposable cameras, and rocks the size of hockey pucks. The media tower to the right of the stage, the camera platforms to the left, and the control tower to the middle of the airfield were swarming with kids who peeled off each structure's protective plywood like worn Band-Aids.
Someone found an uncracked watermelon and hurled it at the MTV tower, where crew and talent were now huddled, many with their heads in their hands to deflect flying detritus. The MTV crew canceled their plans to tape Limp Bizkit's performance and dedicated to go live at 10 P.M. from the backstage first-aid area. "The MTV people were kind of shocked and overwhelmed," said an MTV staffer. "I mean if you have 250,000 kids bent on destroying you, you're gonna get rattled."
At 7:45, hippie totem Wavy Gravy appeared on the East Stage and said, "Enough of the mellow shit."
Not long after, Limp Bizkit singer Fred Durst yelled, "How many people have ever woke up in the morning and just decided you're going to break some shit?" before tearing into—what else?—"Break Stuff."
Many in the audience took the song literally: They broke arms, legs, teeth, noses, collarbones. Scalps were lacerated by flying, half-full bottles. One mosher suffered a compression fracture of the spine. Another broke two ribs and prodded the medic treating him to finish quickly so he could return to the pit. Yet another boy's shoulder popped right out of its socket. As he stumbled toward security, his fellow moshers yelled, "Pussy!"
The first-aid tent, located behind the East Stage, was now seriously overflowing. EMT workers had trouble getting to kids who went down in the pit because the crowd wouldn't part for them. An estimated 200 people per hour were treated in the two med tents near the stage; ambulances took about a dozen people to local hospitals for examination.
The MTV crew watched as the bodies piled up in the first-aid area, all the while dodging the rocks and bottles that the watchful crowd had retargeted at their hideout. Unfortunately, their aim was off, and they hit some kids who were, respectively, hooked up to IVs, vomiting blood, and OD'ing. "It looked like the M*A*S*H* triage unit," said MTV producer Tim Healy. "The only people missing were Hawkeye and BJ."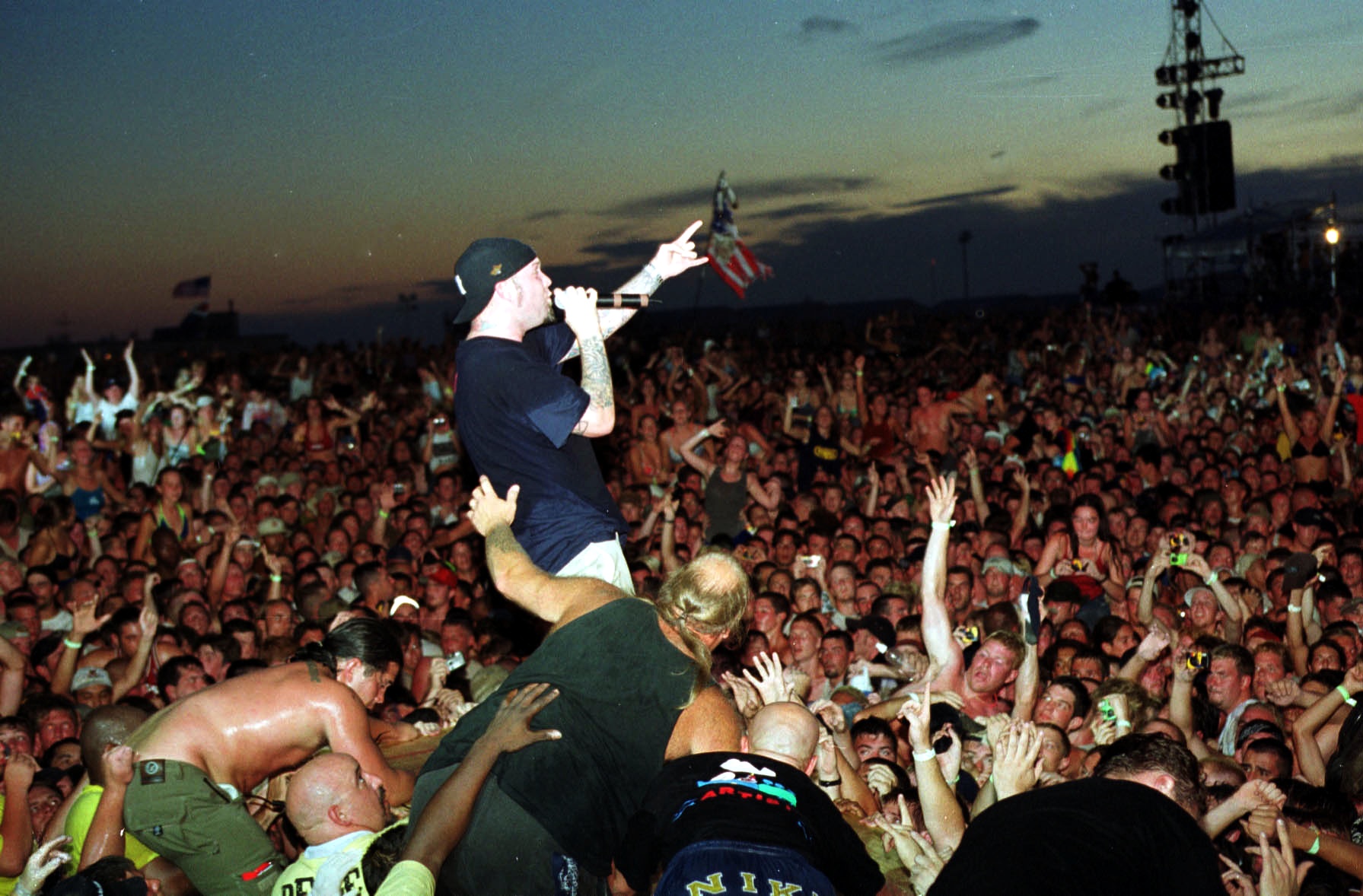 The EMTs were caught off guard by the level of casualties. "The busiest time for us," said Dr. Phil Vuocolo, Woodstock's medical director, "was Saturday night into early Sunday morning." Drug-related cases—resulting from Ecstasy, mushrooms, LSD, Ruphinol—plagued the medical units as well. At one point, a weary medic walked over to Healy and said, "Dude, do me a favor. Just tell everyone you know to stay away from the liquid Ecstasy."
Meanwhile, Durst was exhorting the crowd to "get all your negative energy out." People soared through the air with as much frequency as garbage; a few were flung skyward on bed sheets. Between songs, Durst made an announcement: "They want to ask you to mellow out. They said too many peop