In the final minutes of John Wick: Chapter 2, our titular, patchily-bearded assassin has broken the rules. He's killed a man on the grounds of the Continental Hotel, the holy center of New York City's criminal underground, and has been excommunicated from the international community of assassins he's been grappling with for the majority of his life. John Wick's is a world where rules are everything, and to break those rules is to forfeit your life. "Rules," proclaims the monomymous hotel manager Winston. "Without them, we'd live with the animals." And so it is that the once-unstoppable Wick finally finds himself on his back foot.
Still, before Winston officially excommunicates Wick and sets him loose as a wanted man with a multimillion-dollar price on his head, he allows him an hour to get his affairs in order. It's this gesture of reprieve-turned-excommunication that sets the tone for John Wick: Chapter 3 — Parabellum. John Wick has always been a badass, but in the third chapter of director Chad Stahelski and screenwriter Derek Kolstad's blossoming franchise, he's an eminently recognizable badass. As Winston's deadline nears and Wick scrambles to make his preparations, a constellation of cell phones and pagers lights up the city—every businessperson, every random dog walker, every taxi driver receives word of Wick's imminent excommunication, in scenes that underscore the magnitude of his celebrity.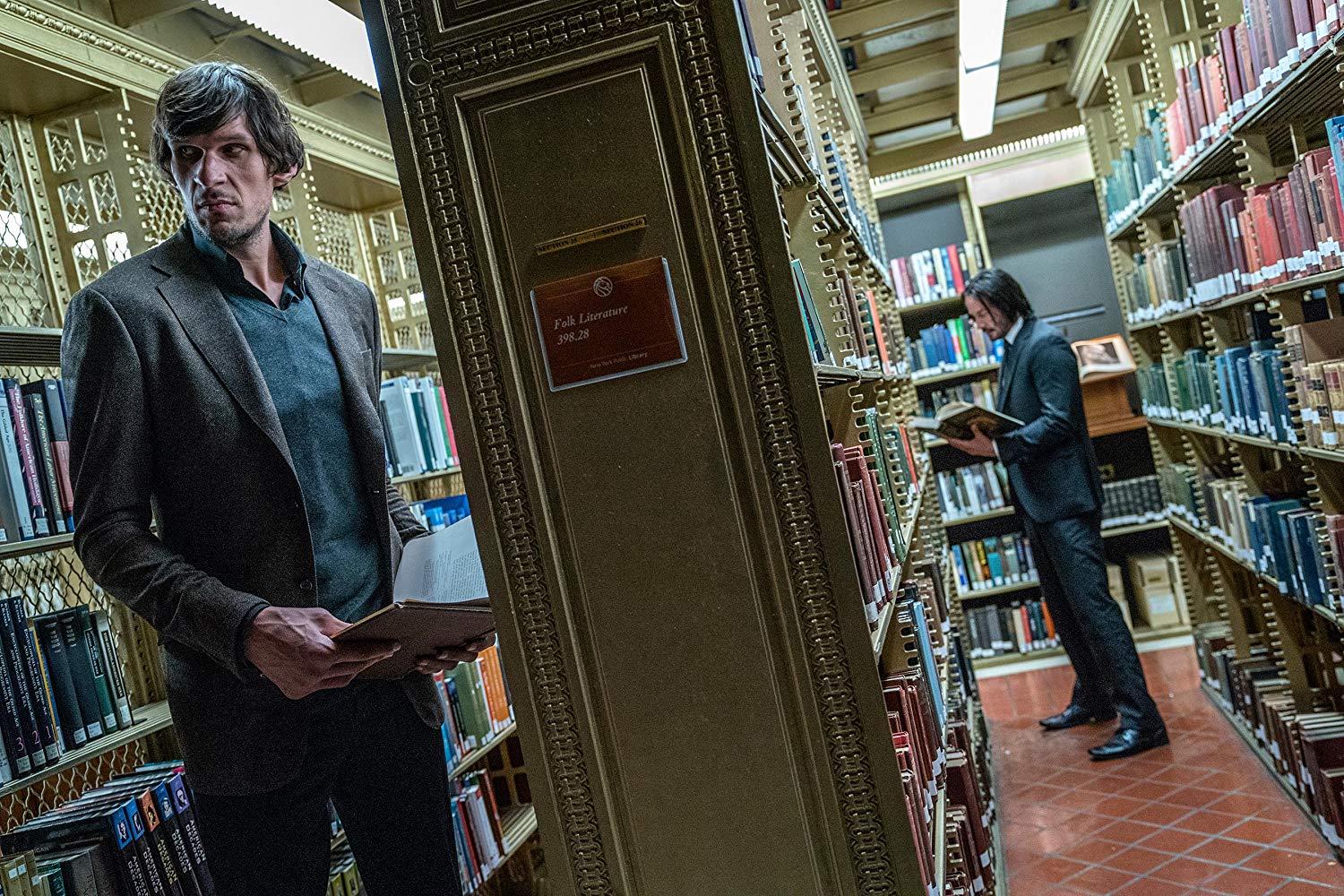 Seeing John Wick pick up an axe or a gun feels a little like sitting down to a sumptuous meal, with meticulous courses that surprise and delight in the skillful recombination of ingredients. There are no rules to these fights, outside of their over-the-top internal logic. And rather than adhering to any particular playbook, they luxuriate in their experimentalism. Stahelski modulates his typically breakneck pacing with the occasional abrupt pause for effect, which allows for an almost vaudevillian approach to physical comedy; it's a beat he recycles from John Wick: Chapter 2, when a gun battle is interrupted by unwitting passengers on subway car, though nothing in Chapter 3 is quite as overtly funny.