Toro y Moi (otherwise known as Chaz Bear) has released a new single off his forthcoming album Outer Peace, one of the 30 albums Spin is particularly excited about in 2019. The joyous disco jaunt "Ordinary Pleasure" is the second single from the new record.
"Ordinary Pleasure" follows "Freelance," the funky bass-thumping single Toro y Moi released when he announced Outer Peace in October.
"This record is a response to how disposable culture has become and how it affects creativity," Toro y Moi said in a statement about Outer Peace. "While listening, you might pay attention or ignore — either way that's ok, this is music for a creative mind."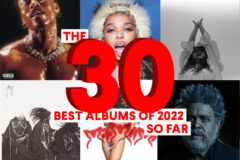 Outer Peace is out January 18, 2019. A few days before the album drops, the songwriter/producer hits the road on a North American tour kicking off in Oakland and wrapping up at the Treehouse Music Fest in Boise in March.