Swae Lee told TMZ in October that he wanted to sing the National Anthem before a World Series game, promising that he could help the Los Angeles Dodgers, then losing the series two games to none, pull out a victory. The Dodgers ended up losing in five, and the team never invited the brothers Sremmurd—facts that may or may not be connected. Luckily, it appears another struggling professional sports franchise may be sharing the microphone. Lee today posted a brief clip on Instagram showing him practicing "The Star-Spangled Banner" in his hometown Atlanta Hawks' arena.
Rae Sremmurd are scheduled to deliver halftime and postgame sets during the Hawks' Saturday matchup against their bottom-of-the-conference rivals, the Cleveland Cavaliers. It's unclear whether Swae was sound-checking a planned anthem performance or simply messing around, but he sounds pretty good. (A representative for the team told Spin after this post was published that Lee is not scheduled to perform the anthem). At this point in his career, Swae's falsetto is no longer a novelty, but pulling off Francis Scott Key's notoriously range-y poem would be a new feather in his cap, and certainly a fun way to close a December that also saw the release of his carol, "Christmas at Swae's."
You can watch that Instagram post, captioned "The Star 'Swaengled' Banner," below. It's much better than Swae's rendition for TMZ, which we've also included for reference.
https://www.instagram.com/p/Br6PZI3lCPJ/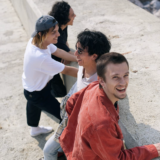 Update (9:45 p.m. ET): This post was updated to include comment from the Atlanta Hawks.