Stereolab, international masters of bilingual leftist two-chord space pop, could be playing some live shows for the first time in a decade next year. As Pitchfork points out, a post published on the band's website today reads: "Keep 'em peeled for news of the live return of Stereolab."
Stereolab formed in the early '90s, releasing their debut album Peng! in 1992 after a series of singles and EPs, and went on indefinite hiatus in 2009. Today's post also announces upcoming reissues of much of the band's discography, spanning from 1993's Transient Random-Noise Bursts with Announcements to 2004's Margerine Eclipse, a stretch of seven albums originally released on Elektra.
Since the Stereolab hiatus, frontwoman Lætitia Sadier has released music as a soloist and with her Lætitia Sadier Source Ensemble, as well as guesting on albums by artists like Deerhoof and Atlas Sound, and guitarist/co-songwriter Tim Gane has led the band Cavern of Anti-Matter. The upcoming album reissues follow this year's rerelease of Stereolab's Switched On series of compilations, which collected tracks from EPs, singles, and other non-album releases.
There's no word yet on release dates for the reissues, or when or where the 2019 shows will be happening. Keep 'em peeled, as they say.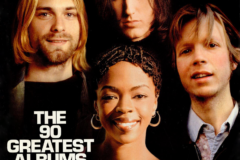 Update: Stereolab has been announced as part of the lineup for 2019's Primavera Sound festival, taking part on the weekend of May 30th in Barcelona, Spain. It will be the group's first performance since 2009. The festival will also feature Arctic Monkeys, Björk, Lorde, Tyler, the Creator, Vince Staples, Father John Misty, and more.