Eminem has released a new 11-minute freestyle titled "Kick Off." Recorded at the Shelter at St. Andrews in Detroit, the verse finds the rapper getting back to his roots, both in a literal return to the Detroit venue which housed one of his earliest performances ever, and in a stylistic return to the ruthless, take-no-prisoners lyricism on which he built his reputation.
"I've always looked at battle rap as competition. The main objective is to destroy—completely fuckin' obliterate—your opponent by saying whatever the fuck you can to get a reaction from the crowd," he says before the freestyle. "So nothing's off limits."
In the verse itself, Eminem name-checks everyone from Dr. Dre and Snoop Dogg to Justin Bieber, Ariana Grande, Reese Witherspoon, and Lacie Peterson. The verse most prominently references the 2017 Manchester concert bombing at an Ariana Grande concert at Manchester Arena, which killed 22 people. "Seeing Ariana Grande sing her last song of the evening," he raps. "And as the audience from the damn concert is leaving, detonates the device strapped to his abdominal region…I'm not gonna finish that for obvious reasons."
The verse also depicts Justin Bieber as a Catholic school boy selling drugs in secret. "Justin Bieber in a Catholic school selling dust and reefer when your back is to him," Em raps. "Don't adjust your speaker / I'll cuss the stripes off a fuckin' zebra when I'm at the zoo."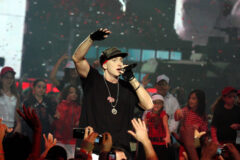 The freestyle also makes reference to Em's 2011 Shady BET cypher. Last year, the rapper dropped another freestyle at the BET Hip-Hop Awards, where he referenced Colin Kaepernick, as well as Donald Trump's handling of Puerto Rico, Charlottesville, the Las Vegas shooting, and more. Eminem latest surprise album Kamikaze was released in August. Since then, he's released a video for the song "Venom" in connection with Marvel's Venom film, later performing the song on top of the Empire State Building for Jimmy Kimmel Live. Watch video of his "Kick Off" freestyle below.