The NBA's Minnesota Timberwolves and Brooklyn Nets have unveiled alternate jerseys honoring musical legends from each respective city. The Timberwolves kit pays homage to Prince with a very purple color scheme, Purple Rain-style lettering, hooked numbers alluding to the Love Symbol, and a patterned right shoulder mimicking Prince's studded jackets. The Nets jersey features Coogi sweater-style trimming in tribute to The Notorious B.I.G., who frequently donned and rapped about the busy knitwear brand.
"From a young age, Prince enjoyed basketball—as a player and a fan. From his days playing at Bryant Junior High and Central High in South Minneapolis, through countless pick-up games while on the road with bandmates around the world, he enjoyed the camaraderie and competition of the game. This partnership brings together the city of Minneapolis, and more broadly the state of Minnesota, in an exciting effort to uniquely honor Prince," representatives of the Prince estate said in a statement.
Prince was known to sit courtside at the occasional Timberwolves game and his on-court prowess was famously recounted by Charlie Murphy on Chappelle's Show. The Nets have only played in Brooklyn since 2012, so Biggie's relationship to the team is less thorough, although he did once rap about sleeping with the girlfriend of, then robbing, an unnamed player on the New York Knicks, the Nets's crosstown rival, which counts for something. (Fat Joe has said the player was Anthony Mason, who happened to start his career on the Nets, then based in New Jersey.)
Piano & A Microphone 1983, the first posthumous Prince album, was released last month. You can watch both NBA teams's jersey-unveiling videos—set to "Let's Go Crazy" and "Hypnotize," respectively—below. Chappelle's reenactment of the time Prince allegedly crossed over Charlie Murphy while wearing a blouse is also worth your time.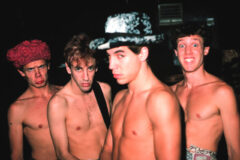 https://youtube.com/watch?v=x5PkH3RhLtE
Notorious.

Introducing our Biggie-inspired 2018-2019 City Edition uniform 🔥
#WEGOBIG pic.twitter.com/Ty6GDXDAZt

— Brooklyn Nets (@BrooklynNets) November 1, 2018