Last month marked the 20th anniversary of New Radicals' massive single "You Get What You Give." The band's frontman, Gregg Alexander, left the limelight after New Radicals released their only album, Maybe You've Been Brainwashed Too, and did some charitable work on top of writing for other artists. Some of the songs he's penned include Santana and Michelle Branch's "The Game Of Love," the Struts' "Put Your Money On Me," as well as Ronan Keating's "Life Is A Rollercoaster."
Alexander hasn't been profiled much, preferring to remain relatively anonymous. Billboard was granted an extensive interview and the resulting piece sheds some light on what the New Radicals project might've been. At one point, Alexander says: "I was grateful when I left the business of being an artist. When I extracted myself from that situation, I had the same thing I have now: hundreds and hundreds of pop songs." The profile states that Alexander has recorded and mastered between seven to 10 full-length follow-ups to Maybe You've Been Brainwashed Too, which will likely never see the light of day. "Maybe after I die, I'll put them out every year," he says.
In the piece, Alexander says that he has tried to retire from music on at least three separate occasions, but he's been called back for various reasons. He left retirement to work on John Carney's film Begin Again (2013), which stars Keira Knightley, Mark Ruffalo, and Adam Levine. The film deals in superficial aspects of the music industry, which Alexander has criticized throughout his career and dissected in New Radicals' music.
Now, Alexander is working with "a popular English band" in New York. You can read the full profile here.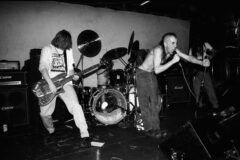 This post originally appeared on Stereogum.