Kanye West and Kid Cudi closed last night's Camp Flog Gnaw festival in Los Angeles with a performance set inside an elevated glass terrarium. The duo live-debuted music from their June LP Kids See Ghosts, played a few older collaborations, and generally appeared to enjoy themselves, with West looking particularly excited to serve as hypeman during Cudi-fronted songs. The role, and perhaps the limited oxygen in the tank, brought out of Kanye a delightful set of dance moves, like this Dragon Ball Z-channeling spaz-out, deployed while Cudi hummed through their joint album's title track:
what's this dance called @kanyewest? pic.twitter.com/HqDwQ4rkNq

— Love.Char™ (@superrchar) November 12, 2018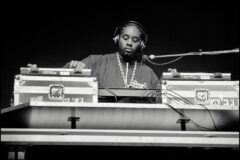 During "Reborn," Kanye reminded fans that he's a dad with this earnest and slightly awkward attempt at BlocBoy JB's Shoot dance:
Also, Kanye doing the shoot dance is probably the worst thing I've ever seen pic.twitter.com/JwblaxvoDG

— Marko (@Markosmind) November 12, 2018
You can watch Kanye and Cudi's full performance inside their large glass box here. Alas, it appears the production design is less original than West's choreographic interpretations of the pair's songs. On Monday, Lorde pointed out on Instagram the set-up's resemblance to the elevated cage featured on stage during her Melodrama tour and 2017 Coachella performance. "I'm proud of the work I do and it's flattering when other artists feel inspired by it, to the extent that they choose to try it on themselves. But don't steal—not from women or anyone else—not in 2018 or ever," she wrote.