Frank Ocean has announced that pop-up shops in select cities will be giving away free merchandise to voters today. "Bring proof (a photo of you at the ballot) that you voted to any of the locations below and get some free merch. Because God bless America," a flyer posted to his Tumblr reads. The shops are in Houston, Miami, Atlanta, and Dallas.
"Locations were chosen in states to support specific candidates," the flyer also reads. "Stacey Abrams in Georgia, who if elected would be America's first black female governor, Andrew Gillum in Florida, who would become the states first black governor and Beto O'Rourke who would be the first Democratic Senator in Texas in 24 years."
If you're taking Ocean up on his offer, please be mindful of taking "ballot selfies" or photos of your polling place. While it's unlikely you'll get in trouble — we're not all Justin Timberlake — it's technically illegal, according to The Washington Post, to take photos at polling places in Texas, Florida, and Georgia.
In other Frank Ocean news, earlier today a new episode of his blondedRADIO show aired on Apple Music.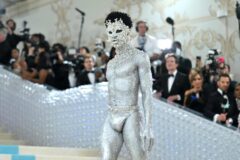 Get out and vote!
This article originally appeared on Stereogum.