During a new mix of songs for the NTS series the Sound of Color, Erykah Badu slipped in a studio recording of a previously unreleased song she's been kicking around for several years. Introduced as a collaboration with "the Cannabinoids," the song, which appears to be called something like "Money Can't Buy Me Love," features Badu and some backing vocalists singing over a jazzy piano line and softly tapped percussion. "Money can't buy me love, but it can keep me in some fresh shit," it goes in part, with the tossed off humor of the kind of interludes that have peppered her albums over the years.
Badu has been playing the song since at least 2012, when a YouTube user uploaded a version of it from a show at the Paramount in Seattle in October of that year.
https://www.youtube.com/watch?v=CLY8r5KMTk8
In that video, Badu sings one line before saying "I know that song is a little short, but that's all we have." Her band goes onto play it for another few minutes though, and it doesn't appear to have changed substantially since then, with the exception of there now being what appears to be a studio recording of it.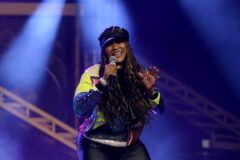 You can listen to it here at about the 1:05:00 mark, sandwiched in between songs by Bone Thugs and Lil Scrappy. American users can only play the mix three times, and can't rewind ever or skip ahead after the first use, so make it count!