DAWN—previously known as D∆WN and Dawn Richard—hasreleased a new track "new breed" and announced an album of the same name.
"I am a lion/I am a woman/Nothing can stop me," sings DAWN during the new song. Interestingly, the track is interspersed with clips from what appears to be a previous DAWN interview in which the artist is asked whether she finds women attractive. "I find women attractive, but I think if I didn't, I wouldn't find myself attractive," DAWN responds.
New breed will be released January 25 via Local Action Records/Our Dawn Ent. A follow-up to DAWN's 2016 LP Redemption, the album will include collaborations with Hudson Mohawke, Cole M.G.N. and Kaveh Rastegar.
Last month, DAWN released a song titled "jealousy," which will also appear on new breed. She also released an Adult Swim single called "Waves" in February.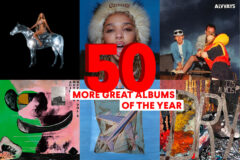 DAWN is currently on tour with Aubrey O'Dane and Shannon Bex (the three are performing as the remaining members of Danity Kane).
Revist SPIN's 2016 Q&A with DAWN here. And listen to "new breed" and check out the upcoming album's full track list below.
https://open.spotify.com/embed/track/4AcR2uitSX1LjxY49DVEtl
New Breed Track list:
1) the nine (intro)  
 2) new breed
3) spaces
4) dreams and converse
5) shades
6) jealousy
7) sauce
8) vultures | wolves
9) we, diamonds
10) ketchup and po boys (outro)