Sacred Bones Records is releasing the lost Thought Gang—the collaborative early '90s jazz project between David Lynch and frequent collaborator Angelo Badalamenti—recordings later this week. To promote the project, the label has released a video Lynch directed for the track "A Real Indication" The clip stars Badalamenti and was shot on on Hi-8 in 1992.
Although the Thought Gang album is being billed as a long-lost recording, some of the tracks have been used in some form in Lynch productions over the years. "A Real Indication" previously appeared on the Twin Peaks: Fire Walk With Me soundtrack in the scene where Bobby Briggs and Laura Palmer are arguing outside the high school before Laura subdues her boyfriend by telling him to smile.
Badalamenti provided vocals on the track, which takes the form of a disjointed, but spirited beatnik spoken word performance. In an interview with Rolling Stone, Lynch admitted that he had reservations about letting Badalamenti on the mic.
"Since 1985, when I started working with Angelo on Blue Velvet, he'd play his Rhodes piano and he'd sometimes sing what would later be sung by someone else," Lynch said. "In my opinion, even though Angelo was singing, it was not the quality that could go out into the world. But I just love Angelo. He's fearless in his singing. With 'A Real Indication,' I thought it was going to be horrible. But Angelo insisted."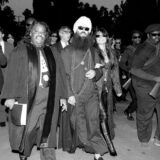 Lynch also claimed he gave himself a hernia that required surgery from how hard he laughed while Badalementi recorded his vocals.
The self-titled 12-song Thought Gang album comes out on November 2. Watch the video for "A Real Indication" below.