Members of the late Chris Cornell's bands are coming together to play a massive tribute show to the musician in January 2019 in Los Angeles. The event, titled I Am The Highway: A Tribute to Chris Cornell, will feature members of Soundgarden, Temple of the Dog, and Audioslave will perform some of the music that cemented Cornell's place in rock history. The concert will also feature special performances from Foo Fights, Metallica, Ryan Adams, and more. Jimmy Kimmel will be on hand to host the festivities. The event was organized by Cornell's family and friends with stars such as Brad Pitt, Tom Hanks, and Rita Wilson among the names on the concert's hosting committee.
"We are honored to have all these amazing artists and friends come together to pay tribute to and show their love and appreciation for Chris, his music and the mark he's left on the world," Cornell's widow, Vicky Cornell, said in a statement. "We look forward to sharing this night with all the fans."
Each ticket comes with a copy of Cornell's self-titled, posthumous retrospective album and proceeds benefit the Chris and Vicky Cornell  Foundation as well as  The Epidermolysis Bullosa Medical Research Foundation.
The tribute takes place on January 16, 2019 at The Forum. Tickets go on sale on Friday, November 16 at 10 a.m. and can be purchased here.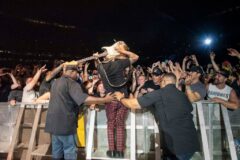 Update (1/15): Fiona Apple, Miley Cyrus, Miguel, Brandi Carlile, Chris Stapleton, and Queens of the Stone Age's Josh Homme have been added to the bill, Pitchfork reports. Faith No More's Mike Patton announced last week that he will take part, too.