Diplomatic Ties, the first new album from Dipset in 14 years, dropped this Friday, reuniting Cam'ron, Jim Jones, Juelz Santana, and Freekey Zekey for 9 tracks of hard-hitting New York hip-hop. The album's first song "Intro: Stay Down" features some not-so-subtle shade directed at Kanye West, who Cam'ron calls an "Uncle Tom" in his verse.
As Complex points out, Cam's whole verse is filled with lines directed at Kanye, whose recent support for Donald Trump and claims about bipolar disorder seem to have the Harlem rapper on the attack. "He told me he was bipolar, I looked and said, 'Bipolar?'" Cam'ron raps. "Don't be ridiculous, he wasn't in the mix with us / Bricks from Hamilton Terrace / He didn't take the risk with us."
Elsewhere in verse, Cam'ron calls Kanye a "tourist," claiming that he didn't have to hustle like they did to make it big. "The ones in the Taurus, nigga, he a tourist / Uncle Tom nigga know nothin' about this chorus," Cam raps. It's a heavy dig at Kanye, especially considering that the two worked together on the Cam'ron single "Down and Out" back in 2004. Times certainly have changed for The College Dropout rapper, who's still allegedly working on his new album Yandhi due out sometime next year.
West recently appeared in a photo doing karaoke with Facebook CEO Mark Zuckerberg, just days after his first Kids See Ghosts show with Kid Cudi. In October, Turning Point USA spokesperson Candace Owens announced a line of "Blexit," or "Black Exit" shirts allegedly designed by Kanye West; the rapper has since denounced his involvement with both the designs and Blexit, writing on Twitter that he's "distancing [himself] from politics and completely focusing on being creative." Hear Cam'ron's diss below.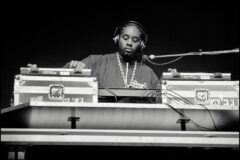 https://youtu.be/c0mRaOSYGN0