SCOTUS nominee Brett Kavanaugh's claims that he wasn't a problematic drinker back in his Georgetown Prep and Yale days continue to unravel after the New York Times unearthed a police report from 1985 suggesting that the then-college student incited a bar brawl in New Haven. According to his Yale classmate and former drinking buddy Chad Ludington, that fight started after Kavanaugh and friends mistook a man in the bar for Ali Campbell, the frontman of the British reggae group UB40, much to the band's chagrin.
According to the police report, the scuffle occurred during the future Supreme Court nominee's junior year at Yale, when he allegedly threw some ice at a guy who was upset that Kavanaugh and his crew were staring at him. Ludington remembers the incident as being started after Kavanaugh threw a beer at the man, but regardless of what was thrown, the fight culminated with the man, then 21-year-old Dom Cozzolino, going to the hospital after former NBA player Chris Dudley threw a glass at Cozzolino's ear, causing it to bleed. The Times report broke shortly after Dudley issued a statement, via the White House, claiming that he never witnessed Kavanaugh have any drinking issues during their time at Yale.
"The person sometimes being described in the press is not the Brett Kavanaugh that I have known as a good friend for 35 years," Dudley's statement read. "The person they are trying to describe would not be able to function day to day." He also said he never saw Kavanaugh black out.
The police report indicates that Kavanaugh and four other people were questioned by cops and the SCOTUS nominee is on record as "not wanting to say if he threw the ice or not." Dudley denied throwing the glass at the Ali Campbell imposter.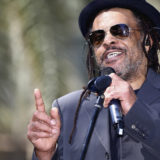 Kavanaugh's high school and college drinking career is under scrutiny following claims he made to the Senate Judiciary Committee that he never blacked out from drinking or behaved belligerently while drunk amid allegations that he sexually assaulted at least two women during high school and college.
As far as UB40 is concerned, they'd rather not get dragged into this mess.
"Obviously, there must have been an assault because the police were called and a report was filed," a rep for the band told Billboard, "but this is a case of mistaken identity and has nothing to do with UB40." The band, best known their 1983 cover of Neil Diamond's "Red Red Wine," is playing the Hard Rock Hotel Riviera Maya in Mexico in December.