The students at the Viewpoint School in Calabasas, California were treated to an impromptu Red Hot Chili Peppers concert during a Halloween assembly this morning. The band played the school, which enrolls students from kindergarten through 12th grade, because drummer Chad Smith's kids are students, per a tweet Smith shared. The 57-year-old has five children, three of which are still school age.
The Chili Peppers performed in what look like last minute costumes. Anthony Kiedis rocked what looked like a school boy outfit with a glittery Mardi Gras mask. Flea played the show in one of those novelty skeleton outfits. Guitarist Josh Klinghoffer apparently grabbed a green wig and sunglasses on his way out the door. Maybe he's The Joker? It's hard to tell. Smith put in the most effort with his Pope robes paired with a Guy Fawkes mask.
From the looks of the fan videos shared on Twitter, Kiedis refrained from flipping anyone off or cursing at them like he did at the Lakers/Rockets game last week.
You can see the Chili Peppers played one of their PG songs, "Can't Stop," in the videos below.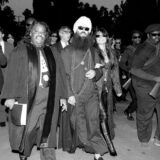 Who rocks out at 9:30am at my kids' school?….We do! pic.twitter.com/O7Pza6iXnm

— Chad Smith (@RHCPchad) October 31, 2018
They were all there, I promise! pic.twitter.com/sziZtCNqUh

— Zach Ragatz (@ZachRagatz) October 31, 2018
The last time Smith made headlines for a school-related incident was when Scott Baio accused Smith's wife, Nancy Mack, of attacking him over his Trump support at a school function. The Smith family seems cool.