Kanye West was the musical guest on last week's SNL season premiere and in the last minutes of the episode after performing his ye track "Ghost Town," the rapper gave a post-show speech where, in addition to discussing his support for Donald Trump and his own presidential aspirations, Kanye also claimed that he was "bullied" by the SNL team backstage, who allegedly asked him not to wear his MAGA hat on the show.
On this week's episode, SNL cast member (and fiancé of Ariana Grande) Pete Davidson took a moment to address the situation. During last night's "Weekend Update" sketch, Davidson said that no one backstage asked Kanye to take off the hat, but that he personally wished he would've had the opportunity to ask Kanye not to wear it.
"What Kanye said after we went off the air last week was one of the worst, most awkward things I've seen here, and I've seen Chevy Chase speak to an intern," Davidson said. "Do you know how wrong about politics you have to be for me to notice?"
Davidson also mentioned claims that Kanye was off his meds, jokingly encouraging the rapper to keep focusing on his mental health. "There's no shame in the medicine game. I'm on 'em, it's great," he said. "Being mentally ill is not an excuse to act like a jackass."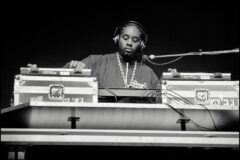 When asked if there's anything Kanye can do to win him back, the comedian revealed a new "Make Kanye 2006 Again" hat and asked about Kanye's new album Yandhi, which was supposed to be released last Saturday, but has since been delayed until November 23.
Travis Scott was the musical guest on this week's episode, which was hosted by Crazy Rich Asians star Awkwafina. Watch the segment below.
Pete dropped by the Weekend Update desk to talk about last week's musical guest, Kanye West. #SNL pic.twitter.com/LFzJJFTnbV

— Saturday Night Live – SNL (@nbcsnl) October 7, 2018