Lana Del Rey has a new Jack Antonoff-produced album called Norman Fucking Rockwell coming out sometime next year. We've already gotten two songs from it so far, "Mariners Apartment Complex" and "Venice Bitch," and now it looks like we're about to get a third.
Before the release of each single, Lana has taken to Instagram to share a teaser video for it, and now she's doing it again for another new song called "Sylvia Plath." Judging from the snippet, it seems like it's going to be a very pretty ballad.
"I want to put one song out in October but I don't know if it really makes sense to do it because it's sort of like a standalone song," Lana told Zane Lowe in an interview accompanying the release of "Venice Bitch" last month. "Not a fun one. Just a serious and thoughtful one."
Listen to the preview of "Sylvia Plath" and check out the lyrics, which reference celebrity photographer Slim Aarons, below.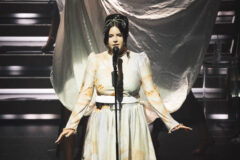 View this post on Instagram
I was reading Slim Aarons
and I got to thinking that I thought maybe I'd get less stressed if I was tested less
like all of these debutantes-
smiling for miles
in pink dresses and high heels
on white yachts.
But I'm not
baby
I'm not
that

— Lana Del Rey (@LanaDelRey) October 25, 2018
This article originally appeared on Stereogum.