Although Kanye West was absent from today's Music Modernization Act signing, the rapper did appear for a 12:30 p.m. lunch in the Oval Office with Donald Trump, ostensibly to discuss criminal justice reform. West was joined by activist and former NFL star Jim Brown, as well as White House senior advisers/family members Jared Kushner and Ivanka Trump, among others. By all accounts, West took the opportunity to further workshop his ongoing one-man show, as he did during his elongated Saturday Night Live season premiere sign-off and his appearance at the offices of Fader magazine. West's Oval Office appearance was predictably batshit and distressing, except this time Trump, his staffers, and the press pool had to keep a straight face to give the appearance of politely listening as the rapper spewed jumbled nonsense. At one point, West leapt behind the Resolute desk to give Trump a hug and credit him for giving West "a Superman cape." He also dropped some unexpected swears while referring to himself as a "crazy motherfucker" during what was essentially monologue.
Wearing a red MAGA hat, West repeated his claim that people in his circle had asked him not to wear Trump paraphernalia on air. "They tried to scare me to not wear this hat," West said. "When I put this hat on, I felt like Superman. That's my favorite superhero. You made a Superman cape for me."
One element of West's 10-minute soliloquy included a rundown of his mental health issues, before he concluded that he didn't have bipolar disorder and was instead merely sleep-deprived. And that was one of the more coherent portions of West's commentary.
Here's the portion of the visit where West discusses how his red MAGA hat makes up for what he deemed a "lack of male energy" in both his home growing up and in wife Kim Kardashian's family.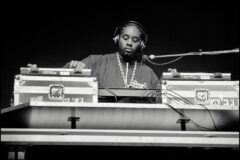 "I love Hillary. I love everyone, but the campaign 'I'm with her' just didn't make me feel — as a guy … it was something about this hat that made me feel like Superman," famed musician Kanye West said of his MAGA hat while discussing masculinity, the economy and his brand pic.twitter.com/T06Z5tOSIU

— POLITICO (@politico) October 11, 2018
This soundbite includes West referencing theories about how "there's infinite amounts of universe" because "in an alternate universe" West is Larry Hoover, a Chicago gang leader serving six life sentences. He then credits welfare as "the reason black people a lot of black people end up being Democrats."
Kanye talks about how black poverty is driven by welfare and maga hats. pic.twitter.com/OwtYFBw3aO

— Josh Marshall (@joshtpm) October 11, 2018
West attempted to clarify his stance on the 13th Amendment as it pertains to prison labor.
2018 is wild.

Kanye on the 13th amendment: "We don't have 13 floors, do we?" pic.twitter.com/w8cWoB2cIK

— Complex (@Complex) October 11, 2018
Here is where West compares the prison labor portion of the 13th amendment to a trap door people fall through and end up "next to the Unabomber."
Kenya in the Oval Office, right now pic.twitter.com/rBblM0jFOZ

— Vivian Salama (@vmsalama) October 11, 2018
At the end of West's performance, Trump, who is not accustomed to sitting quietly and paying attention to other people, said "I'll tell you what, that was pretty impressive," which sort of says all you need to know.
Here's the entire press spray.