Kanye West took a field trip to the Oval Office today and discussed the Unabomber and hydrogen planes, among other topics, with Donald Trump, his daughter Ivanka, her husband Jared Kushner, and seemingly every photographer in Washington, D.C. After the meeting, TMZ reports, West expressed his gratitude by gifting the first family custom snapbacks in the style of Trump's "Make America Great Again" caps. The president's hat said, "Make America Great," Ivanka's blue version said, "Make Earth Great Again," and Jared's black cap said, "Travel Space Again." Kanye also reportedly gave Donald a pair of size 12 Yeezy sneakers.
West has taken a liking to Trump's dumbass red headwear in recent months. He first donned the MAGA cap in April while posing for a tweeted picture with Universal Music Group CEO Lucian Grainge and YouTube Global Head of Music Lyor Cohen. The next day, he wore the hat to TMZ's office, where he suggested that enslaved Americans chose to be enslaved. He has since visited The Fader's office and TMZ's office, again, while wearing the hat, and also tossed it on while performing the Kids See Ghosts track "Ghost Town" on Saturday Night Live.
During today's meeting at the White House, Kanye explained that the headpiece makes him feel like Superman. "You know, they tried to scare me to not wear this hat. My own friends. But this hat, it gives me, it gives me power in a way," he said. "It was something about when I put this hat on, it made me feel like Superman. You made a Superman. That's my favorite superhero, and you made a Superman cape for me."
West continued, "Also, as a guy that looks up to you, looks up to Ralph Lauren, looks up to American industry guys, not political, no bullshit—put the beep on it, however you want to do it, five second delay—and just goes in and gets it done."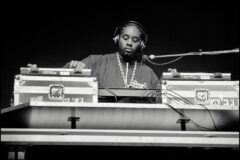 Many, many Trump brand products are manufactured overseas. You can view a photo of the whole gang modeling this exclusive Kanye-Donald collab behind the Resolute desk below.
UPDATE: Kanye gifted Trump a redesigned MAGA hat that reads "Make America Great." He also gave hats to Ivanka and Jared Kushner. Ivanka's says "Make Earth Great Again" and Kushner's reads "Travel Space Again." https://t.co/aiBLp5835f pic.twitter.com/otqpi0xIGt

— Stereogum (@stereogum) October 11, 2018