An upcoming New-York-Times-sponsored event featuring Kanye West and Charlamagne Tha God in discussion about mental health has been cancelled. The Power 105.1 host, who previously conducted a lengthy video interview with West in April, host posted the news to Instagram today with a message:
Normalizing being mentally healthy is a conversation that I really wanted to have with Kanye because he's been so vocal about his own mental health struggles. Unfortunately I think to have that conversation with him right now would not be productive and a total distraction from the point of the convo which is to eradicate the stigma of mental health especially in the black community.
The TimesTalk discussion was scheduled to take place on October 17, and was to be moderated by New York Times pop critic Jon Caramanica. The event was partially pegged to the release of Charlamagne's memoir/self-help book Shook One: Anxiety Playing Tricks on Me, which releases next week.
Last week, Kanye West visited the Oval Office, ostensibly to discuss criminal justice reform and bolstering employment opportunities for released prisoners in Chicago. In the off-the-wall discussion (which was largely West monologuing), the rapper alleged that previous reports (by himself) that he suffered from bipolar disorder reflected a "misdiagno[sis]."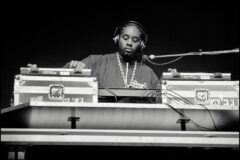 "I was connected with a neuropsychologist that works with the athletes in the NBA and NFL," West told Trump. "He looked at my brain; he put on three prongs … and he said I wasn't actually bipolar; I had sleep deprivation."
Over the weekend, West also live-streamed a speech about "mind control."