Ella Mai today shared on social media the tracklist for her self-titled debut album, set for release on Oct. 12. The 16-track project features three guests, and unfortunately one of them is Chris Brown. Newly minted EGOT-er John Legend appears on "Everything," while California singer H.E.R. appears on "Gut Feeling."
DJ Mustard, who signed Mai to his Interscope imprint 10 Summers, shared the album's production credits in his own Instagram post. Like the British singer's breakout hit "Boo'd Up" and its follow-up single "Trip," Mustard handled most of the production. Additional contributors include Usher collaborator Bryan Manuel Cox, Norwegian DJ Lido, and "Passionfruit" producer Nana Rogues.
"Boo'd Up," which peaked this summer at No. 5 on the Billboard Hot 100, was recently certified double-platinum by the Recording Industry Association of America. It's the British singer's first platinum single. Check out the tracklist for Mai's debut album below.
Ella Mai, Ella Mai Tracklist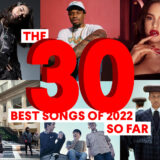 1. "Emotion"
2. "Good Bad"
3. "Dangerous"
4. "Sauce"
5. "Whatchamacallit" ft. Chris Brown
6. "Cheapshot"
7. "Shot Clock"
8. "Boo'd Up"
9. "Everything" ft. John Legend
10. "Own It"
11. "Run My Mouth"
12. "Gut Feeling" ft. H.E.R.
13. "Trip"
14. "Close"
15. "Easy"
16. "Naked"
ELLA MAI. OCTOBER 12TH. pic.twitter.com/CQIyr8NMch

— Ella Mai (@ellamai) October 3, 2018
https://www.instagram.com/p/BoelTbpBGci/