David Lynch has collaborated with Bang & Olufsen on a collection of speakers designed around his visual art. As BrooklynVegan points out, the company is selling four models, ranging in price from $200 to $100,000, featuring images from Lynch's "War Between the Shapes" series of paper works and from his 2007 "Paris Suite" lithographs. The director, musician and artist created the latter prints at the 128-year-old Idem studio in Paris.
Lynch also spoke to Bang & Olufsen's Sound Matters podcast about creativity, happiness, silence, sound, and of course, transcendental meditation. The conversation features sentences like this: "Silence is the, you know, the absolute, the non-relative absolute, and the dynamism is the field of relativity, and everything that is a thing has come from this field."
The fourth edition of Lynch's Festival of Disruption takes place this weekend in Los Angeles. The festival features RZA leading a performance of his 36th Chamber of Shaolin score, Dover Quartet performing music from Twin Peaks, Grace Jones, Tokimonsta, and more. Sacred Bones Records is releasing an album featuring 15-year-old compositions by Lynch and his longtime composer Angelo Badalamenti on November 2.
You can purchase the B&O speakers here. Listen to Lynch's Sound Matters interview, and view a selection of his lithographs, as well as his 2013 short film on Idem studio, below.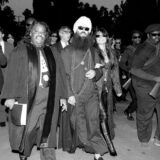 If you're at #FestivalOfDisruption be sure to check out the exhibit of David Lynch's lithograph work, & his collaboration with @BangOlufsen pic.twitter.com/rjq4CeqaDC

— Festival of Disruption (@FestDisruption) October 15, 2017