Red Hot Chili Peppers frontman Anthony Kiedis was escorted away by security following an on-court melee between players for the Los Angeles Lakers and Houston Rockets during last night's game in Los Angeles. Video shared on social media shows Kiedis flipping the bird and shouting some heated words at Rockets point guard Chris Paul and the Rockets' staff as Paul was led off the court following his skirmish with Lakers point guard Rajon Rondo.
AK (Anthony Kiedis) from Red Hot Chilie Peppers should of gotten kicked out the game for yelling profanities and flipping the bird to Chris Paul and the #Rockets staff. This is unacceptable @Lakers if this was a regular joe/fan he would of got kicked out the building. #NBA pic.twitter.com/ntSAGhlNku

— deх (вall dnт lιe)🎙 (@balldntlie) October 21, 2018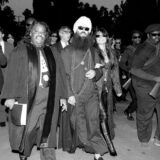 TMZ has video of Kiedis getting escorted away from the court by security, but it's unclear if he actually got ejected, as some viewers claim to have spotted the "Under the Bridge" singer seated courtside next to Flea later in the game. It's possible he was ushered away somewhere to chill for a few minutes, like the adult version of a toddler's time out. We reached out to Kiedis's rep for comment and will update if we hear back.
//cdnapisec.kaltura.com/p/591531/sp/59153100/embedIframeJs/uiconf_id/6740162/partner_id/591531?iframeembed=true&playerId=kaltura-player-9999999999-68179023879999140&entry_id=0_6zy3rq9z
*Extremely Anthony Kiedis getting led out of the Lakers game voice*

I DON'T EVER WANT TO FEEL, LIKE I DID THAT DAY pic.twitter.com/ABIpnZRAFe

— Jace Evans (@JaceTEvans) October 21, 2018
After the game, Flea posted a statement on Instagram.
"At the lakers game last night with my dear brother," Flea wrote. "It Got crazy at the end, but man I get so satisfied, deeply drinking in the depth and beauty of the game. People operating at a high level in so many dimensions. Cerebral, physical, spiritual, emotional, unspoken and telepathic communication."
Sure, that sounds like an accurate summation of the evening's events.
Kiedis and Flea regularly occupy courtside Lakers seats and have for decades. In 1989, the Chili Peppers released "Magic Johnson," the unintentionally hilarious love song to their team on the album Mother's Milk.
UPDATE 2:56 pm EST: Sources speaking to TMZ said that Kiedis "was NOT ejected from the arena. He was allowed to calm down and then returned to his seat."